Two-time Wimbledon champion Petra Kvitova was due in Charleston a year ago, having been recruited hard by Volvo Car Open tournament director Bob Moran and regaled with tales of Lowcountry hospitality by fellow Czech player Lucie Safarova.
But life happens.
Kvitova, one of the most popular players among her colleagues on the WTA Tour, was injured during a home invasion in the Czech Republic in December of 2016. A knife-wielding attacker injured tendons and nerve endings in her left (and playing) hand.
She was sidelined for five months, precluding her planned trip to Charleston. A year later, she's happy to keep that commitment.
"It feels great to be here," Kvitova, 28 and seeded No. 2 at the VCO, said this week. "It was unfortunate I couldn't be last time, so I'm really happy to make the trip this time. I'm very happy I did; it's a beautiful place and very quiet."
After making her return at the French Open last year, Kvitova actually won her second tournament back, on grass in Birmingham, Great Britain. It was a popular victory.
"It was such a nice feeling to be back and see how the players were cheering for me," said Kvitova, who won at Wimbledon in 2011 and 2014. "They cried in the locker room when I played, so it was very emotional for everyone. In the time I was off, it meant a lot, what I was hearing from them."
This season, Kviotva put together a 14-match win streak that included tournament titles in St. Petersburg and Doha, giving her 22 WTA Tour singles titles for her career.
"Petra is one of the nicest girls on tour, and to see what happened to her was horrible," said American Madison Keys. "But to see how she has bounced back and done so well after that has been amazing. I'm definitely always rooting for her."
On Monday, Kvitova laughed as she played cornhole and kicked around a soccer ball in her bare feet.
"I'm all right, and that's what's important," she said. "My hand will never be 100 percent, but I don't worry about it. My health is good, and that's what's important."
Attendance Watch
The Volvo Car Open reported attendance of 8,464 for Tuesday's day session, and 4,804 for the night matches. Weekend crowds were 6,400 on Saturday and 6,541 on Sunday.
Monday's attendance for the first main-draw matches was 6,890.
Rooftop tennis
VCO players Johanna Konta and Naomi Osaki took part in a photo shoot atop the Dewberry Hotel in downtown Charleston on Monday, batting balls back and forth on a makeshift court with one of the best views in the Lowcountry.
The photos and video will be used in a promotional campaign.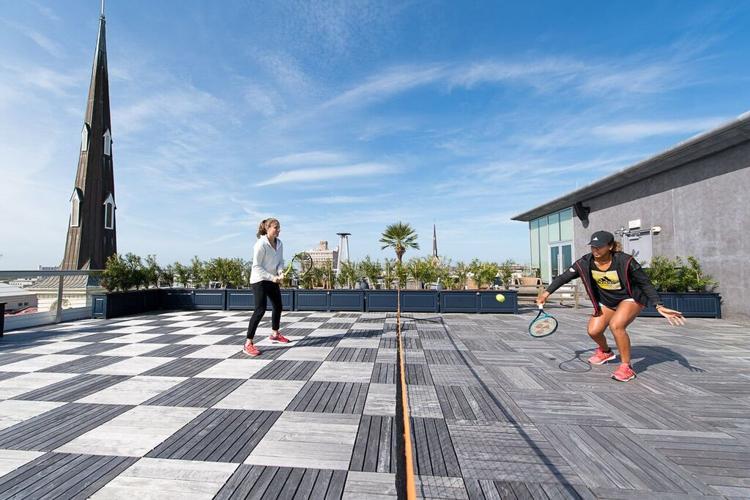 Shelby Rogers honored
Charleston's Shelby Rogers, sitting out this year's Volvo Car Open with a knee injury, was honored at the S.C. Junior Tennis Foundation gala on Monday.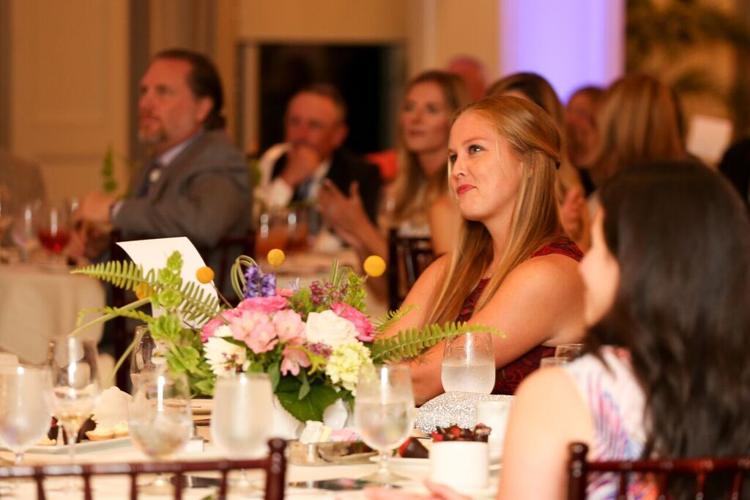 Rogers received the first "Player Who Makes a Difference Award" and conducted an on-stage interview with Tennis Channel's Mary Carillo. Rogers also is working as a Tennis Channel reporter this week.
Tennis in the City
American Nicole Melichar was among the players who helped conduct a youth clinic Monday at the Jack Adams Tennis Center in downtown Charleston. The "Tennis in the City" event has been held every year since 2003.