After Alexa Pano qualified for the U.S. Women's Open on Tuesday, she told reporters, "I'm just so happy to finally have qualified. It took me a while to get here."
It's about time.
After all, Alexa is already 14 years old.
Joking aside, Pano will almost certainly be the youngest player in the field when the top women golfers in the world gather in Charleston from May 30-June 2 for the U.S. Women's Open at the Country Club of Charleston.
Pano qualified for her first LPGA major championship on Tuesday in Wellington, Fla., making a 35-foot birdie putt on the second playoff hole in a 36-hole qualifier at the Wanderers Club to earn her spot in the Women's Open.
She won't be the youngest ever to play in the U.S. Women's Open. Lucy Li played in the 2014 Open at age 11, and LPGA stars Morgan Pressel and Lexi Thompson qualified when they were each 12.
Though it might seem a meteoric rise for the home-schooled teenager from Lake Worth, Fla., Pano has been on the radar of golf fans since she was seven years old.
"This was my sixth time trying to qualify for the Open," Pano said Wednesday. "I started trying to qualify when I was eight. It's unreal, because it's a goal I've been trying to accomplish for six years. And I've been working towards it my whole golf career."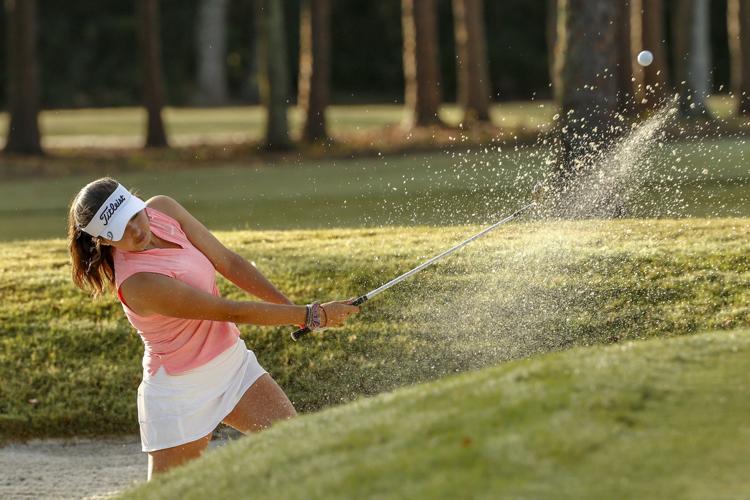 Netflix star
Pano first came to public attention as a member of the cast of the 2013 Netflix documentary "The Short Game," produced by Hollywood movie stars Justin Timberlake and Jessica Biel.
The documentary followed the travails of aspiring seven and eight-year-old golfers, including Alexa and her friend Allan Kournikova, the younger brother of tennis star Anna Kournikova.
The experience helped Pano get used to the public side of her chosen career in golf. She's got some 13,000 followers on Instagram.
"It definitely helped me with the public stuff," she said. "And it gave me a lot of exposure. The movie was a great experience and I learned a lot in a public sort of way."
Pano's family is just her and her father, Rick, she said.
A typical day means golf practice in the morning and school work in the afternoon.
"That's a typical day at home," she said. "But I'm not home that often."
A hectic travel schedule, with up to 60,000 miles on the road each year, often means school work is done in the car or on a plane, or even between rounds of golf.
Once, Alexa found herself doing homework in the front seat of the car while her dad fixed a flat tire on the way home from the Dustin Johnson World Championship in Myrtle Beach — which Alexa won by 12 shots.
Alexa grew up on the Sherbrooke Golf & Country Club in Lake Worth, and found herself fascinated by the game at a young age.
"Just watching all the people play, and my dad and the other kids, I got super interested in it and I wanted to play," she said.
She had a Hall of Fame teacher in Bob Toski, and took to the game quickly. As of February, she'd won 67 national junior events; qualified for three U.S. Women's Amateurs and two U.S. Junior Ams; won eight U.S. Kids Golf World Championships; and last year was the first alternate at the U.S. Women's Open.
She also was the youngest player in the inaugural Augusta National Women's Amateur earlier this year, though she narrowly missed the cut and did not get to play in the final round at Augusta.
'Dominate the game'
By now, Alexa says, she's past getting nervous on the golf course — even at the U.S. Women's Open, which has been won by luminaries such as Michelle Wie, Paula Creamer, Annika Sorenstam, Karrie Webb, Julie Inkster, Meg Mallon, Se Ri Pak and Betsy King.
"I've competed enough to where that really doesn't happen to me," Pano said. "I've played in a ton of big events before. When I had a chance to compete at Augusta, that was a time I thought I might be nervous, but I really wasn't."
Between golf, travel and school work, Alexa said most of her friends come from the golf world.
"I have many different types of friends, but my closest friends definitely come from golf," she said. "Some of the best people I've ever met are in the golf community. As much as I travel, it's easier to keep golf friends. I see them every week, and they understand everything that happens with golf."
Her current swing coach is Chris O'Connell, who also coaches PGA stars Matt Kuchar and Hunter Mahan. Pano is about 5-10 and can crank a drive about 260 yards. She played in her first pro event at age 11 and made her LPGA debut last year at the Thornberry Creek Classic in Wisconsin.
With her success, Alexa is already facing a lot of hype as the next American hopeful on the LPGA Tour. But she's not sure yet if she wants to play college golf first, or turn pro as soon as possible.
"My ultimate goal is to play on the tour and compete there," she said. "But as far as when, I have no idea."
When she does, the future is bright for this 14-year-old.
"She's already, relative to her age, one of the best, if not the best," O'Connell told golf.com. "I think she could potentially be huge for the LPGA Tour, being an American golfer who could dominate the game."