COLUMBIA — What's old shall be new.
South Carolina is returning to a brand and logo first made popular in the 1980s, the school announced in August. "Carolina" written in cursive.
The logo has been available on USC merchandise for the past year and the Gamecocks football team wore helmets with the new logo Saturday when they opened the season at Williams-Brice Stadium  against Coastal Carolina.
"The 'Script Carolina Collection' brings a renewed take on a beloved mark for Gamecocks that want to show their Carolina pride every day," director of trademarks and licensing Matthew Bridges said in a statement.
The style of the logo is most aligned with the 1980s USC football team, a brand worn on ballcaps by the late Joe Morrison. The iconic coach, known as "The Man in Black" for his all-black gameday attire, led the Gamecocks to three bowl games from 1984-88, and a 10-2 record in 1984, the school's finest season until 2011.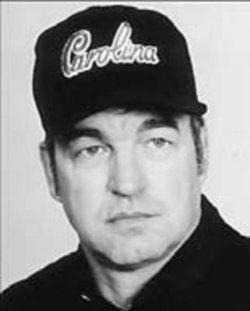 Morrison died of a heart attack in February 1989. His death came at a time when the program was reeling from a scandal that alleged his team was out of control while linked to steroids and major disciplinary issues.
The fallout from the scandal led to USC distancing itself from the renegade image that was created, "Black Magic" and "Black Death" becoming relics as the team re-embraced garnet as its primary color.
The school went through several different "main" logos, using the "Block C" logo of a C embracing the Gamecock symbol; the Gamecock's tail feathers adorning billboards and welcoming acceptance envelopes to freshmen; and a "THE USC" brand meant to separate South Carolina from the University of Southern California that was once painted on a chimney rising high above the center of the South Carolina campus.
South Carolina also lost a trademark lawsuit against Southern Cal involving the interlocking "SC" logo on its baseball caps. The Trojans won the case but the Gamecocks continue to use a centered, cursive, interlocking "SC" on their caps.
The South Carolina school being referred to as "Carolina" has also been challenged by the University of North Carolina, which was founded in 1789, before USC's date in 1801.
Football coach Will Muschamp has worn the "Carolina" stamp on his visor throughout preseason camp. He's also worn T-shirts with the "Carolina" logo on them to practice.
Apparently the old logo has made a comeback.