In our continuing summer series of position previews for the 2019 high school football season, this week we take a look running backs.
The following list is comprised of returning performers and do not include newcomers that may explode onto the scene this fall.
With several of the area's top ground gainers having graduated, the rising 2019 group of running backs in the Lowcountry lack the overall production that last year's senior group carried.
Four of the area's six running backs that rushed for more than 1,000 yards last season have graduated. That includes the likes of First Baptist's Michel Dukes (Clemson), Berkeley's Keshawn Wicks (Old Dominion) and Stratford's Mario Anderson (Newberry). Ashley Ridge's Nick Cunningham also graduated after rushing for 1,636 yards in 2018.
Dukes had three consecutive seasons of 2,000 yards rushing while Wicks had just under 4,000 rushing yards in two seasons at Berkeley.
The top two returning running backs from last season are seniors Kalil Jenkins of Fort Dorchester and Keegan Williams of Oceanside Collegiate.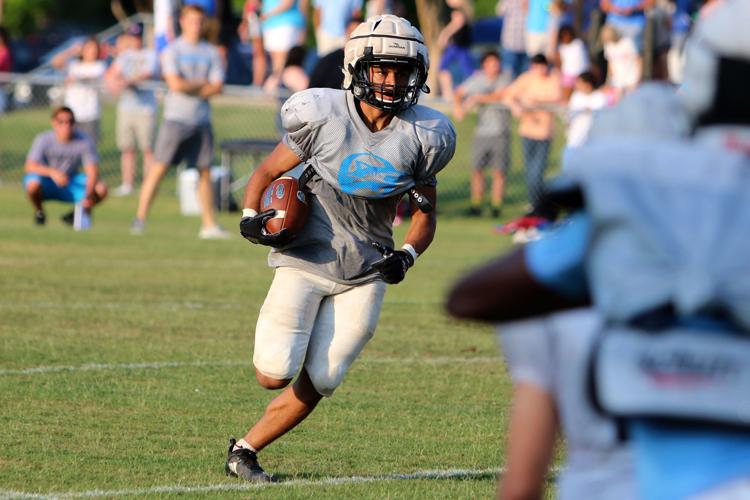 Both topped 1,000 yards last season as the primary backs in balanced offensive attacks. Jenkins (5-9, 190) will be a third-year starter at Fort Dorchester, the Lowcountry's preseason top-ranked team. He has averaged better than six yards per carry for his career and shares the backfield with rising junior prospect Dwayne Wright (5-10, 185), who averaged 7.7 yards per carry last fall.
Williams missed the first two games of 2018 after transferring to Oceanside Academy from Summerville. He ran roughshod over opponents for the next nine weeks, finishing with 17 touchdowns on the ground. The 5-10, 175-pounder has 4.49 speed in the 40-yard dash and Oceanside coach Chad Grier said Williams was getting heavy college interest during the spring.
Summerville returns a dynamic duo this fall in junior KJ Rollins and senior Derrion Larry. Each racked up more than 500 yards and averaged almost 6 yards per carry. Rollins was the primary worker in the first half of the season while Larry shouldered the load down the stretch, including a huge game in a playoff win over Berkeley.
The bottom five of the top 10 is comprised of players few have heard of but have potential to hit 1,000 yards this fall.
Bishop England junior Eddie Marinaro gained more than 600 yards last season but also is competing for the starting nod at quarterback this fall.
Another outstanding athlete who could see as much time at receiver as running back is Colleton County's Trakell Murray, who combined for more than 800 yards last season.
Charleston Charter's Brandon Broughton and D'mario Gerald combined for more than 1,500 yards in 2018. It is unclear at this point if both will be back at CMS in the fall.
Solly Bess of second-year program Philip Simmons will be the key ballcarrier this fall after topping 500 yards while playing less than a full schedule last season.
James Island's Ron German is only 5-5, 150-pounds, but led the Trojans with more than 500 yards last season.
Joining Williams in the Oceanside Collegiate attack is senior King Deloney. Wando's top returning back is senior Jaden Singleton.
An experienced offensive line should benefit Goose Creek's Maurice Mazyck, and Kortez Heyward is the early candidate to take over for Wicks at Berkeley.
Next week we take a look at offensive linemen.
Top 10 returning running backs for 2019
1. Kalil Jenkins, Fort Dorchester, Sr.
2. Keegan Williams, Oceanside Collegiate, Sr.
3. KJ Rollins, Summerville, Jr.
4. Derrion Larry, Summerville, Sr.
5. Dwayne Wright, Fort Dorchester, Jr.
6. Eddie Marinaro, Bishop England, Jr.
7. Brandon Broughton, Charleston Charter, Sr.
8. Solly Bess, Philip Simmons, Sr.
9. Ron German, James Island, Sr.
10. Trakell Murray, Colleton County, Sr.
Others to watch: Maurice Mazyck, Goose Creek; King Deloney, Oceanside Collegiate; Jaden Singleton, Wando; D'Mario Gerald, Charleston Charter; Kortez Heyward, Berkeley.
Position breakdown series
May 29 – Quarterbacks
June 5 – Wide receivers
June 12 – Running backs
June 19 – Offensive line
June 26 – Defensive line
July 3 – Linebackers
July 10 – Defensive backs
July 17 – Specialists
July 24 – Lowcountry Preseason Top 10 teams