CLEMSON — A life-sized, autographed C.J. Spiller poster hangs on the wall. But that isn't the most treasured Spiller memento in Clemson head coach Dabo Swinney's office. The honor goes to a "promise card."
The carefully framed document — one of the most important in program history it turned out — is a handwritten note secured by Swinney during a recruiting visit to Lake Butler, Fla., an index card on which Spiller confirms he will make a recruiting visit to Clemson.
Luring the star running back away from Florida and Florida State was a coup for Swinney, then Tommy Bowden's wide receivers coach. It cemented his status as an ace recruiter, helped him land the Clemson head coaching job and gave the Tigers its best running back.
Ever.
Or perhaps you disagree.
But if Spiller doesn't top the list of Clemson's top 10 running backs, he is neck-and-neck with Wayne Gallman.
Or Raymond Priester.
Let the debates begin: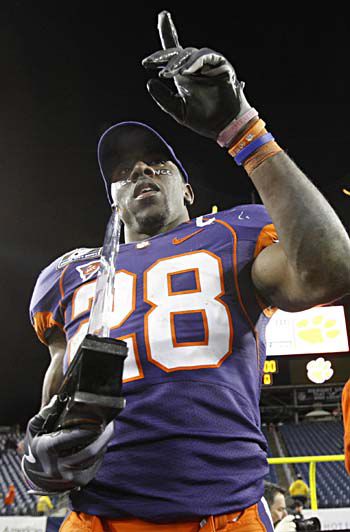 1. C.J. Spiller
All Spiller did in 52 games over four seasons (2006-2009) before going to the Buffalo Bills as a first-round draft pick:
7,588 all-purpose yards (first on Clemson's career list)
308 points (first among non-kickers)
51 touchdowns (first)
3,547 yards rushing (third)
Spiller was a unanimous first-team All-American and, as importantly, a critical building block for a program now considered elite.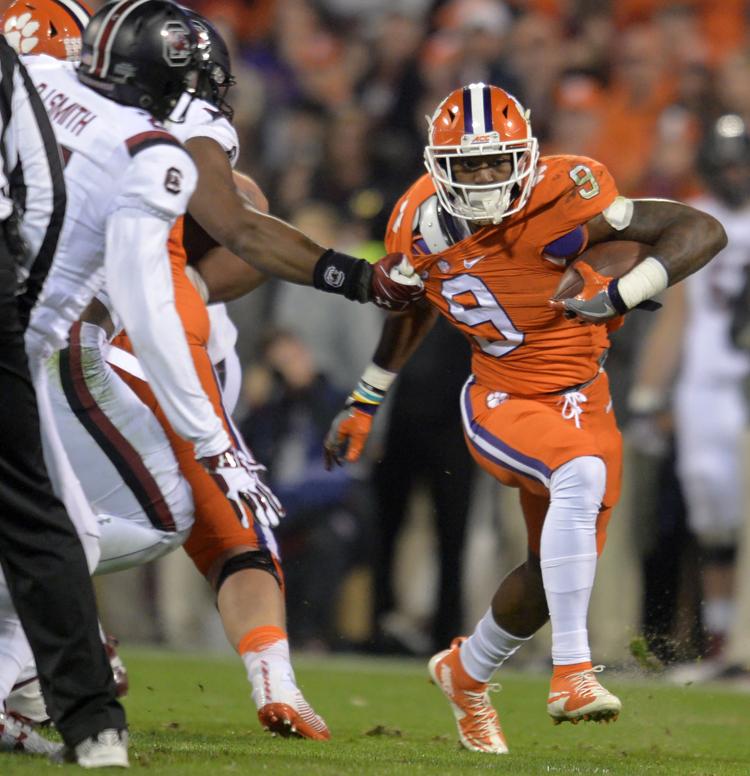 2. Wayne Gallman
Gallman is only fifth on Clemson's career rushing list, but he amassed his 3,429 yards in just three seasons — two of which ended with national championship game appearances. Gallman finished with 106 yards of total offense in the Tigers' loss to Alabama in Arizona, 85 in the win in Tampa.
It's hard to find a Clemson player with a better combo of big-game performances and durability: Gallman is No. 1 and No. 2 on the Clemson list of single-season snaps for a running back (798 in 2015, 786 in 2016).
3. Raymond Priester
Clemson's career rushing leader (3,966) was a dependable force for Tommy West's teams. Priester led the Tigers to bowl games in 1995 (Gator), 1996 (Peach) and 1997 (Peach).
Priester has Clemson's two best yards-per-game seasons (112.1 in 1996 and 110.2 in 1995). He was a team captain. 
Deserving of No. 2? Or No. 3? You can make the case he would have been even better on better teams; Clemson never won more than eight games during his tenure. 
4. James Davis
Thunder (Davis) and Lightning (Spiller) formed the most dynamic running back duo so far at Clemson. Davis got very familiar with the end zone at Death Valley: 47 career rushing touchdowns is a Clemson record.
That's more than double Priester's total (21) and way head of Gallman (34) and Spiller (32).
Clemson's second-leading rusher (3,881 yards from 2005-2008)) and a former captain is the older brother of former South Carolina and current Seattle Seahawks running back Mike Davis.
5. Fred Cone
Others are on the way. But, for now, Cone, Banks McFadden, Jeff Davis, Steve Fuller, Jerry Butler and Terry Kinard are the only football players in Clemson's Ring of Honor.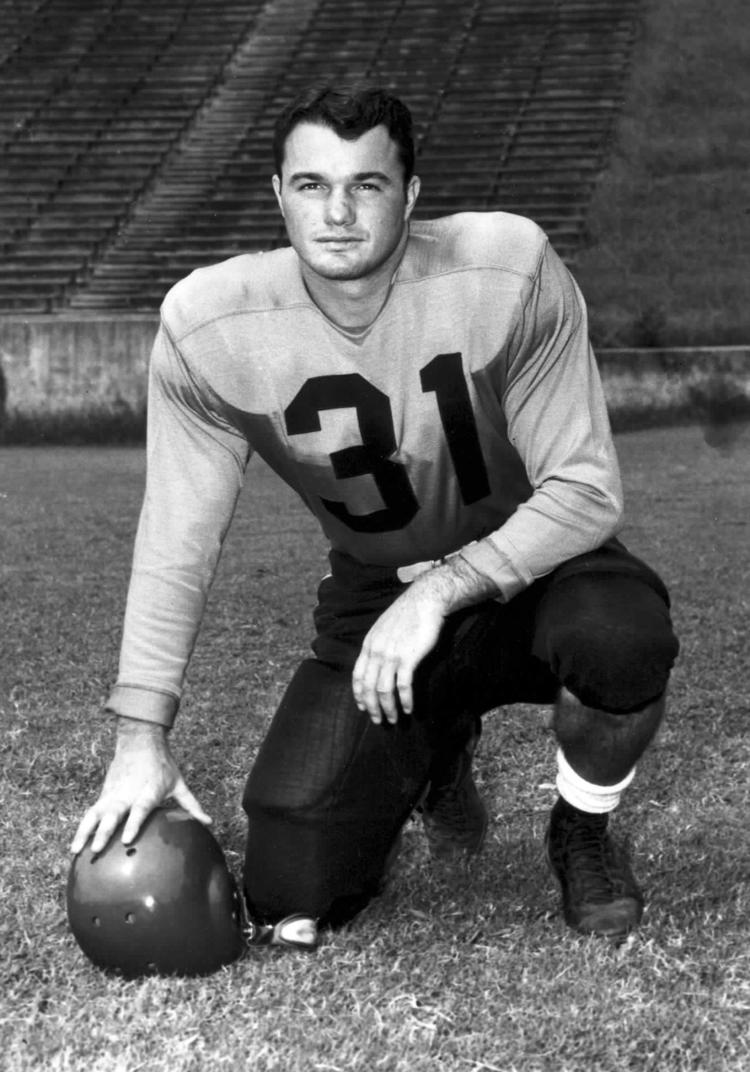 Relative dominance: The first Tiger to rush for at least 2,000 yards in a career, Cone (1948-1950) was a starter on two undefeated teams and remains, after so many college football innovations, No. 7 on Clemson's career touchdowns list (31).
Though hard to believe in today's world of recruiting scrutiny, head coach Frank Howard took Cone out of Mississippi on a tip from his sister that her next door neighbor was related to a phenomenal athlete. Never mind that Cone didn't play high school football. 
6. Andre Ellington
A Berkeley High School graduate and NFL veteran, Ellington was all about versatility. Ellington is fourth in career rushing yards (3,436 from 2009-2012), fourth in all-purpose yards (4,586) and tied with Gallman for fourth in total touchdowns (36).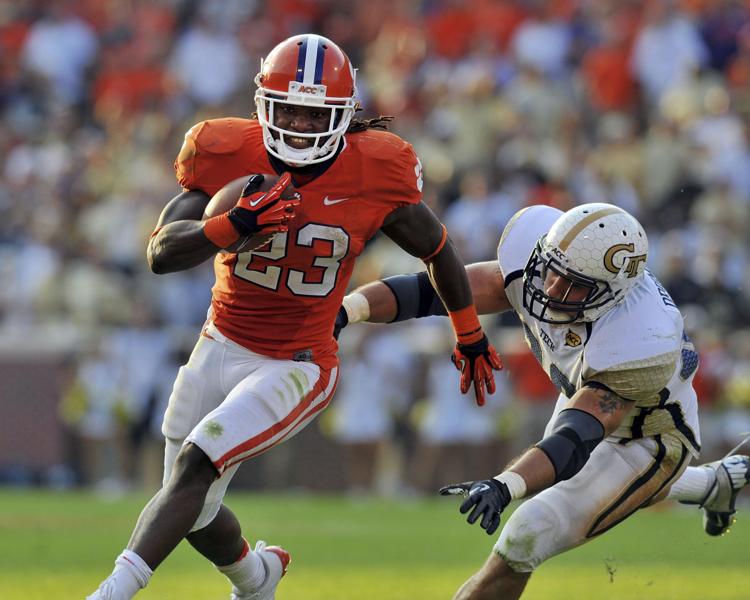 He got to play in a Chad Morris-schemed spread offense with the likes of Tajh Boyd, Sammy Watkins, DeAndre Hopkins and Dwayne Allen. And they got to play with Ellington. 
7. Travis Zachery
One of Clemson's most underrated players gets lost in many running back conversations, maybe because he didn't play on great teams, probably because of the way it ended. Bowden kicked Zachery off the team just before the 2001 Humanitarian Bowl his senior year after a marijuana arrest.
Too bad, because the Marietta, Ga., native ranks second on Clemson's total touchdowns list with 50, one shy of Spiller. He rushed for 3,058 yards (sixth) and piled up 4,391 all-purpose yards (fifth).
8. Terry Allen
Terrific, and a winner. As the top ballcarrier on Danny Ford's last three teams, Allen enjoyed three Florida bowl victories to go with his 2,778 career yards from 1987-89. He left Clemson as the school's second-leading career rusher (No. 8 presently).
A 10-year NFL veteran, Allen returned to Clemson to serve as a graduate assistant coach under Dabo Swinney.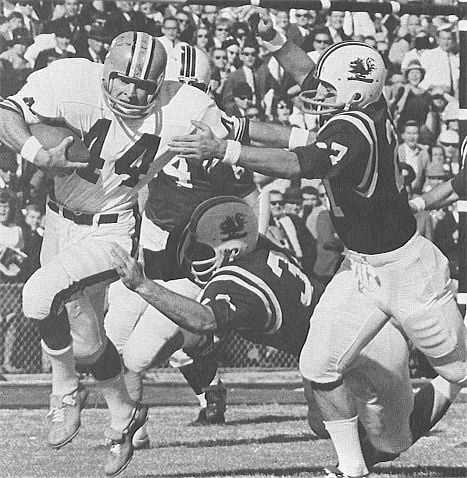 9. Buddy Gore
Clemson's leader in rushing and all-purpose yards three years in a row from 1966-68, the Frank Howard workhorse left Clemson as the school's career rushing leader. The former speedster, recruited out of Conway High School by former Clemson assistant coach Art Baker, is still 10th on the list with 2,571 yards.
Gore was the 1967 ACC Player of the Year.
10. Joel Wells
True, he is not among Clemson's top 15 career rushing leaders. But the Columbia native led the Tigers in rushing for three years, from 1954-56 and was a standout kick returner. Wells was All-ACC first-team twice and as Clemson's lone All-ACC selection on a 7-3 team in 1955 — 782 rushing yards, 7th in the NCAA that season — he carried the load. Wells played one season with the NFL's New York Giants after three years with Montreal in the Canadian Football League.
Follow Gene Sapakoff on Twitter @sapakoff