College of Charleston senior Jarrell Brantley has been a dominant force since first stepping on the basketball court at TD Arena in 2015.
The Cougars will lean heavily on the Columbia native during this weekend's Colonial Athletic Association Tournament at the North Charleston Coliseum. The third-seeded Cougars open the tournament Sunday against No. 6 seed Drexel at 8:30 p.m.
If Charleston is going to win its second consecutive CAA title and return to the NCAA Tournament, it will need Brantley, who is averaging 19.5 points and 8.4 rebounds, to lead the way. 
Brantley is the latest in a string of dominant big men who have led the College of Charleston basketball team through its years as a NAIA and NCAA member. So where does he rank on the Cougars' list?
No. 1 Ken "Gus" Gustafson 
Hometown: Long Island, N.Y.
Years at CofC: 1971-75
Height: 6-8
Statistics: Gustafson finished his career as College of Charleston's career leader in points (2,135) and rebounds (1,484). Gustafson's career scoring mark stood for 36 years until Andrew Goudelock broke the mark in 2011. For his career, he averaged 20.7 points and 14.4 rebounds a game for his career.
The Skinny: A left-handed shooter, Gustafson was a multi-skilled big man who had excellent quickness and moves in the post.
Gustafson was a double-double machine, finishing his career as the only player College of Charleston history to score more than 2,000 points and pull down more than 1,000 rebounds.
Claim to Fame: The lanky forward from Long Island, N.Y., was the cornerstone in the first recruiting class under head coach Alan LeForce. Gustafson helped put the Cougars basketball program on the map. Before Gustafson and LeForce arrived in the Lowcountry, the Cougars had just one winning season (1947) in program history. When Gustafson graduated in 1975, the Cougars had three straight winnings seasons, including a then-school record 19 victories his final season.
He scored a career-high 38 points against Limestone his senior year, while pulling down 22 rebounds against Baptist College (Charleston Southern) as a freshman.
Over his four years in Charleston, Gustafson averaged 20.7 points and 14.4 rebounds a game.
"They didn't bring me down from New York to pass the ball," Gustafson once quipped to his teammates.
Gustafson was a three-time NAIA All-District Six selection and one of only 12 players to have his jersey honored. Gustafson played professional basketball in France.
What they say about Gustafson: "Gus was a scoring machine and one of the quickest post players I've ever played with. Offensively, I don't think there has been a big man as good as Gus at the College," said former College of Charleston guard Sam Meade.
"Unbelievable in the post. He had all kinds of moves. He had a drop step that guys from today need to learn. He had a good hook shot and was an effective shooter from 15 feet. He had great hands, could finish around the basket. He could play in today's game because he was so polished as a player," said former Cougars guard Carl Stamps.
No. 2 Jody Lumpkin
Hometown: Columbia
Years at CofC: 1998-2001
Height: 6-8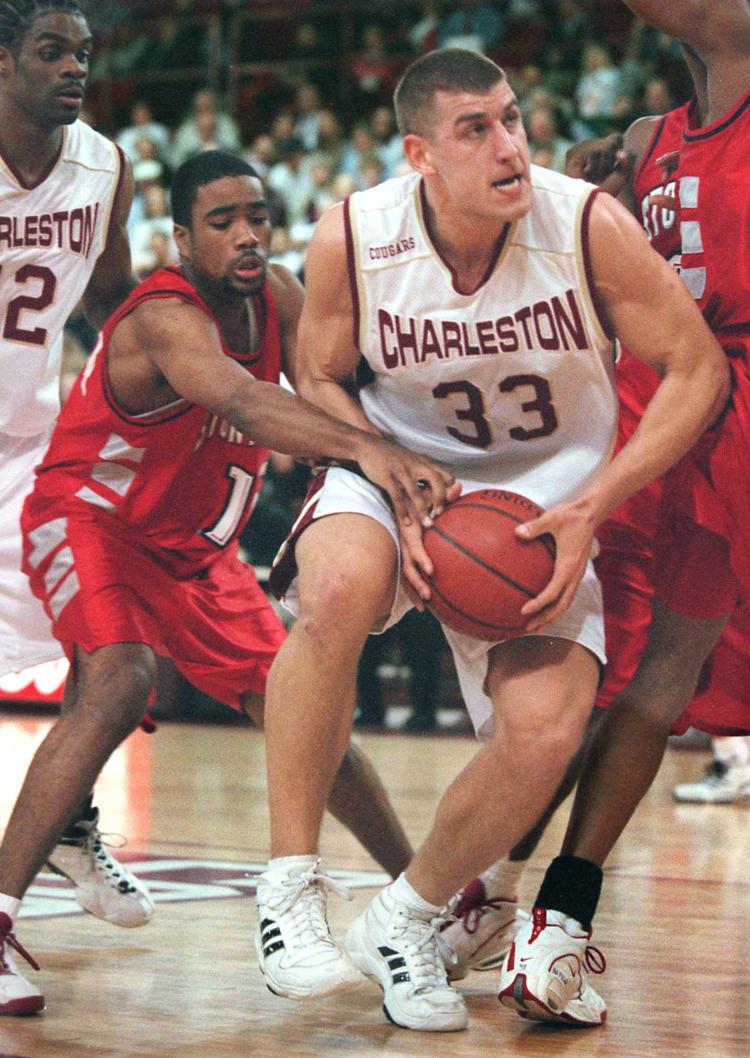 Statistics: Despite playing just three seasons for the Cougars, Lumpkin finished his career in the top 20 in scoring (1,269), top 10 in rebounds (710) and was the top shot-blocker (238) in program history. Lumpkin averaged 14.1 points, 7.9 rebounds and 2.6 blocks a game.
The Skinny: After spending his freshman season at Rice, Lumpkin transferred to the College of Charleston in 1997 and quickly earned a reputation as a physical force in the paint for the Cougars. Nicknamed "The Beast" by his teammates, Lumpkin gave the Cougars a strong, physical presence in the post. Besides being an elite shot-blocker, Lumpkin was a skilled offensive player who could create his own shot in the low post and pass the ball.
Claim to Fame: In matchups against Massachusetts and North Carolina, Lumpkin held his own or even outplayed post players that eventually went on to play in the NBA. In the Cougars' 66-64 win over North Carolina in 1998, Lumpkin went toe-to-toe with Tar Heels center Brendan Heyward. He embarrassed Massachusetts center Lari Ketner, outscoring the future NBA player, 22 points to 5 points.
Lumpkin was the 2001 Southern Conference Player of the Year and a two-time first-team All-SoCon performer.
What they say about Lumpkin:
"Jody was one of the best all-around post players I ever coached. He was a complete player who could score, rebound and defend," said former College of Charleston coach John Kresse.
"He was called The Beast for a reason. He could do it all on the court — score, rebound, pass, block shots, set screens. He was physical but had good touch around the basket," said former College of Charleston guard Danny Johnson.
"I played in a pickup game with Jody and went up to block a dunk. He dunked the ball so hard, I hit the floor and it felt like I'd broken my back. I never challenged him again when he went to dunk the ball," said former College of Charleston guard Anthony Johnson. 
No. 3 Thaddeous Delaney
Hometown: Columbia
Years at CofC: 1993-97
Height: 6-8
Statistics: Delaney finished his career eighth in program history in scoring (1,564 points), second in rebounding (1,119) and third in blocked shots (203). In four seasons, Delaney averaged 13.5 points, 9.6 rebounds and 1.8 blocks a game.
The Skinny: The signing of Delaney was a huge recruiting coup for the Cougars and helped the program established itself at the NCAA Division I level after transitioning from the NAIA. Delaney was nicknamed 'The Shaq of the TAAC' because of his physical dominance in the paint while the Cougars played in the Trans American Athletic Conference.
Delaney was athletic and fast and would get easy baskets by outrunning opposing big man down the floor for layups. He was also a tenacious defender and rebounder.
Claim to Fame: Delaney helped lead the Cougars to four straight TAAC titles and a pair of NCAA Tournament bids, and the team made the AP Top 25 rankings for the first time.
The Cougars also recorded wins against major programs like Penn State, Alabama, Tennessee, Arizona State, Stanford and beat No. 22 Maryland in the opening round of the NCAA Tournament in 1997, the school's only tournament win.
Delaney was a three-time All-TAAC player and the TAAC Player of the Year in 1996.
What they say about Delaney: "People always credit Anthony Johnson with putting The College on the map, but I think it started with Thad. He brought the pro scouts to our campus and got people to pay attention to us," said Danny Johnson.
"Other teams were just so scared of Thaddeous. He had that kind of effect on other teams. He was an intimidating force for us," said former Cougars assistant coach Dwayne Grace.
No. 4 Jarrell Brantley
Hometown: Columbia
Years at CofC: 2015-19
Height: 6-7
Statistics: With at least a couple of games remaining in his career, Brantley has scored 1,880 points and pulled down 950 rebounds. He should pass former Cougars' great Greg Mack for third place in the school's all-time scoring list before he finishes.
The Skinny: A matchup nightmare from the first time he stepped on the court as a freshman in 2015, Brantley has established himself as one of the top big men in program history. At 6-7 and 255 pounds, he has the size and strength of a power forward with the skill of a wing player. A career 35 percent 3-point shooter, Brantley has improved his outside shooting every season. He shot nearly 39 percent from 3-point range as a junior.
Claim to Fame: With Brantley in the lineup, the Cougars have had three consecutive 20-win seasons and played in the NIT and NCAA tournaments. As a sophomore, Brantley hit the game-winning shot in the final seconds against UNC Wilmington on the road. It was the Seahawks' only loss of the season at Trask Coliseum.
Brantley had 24 points and seven rebounds in a losing cause against Auburn in last year's NCAA Tournament.
Brantley, who has 12 double-doubles this season and 35 for his career, was the CAA Freshman of the Year and is a two-time All-CAA player.
What they say about Brantley:
"He's just a beast out there. JB is the emotional leader of this team, and we all kind of follow his lead. He works as hard as anyone on his craft and has been able to add another dimension to his game every season," said College of Charleston guard Grant Riller.
"He's probably the best power forward the College of Charleston has ever had. He's unstoppable when he gets going and when he's got his feet set underneath him, he's a good 3-point shooter. In the paint, he's just too strong for most players, and he's got great hands and he's a good passer," said Meade.
"I feel like Jarrell is the best all-around big man the College of Charleston has ever had. He can score from anywhere on the floor, he rebounds, he blocks shots, he handles the ball and is an elite passer," said Danny Johnson.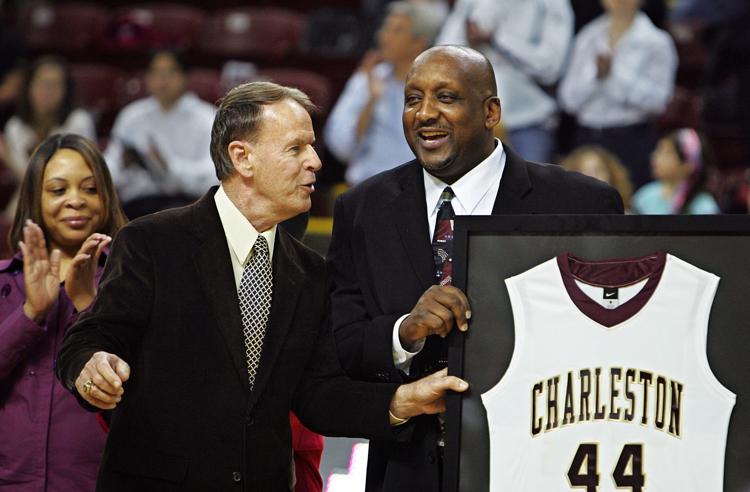 No. 5 Greg Mack
Hometown: Orangeburg
Years at CofC: 1981-85
Height: 6-6
Statistics: Mack finished his career with 1,901 points, third all-time in program history, and 843 rebounds, which ranks eighth. Over four seasons, Mack averaged 13.9 points and 6.2 rebounds.
The Skinny: Mack wasn't a classic low post player, but he did most of his damage in the paint with tremendous quickness and athleticism. Mack could play with his back to the basket or facing it and had a classic inside-outside game. He would take smaller players into the post and easily score on them and could take bigger players off the dribble.
Claim to Fame: Mack was a two-time NAIA All-American (1983 and 1985) and led the Cougars to the NAIA National title in 1983. The Cougars went 33-5 that season, and Mack led the team in scoring during their national title run, averaging 15.9 points a game.
The Cougars were 115-21 during his four years at College of Charleston.
Mack is one of 12 players to have his jersey honored.
What they say about Mack: "In the last few minutes of a game, we always put the ball in Greg's hands because he was a great finisher. He made one big basket after another, especially at the end of games. There was no one better at making a big shot or getting fouled than Greg," said Kresse.
"Greg was able to turn just about any situation into a scoring opportunity. He could create his own shot off of just about any situation and he was as tough to guard as any player I played with," said Steve Yetman, who was named the NAIA national championship tournament MVP.