FOLLY BEACH — The waves are small, the traffic is nonexistent, and the Washout is the picture of tranquility on a weekday morning before the summer rush. Brown pelicans cruising overhead outnumber people down below. A handful of early-risers perform yoga on the hard-packed sand. There are few visitors, fewer cars parked along Ashley Avenue, few indications of the mecca this stretch of the Edge of America has become.
But even now, the diehards are here, and easy enough to spot. The 1969 Chevy Custom 10 pickup was originally blue and white. Now it's mostly rust brown, the aging exterior belying a rebuilt engine under the hood. But the giveaway isn't in front, it's in back — where two fin-up surfboards poke out of the tailgate of the truck bed, and two empty board bags are wadded up in a pile.
Sure enough, the owner is out in the water, his face smeared with zinc oxide, along with a friend trying to make something of a morning where the waves seem to be measured in inches rather than feet. Ryan Cockrell, a downtown resident, started surfing 22 years ago. The lure and the reputation of the Washout — the premier surfing spot not just in the Charleston area, but all of South Carolina — loomed large then, just as they do now.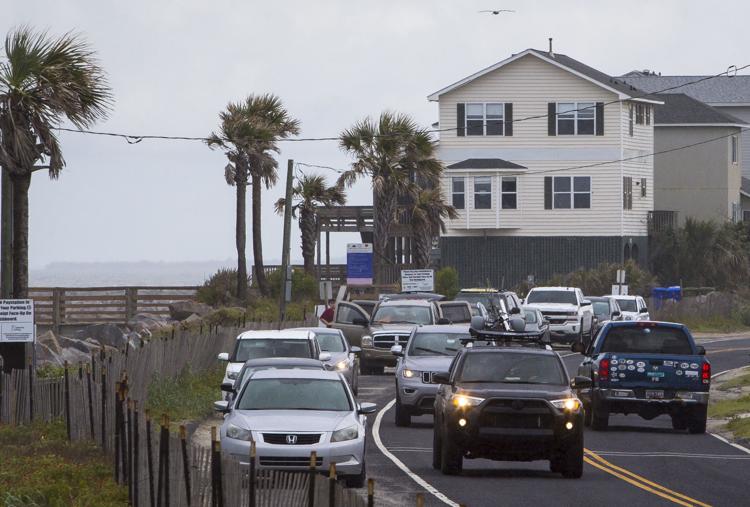 "I remember being very afraid to surf here when I first started surfing. Very afraid of the Washout," said Cockrell, 40. "When I finally did come here, I was like — 'What are all these beginner guys doing here? They shouldn't be here. They don't belong. I was afraid to come here, they should be afraid to come here.' I waited until I at least had enough knowledge to stay out of people's way."
That tension, between newcomers eager to try the Washout and veterans who claim it as their own, is more apparent now than ever as Charleston's population boom and the city's tourism industry combine to add more newcomers, more rookies and more visitors to the lineup (the area where surfers gather to catch waves). Charleston surf culture has evolved over time, from the province of long-haired kids to a passion of dads and professionals, and now the area's growing pains are as evident in the water as anywhere else.
"Ninety-nine percent of my business is people from middle America who have always wanted to go to the coast," said Kyle Busey, perhaps the top surfer to come out of Charleston and owner of Carolina Salt Surf Lessons. "Everyone is pretty much a visitor or someone who recently moved here. Very rarely do I ask someone, 'Oh, where are you from?' and they say, 'Charleston.'"
Tim McKevlin sees it, too, at the surf shop his father Dennis founded in 1965, and in the time since has become a Folly Beach landmark. "The new residents have definitely taken to surfing," he wrote in an email. "Our surfboard rental business and the sale of used surfboards increase every year. Those are two things usually associated with new, beginner surfers."
Surfing in Charleston is "on the uptick, no doubt about it," said Isle of Palms' Marshall DePass, director of the Eastern Surfing Association district covering the southern part of the state. Anecdotal evidence and statistics indicate surfing is becoming more popular among kids and women. Those who give up the sport while starting a family and climbing a career ladder have become more apt to rediscover it in middle age. The sport's profile is certain to grow even higher as it achieves Olympic status in 2020.
"You go from the point where if you surf, you're considered to be a rebel, to if you don't surf, you're considered to be a rarity," said 71-year-old Foster Folsom, a fixture on the Folly suring scene for decades.
"As the city has grown, the population in the water has grown exponentially," Busey added.
While it may not be — forgive the term — a sea change, it's clearly another step in the sport's evolution in the Lowcountry, one either welcomed or grudgingly accepted depending on the point of view. Surf shops and surf schools benefit from the increased traffic, while some surfers voice concerns about Folly getting too crowded or losing a bit of its funky charm. The water, though, remains the lure it's always been, to both graybeards and novices alike.
"As much as you want the sport to grow … you've got to learn to give and take," said local surfer Chad Davis, co-founder of the Charleston-based Carolina Surf Brand apparel company, which has received orders from as far away as Canada and Thailand. "Luckily, it's a hard sport to learn."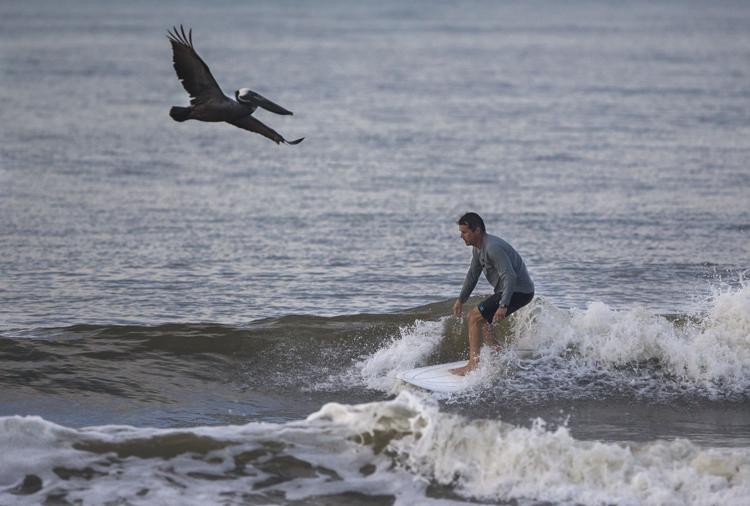 'At a tipping point'
For the better part of two decades, DePass has been surfing off the Isle of Palms between 24th and 26th avenues. As recently as seven or eight years ago, he said, he or his sons could paddle out and recognize every face in the lineup. On the day after Memorial Day, with the water churned by Subtropical Storm Alberto, he said there were between 40 and 50 surfers in the water — one so green he asked DePass how to execute a basic maneuver for getting a board through an oncoming wave.
Through his role with the ESA, which sanctions surf competitions in the area, DePass has seen the growth firsthand. The ESA used to have one category that comprised all surfers under 14. That has since been separated into under-12 boys, under-12 girls, under-14 boys, and under-14 girls. While there's also been a spike in adult levels like 35-and-over, 50-and-over, and 60-and-over, it's the youth divisions where the increase has been most notable, especially among girls.
"You see more and more kids getting involved. It's amazing how many kids are getting involved in the sport," said DePass, 50, who's served a decade as director of the ESA's Southern South Carolina District.
"We have so many girls now in all ages, from 6, 7 years old all the way up. That's very cool. It used to not be like that. When I was growing up, you'd have 20 or 30 kids from school you knew, and out of that 20 or 30 you might have one or two girls that would surf. Now, a third if not more or girls. It's awesome."
Yet competitive surfers represent only a small fraction of the estimated 2.75 million surfers in the United States, according to a 2015 study by the Surf Industry Manufacturers Association. That number seems bound to increase. "With the Olympics and the emergence of wave pools, we expect surfing to continue to grow exponentially," said Becky Fleischauer, communications director for USA Surfing. As far as surfers in South Carolina, numbers are more difficult to come by, leaving anecdotal evidence to tell the tale.
"There are more and more people, for sure. It's a double-edged sword. It's probably good for the surf shops and businesses, but poor Folly Beach is probably at a tipping point where it can only hold so many people. You've seen the traffic out there," said Glenn Tanner, 62, long one of the top surfers in the area.
"Most mornings, I get up and check the surf cams, and there's already someone on the water. It's crazy. It's impossible to be the first guy out there anymore. But we're all out there for the same reason — it's just the nature of the beast."
Cockrell said he's noticed an increase in surfers even in the offseason, which the core diehards once had to themselves.
"It used to be you'd come out here in the winter, and most people didn't want to surf. The equipment was too expensive, and it was just too cold for beginners," he said. "Now, you'll see beginners in nice, new wetsuits. The equipment's gotten better and less expensive, and access over the winter has become more feasible."
The increased interest in surfing is noticeable at both Folly Beach and Isle of Palms, according to regulars. But the contrast is clearest at the Washout, where friction between newcomers and veterans is nothing new, and "the hot dogs and the old dogs are going to get new people in line," Cockrell said. But there are so many newcomers and novices these days, Davis believes that order has broken down.
"It used to be, there were some enforcers in the water. It's a weird, archaic way of going about it, but that's kind of the way surfing is. ... If you got out of line, it wasn't unheard of for you to get yelled at pretty good or have somebody get in your face. It worked. It kept the crowd dispersed," said Davis, 45, who started surfing when he was 8.
"That's kind of gone away. People on soft-top surfboards go right out into the main spot where guys are getting barreled. There have been many a time when I've been like, 'Hey man, I'm not trying to be mean or anything, but you should move down the beach a ways.' The whole hierarchy of people regulating the lineup has kind of gone away. When there's a good swell, the Washout is a zoo. It's absolutely a zoo."
But one they willingly return to, again and again and again. Davis is among those who moved to the surf capital of Southern California for a time, only to eventually come back to Folly. Veterans like Tanner and Folsom continue to surf every chance they get, despite the increased crowds and traffic.
"I don't think (the growth) has discouraged the older locals from continuing to surf," McKevlin wrote.
There's no other option, really. To those devoted to it, surfing is a culture, a way of life, a state of mind.
"We as surfers, we try to hit the water to almost clear our minds. It's kind of like a form of therapy," Busey said.
The traffic may be backed up to the old Piggly Wiggly on James Island and the water may be crowded with neophytes on newly-bought boards, but those who live it continue to find a way.
"It can be shoulder-to-shoulder packed, and I can still find these little bubbles of open space, these pockets where no one else is. I love it," 33-year-old Colin Peterson, who moved to Charleston five years ago from Wrightsville Beach, N.C., said after surfing with Cockrell at the Washout. "I've yet to have one person shoot me a mean glance or throw me a bad vibe. Everyone has been super nice, and everyone has been very welcoming."
'Go out and get a job'
Surfing in Charleston, after all, has historically faced hurdles more challenging than a growth spurt. The sport was once so derided as a waste of time, its participants so disparaged as burnouts and slackers, that when a younger Folsom once informed his father that he was heading down to Florida to surf, he received a response not uncharacteristic of the time — don't bother calling if you end up in jail.
"Our fathers were World War II veterans, Korean War veterans, very serious people. That changed their outlook. We were not quite as serious," said Folsom, who along with his wife surfs for a few weeks off Nova Scotia each summer, and in California during the winter.
"Just like any subculture, (surfing) was a little bit freewheeling," he added. "Most of us were young, and we had a tendency toward being a bit rebellious to begin with."
Surfing first blossomed in Charleston in the 1960s, fostered partially by military members stationed here who brought surfboards along with them. In a conservative city, it was immediately associated with long hair, loud music, laziness and drug use. On Folly Beach, according to McKevlin, residents came to loathe those surfers who would cut through private yards to get to the beach or help themselves to someone's outdoor shower, in the process stigmatizing everyone involved.
"Instead of being thought of as a sport, it was perceived as being just another activity that occupied kids' time and prevented them from doing the things adults wanted them to do — work, study, or participate in 'normal' sports," McKevlin wrote in an email. "I believe some folks actually feared surfing. Maybe it was another Commie plot! In addition, since most of the participants were kids, they did kid things."
McKevlin's father Dennis, founder of McKevlin's Surf Shop, became instrumental in changing the perception of surfing at Folly by attending city council meetings, later winning a seat, and lobbying tirelessly on behalf of the sport. A 1976 federal court ruling granted surfers improved access to Folly Beach, but in some minds the belief that surfing was a waste of time continued to linger for much longer.
"It was like, 'Oh, that's a nice hobby and everything, now go out and get a job.' My dad thought it was silly of me to pursue surfing, but once he saw me winning national titles and hanging with the best in the world, he started to take a little notice and give it a little more respect," said Busey, 31, a former touring pro who continues to compete in the professional ranks.
"Growing up, people would look at you like a burnout, because that's what Hollywood portrayed it as," he added. "We've kind of burned down that stereotype. Some of the best surfers around here are doctors, lawyers, family men."
Indeed, that's how much the perception of surfing in Charleston has changed. What happened? Many of those long-haired surfers from the 1960s and' 70s grew up, cut their hair — and kept surfing, eventually bringing their kids along. Tanner's family is emblematic of the shift; he started surfing in 1968, and his children Kristin and Evan have become championship surfers in their own right.
"The demographic of the surfers themselves, when I first started, it was probably (aged) 13 to 25. The 25-year-old guys were the old guys. And now, it's 7 to 70, man. A lot of guys like me, who started early, are still surfing," Tanner said.
"Our generation, we just kept surfing. And with every generation, there were more and more guys who never quit. They just kept on surfing, so it kept building and building. And now you have doctors, lawyers, engineers — everybody surfs."
DePass has seen that reflected in the ESA, where the divisions seeing the most robust growth are youth and over-40. Surfers who perhaps gave up the sport to devote more time to professional pursuits and raising a family, DePass added, have become more inclined to return to it later in life, this time with their kids in tow. At 71, Folsom has 65 surfboards stashed around his house. The 25-year-olds aren't seen as the old guys in the lineup anymore.
"We all got older, had our own children, and supported our kids in the sport," Folsom said. "It's been a natural evolution. The sport has become more mainstream."
To the point where it's making advances even inland. The ESA division overseen by DePass has regular competitors from Columbia, Greenville and Asheville, N.C. "A lot of people think they're local, because they just don't miss (an event)," he said. Wave pools of the type pioneered by 11-time world champion Kelly Slater are bringing ideal surfing conditions to areas hundreds of miles from any ocean.
Combine it all with an Olympic debut two years away, the lure of a culture that draws crowds to any surf-themed film showing or arts festival on Folly, the multiplying number of area surf schools, advances in surf forecasting technology — and the crowds at the Washout aren't likely to get any smaller anytime soon.
"It's an exciting time in surfing, in my opinion," Davis said. "You still have the hipster guys who wear an unbuttoned Hawaiian shirt out in the lineup, and maybe have a big man bun on top. But you run the gamut on what you'll see in the water. The days of it being seen as a bad influence are gone."
Contact David Caraviello at david@lowcountryeditorial.com.