It's still dark outside.
The sun won't rise for at least another hour, but South Carolina State football coach Buddy Pough is on his bicycle, peddling through the parking lot of Oliver C. Dawson Stadium, a jar of peanut butter and jelly and a couple of loaves of bread tucked under his arm.
A groggy Austin Ruger, the Bulldogs senior tight end, is still wiping the sleep from his eyes when he sees Pough. The former Dutch Fork High School standout can't help but smile.
The night before, Pough made a run to the local Orangeburg Wal-Mart to get fresh supplies. The veteran coach wants to make sure his players have something to eat before they practice that morning.
"If you get up that early, it's hard to eat anything before practice," Ruger said. "For me, I just want to get through practice and eat something at the cafeteria later that morning after practice. But Coach P wants everyone to eat something before we get out there."
Because of the recent budget crunch at S.C. State, the money to pay for the team's morning snack comes out of Pough's own pocket. It might be an NCAA violation, but Pough doesn't care. This is for his players.
"It's not normal what Coach P does for us, what he does for the players and the program," said Ruger, a biology major with aspirations of going to medical school next year.
"During preseason camp, he'll have a snack for all the players at night, too. I know he pays for that himself. He just wants to make sure everyone is taken care of. Trust me, the guys notice everything he does for us. We don't take it for granted.
"To me, Coach P is South Carolina State football. There's no football program without him."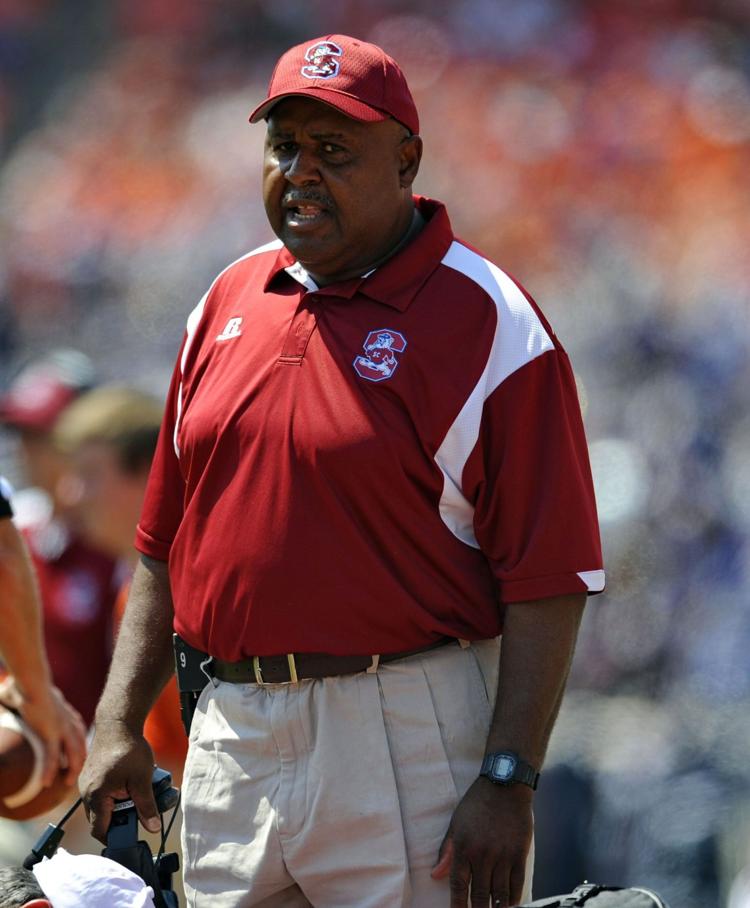 After 17 seasons, 125 wins, six Mid-Eastern Athletic Conference titles and four FCS playoff appearances, Oliver "Buddy" Pough thought his time as the Bulldogs' coach was coming to an end earlier this month. Pough, who is just four wins shy of becoming the school's all-time winningest coach, completed the final season of his contract and no decision has been made about his future.
"Discussions regarding Coach Pough's contract have not taken place at this time," SCSU athletic director Stacy Danley said in a prepared statement earlier this week. "I will have the appropriate discussions with coach Pough and President (James) Clark to determine the state of the program. Subsequently, a decision will be made based on what we believe will be in the best interest of the university."
Pough has made no secret about his desire to return for an 18th season and beyond.
"I'd like to continue to work for another few years," Pough told The Orangeburg Times and Democrat. "I'm still young enough that I can still run around some. If it wasn't for these artificial hips they gave me a couple years back, I think I could still outrun some of these guys. I still enjoy getting up and going to work, and I still enjoy coaching."
A coach's coach
Pough grew up in Orangeburg and has spent almost his entire adult life in and around the S.C. State football program.
"Buddy knows just about everybody in town because he went to school with half the city," said Bill Hamilton, who served as the athletic department's sports information director for more than three decades. "He was part of the first desegregated Orangeburg high school graduating class."
An offensive lineman for the Bulldogs from 1971-74, Pough was a second-team all-conference pick his senior season at S.C. State.
"Buddy was a better player than he lets on," Hamilton said. "He wasn't as big or as athletic as some of the other offensive linemen we had back then, but he was smart and he knew how to get the most out of his ability."
Pough took a job as a coach at Orangeburg-Wilkinson High School before returning to his alma mater to work under his mentor Willie Jefferies for the next 10 seasons.
"People think that Buddy is an offensive guy because he played on the offensive line, but he was a defensive coach for me and a good one," Jefferies said.
He became a head coach at Keenan High School and later captured a Class AAA state title with a 15-0 record at Fairfield Central in 1996.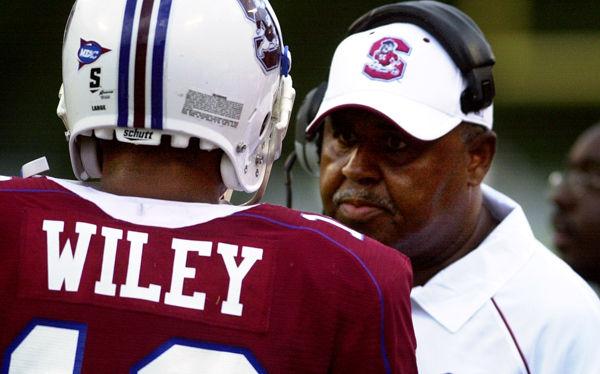 Former South Carolina coach Brad Scott hired him as an assistant coach with the Gamecocks in 1997. Two years later, Scott was out of a job and the school hired Lou Holtz.
"When I got to South Carolina, I wasn't sure what I was going to do with the staff," Holtz said. "I called around to get in touch with Buddy, but he was at a high school playoff game. He didn't have a job at that point, but he was there recruiting for us. I visited with Buddy not long  after that and decided I needed him on my staff."
He served as Holtz's running back coach for the next four seasons.
"He was a great asset to the University of South Carolina," Holtz said. "I love Buddy. Just a great guy and also an outstanding football coach."
In 2002, Holtz got a call from S.C. State seeking permission to talk with Pough about the Bulldogs' vacant head coaching position. Pough was reluctant to take the job at first.
"Buddy wasn't going to take it," Holtz said. "I told him I'd love to have him back, that he had a job for life with me, but I thought he'd have a greater impact on young people by being the head coach at South Carolina State. I thought he had so much to offer young people. He'd be impacting 125 kids, instead of just five."
Pough took over the Bulldogs' program in 2002 and led the team to 10 straight winning seasons. He guided the Bulldogs to back-to-back 10-win seasons in 2008 and '09, and three straight FCS playoff appearances. The team posted winning records in 13 of his first 14 seasons as head coach.
"Buddy is a coach's coach," said Bennett Swygert, the Bulldogs offensive coordinator. "He's sharp enough to be able to coach every position on the field."
Financial meltdown
The fortunes of Pough and the SCSU football program began to dim in 2016.
The school was in the midst of a financial meltdown with dropping enrollment and mismanagement across the campus. Enrollment plummeted from more than 4,000 to around 2,600 and the school nearly lost its accreditation. 
Pough was starting to feel the effects of the crisis. In 2015, 14 positions were trimmed from the athletic department. That summer, football players were not allowed to stay on campus and attend summer school as part of their scholarships. The loss of a class/workout routine, which is common throughout college football, began to take its toll.
After going 7-4 in 2015, the Bulldogs went 5-6 in 2016, then dropped to 3-7 in 2017. Recruiting was hit hard.
"It was like we were playing with one hand tied behind our backs," Ruger said. 
Pough needed to make up the shortfall in the athletic department's budget, so he began to schedule "money" games against Division I opponents. S.C. State has played in 17 "guarantee" games, taking on teams like Clemson, South Carolina, Texas A&M, Georgia Tech, Central Florida and Arizona to make ends meet.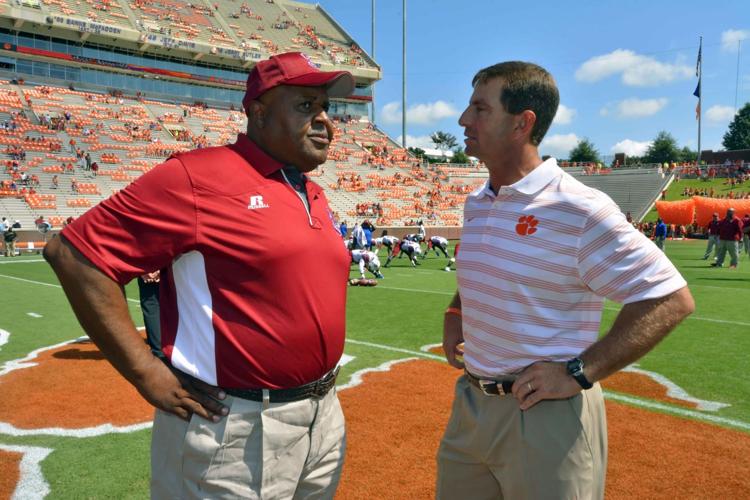 "That's been a sacrifice he's made to help not only the athletic department, but the rest of the university," Hamilton said "Some of that money doesn't even go to the athletic department, it goes to the general fund, too. His record would be much better if didn't have to play those games."
There's little doubt Pough would have already broken Jefferies' record had he not scheduled so many unwinnable games in order to bring much-needed money to the school. 
"He's done a tremendous job there," Holtz said "You give Buddy equal facilities, equal money and he will win. He doesn't need an advantage, he just needs a fair chance."
Ruger agreed.
"We could be a dominate team if we had the budget," Ruger said. "When the money leaves, the talent leaves with it. I have no doubt in my mind that if we had the budgets of some of the other schools in the league, we'd be at the top of the MEAC."
Playing "guarantee" games and mostly freshmen and sophomores, the Bulldogs stumbled to an 0-4 record to start the 2018 season. As soon as the Bulldogs started to face FCS competition, they rebounded, finishing 5-2, including a four-game winning streak.
"He redshirted guys that, honestly, could have helped us this season," Bennett said. "But Buddy thought having them sit out a season was in their best interest. It was going to help their careers. That's the kind of coach he is. He wants what's best for the players."
Breaking a school record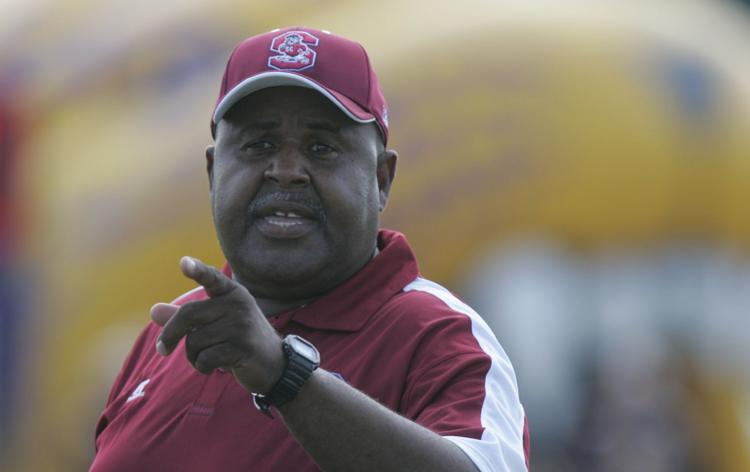 Jeffries said he hopes the school will bring Pough back for another season.
"I know for a fact that we couldn't find a better coach than Buddy Pough," Jefferies said.
Pough needs just four more victories to become the school's winningest coach. It's a record that many, including Jefferies, want to see Pough break.
"Records are made to be broken and if Buddy does it, it would be a star in my crown as well as his," Jefferies said. "No one would be happier than I would if he broke my record."
It's time, Ruger said, for the administration and the school to show appreciation and support for Pough.
"I hope he comes back because he's worked so hard and done so much for the school," Ruger said. "I know he wants that record and he deserves it. He's put in the time for that. I feel the school should show him some loyalty."