CARTERSVILLE, Ga. — Joey King isn't fond of allowing eighth-grade students on the high school practice field when spring football begins each year.
As the head coach of Cartersville High School, King is of the belief there are still so many fundamentals a 14-year-old needs to master before he can strap on a helmet and play high school ball. There's a huge learning curve, he says, when it comes to the lingo. Then, there's the system and style of play.
But it was the spring of 2014, King's first as head coach at Cartersville, and that notion was about to be tested.
When the new coach and his family arrived in the tight-knit north Georgia community about 45 minutes from Atlanta, King made it his mission to get to know everyone and everything about his new home.
In his conversations about football, he learned there were two quarterbacks he needed to meet — each of them talented in their own right. One was a rising junior and the team's starter. The other was a 6-2 eighth-grader whose exploits from his middle school team were raising him to almost legendary status.
The young star was to enroll at Cartersville High School the following fall. King needed to meet him. So he paid him a visit.
Immediately, he realized he also needed to make an exception to his rule about eighth-graders. Trevor Lawrence, now a freshman at Clemson, deserved a spot on his practice field. This spring was different. And soon, Lawrence would prove why. 
Weeks later and a few practices in, the Purple Hurricanes ran a pass play with Lawrence at quarterback. On the play, an inside receiver freed himself from a linebacker and was open for a fraction of a second.
"Trevor hit the kid in the head with the ball," King laughed, marveling at how this eighth grader was already so in tune with reading coverages even when his own receiver failed to realize he was open.
During practice a couple of days later, a bad snap from center forced Lawrence to scramble for the ball. He grabbed it off the ground, jumped in the air and made an off-balance throw downfield that was right on target.
Half frustrated, half flabbergasted, Cartersville's defensive coordinator could only shake his head. King was astonished. He took one look at quarterbacks coach Michael Bail, who would later remind King that only a year earlier Lawrence was playing kick the can behind the bleachers during Cartersville games, and made a declaration.
"Whoa," King said. "This kid is going to be special. Whatever 'it' is, he has it." 
But that was just the beginning. The hype machine was only just heating up.
Lucky for Lawrence, he learned how to master the spotlight early and often. The reserved, prodigious teenager had no other choice.
A national sensation
Fast forward to last fall. It's Friday night in Cartersville with Lawrence firmly established as the team's quarterback, and the line at Capri Restaurant directly across the street from the high school is out the door and wrapped around the building.
The local bank parking lot, situated between Capri and the school for overflow traffic on football nights, is already full. There are still two hours before kickoff. And yet Cartersville, a community where Mayor Matt Santini is also the school's play-by-play announcer and the speed limit is often 25 mph, is a circus.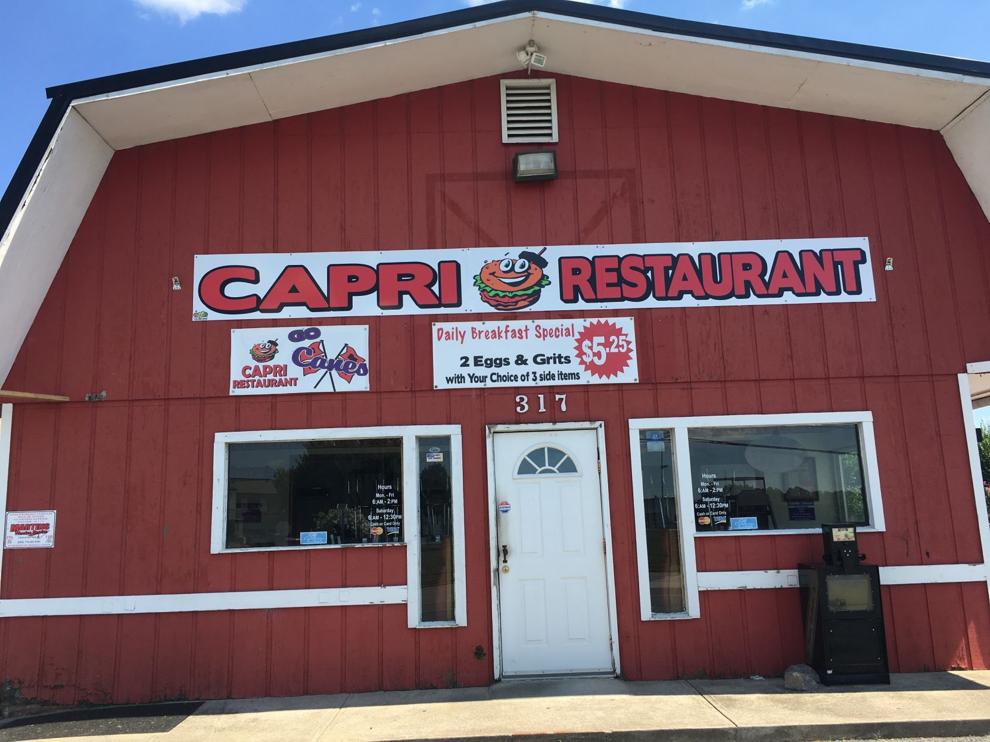 Thousands of fans have already shown up. Most are in purple, there to support the local team and its anointed hometown hero. But some have traveled from other cities in Georgia, and even other states, to get a glimpse of how good this golden boy with the long blond locks really is.
Darrell Givens, a former Cartersville Middle School custodian and owner of Capri, is having another busy night. 
Givens is the unofficial chef of the Purple Hurricanes and famous for his chili cheeseburgers, a real culinary work of art with slaw oozing from the middle and chili covering the bun. On game days he feeds the entire football team the same meal: hamburger steak, baked potatoes, salad and toast. But now, on this Friday night, it's time for the fans. 
When Lawrence started making headlines, the 29-year Cartersville resident opted to skip the games and instead keep his restaurant open into the evening. His business in this town of about 20,000 people increased by almost 40 percent on Fridays last fall.
As he takes the order of a customer sitting in the small diner where Lawrence's autographed pictures hang and where a generous piece of lemon pie will only set you back $2.45, he notices he doesn't recognize the stranger in front of him. He asks him where he is from. The man tells him he drove all the way from Tennessee with his son just to see Lawrence play. By now, this is par for the course. 
Over the duration of Lawrence's four years at Cartersville, he's had to learn to deal with fame. Once, two men drove all the way from Ohio and approached Lawrence as he was getting into his pickup truck after practice one day. All they wanted were an autograph and photo with the quarterback.
Another time, at a restaurant in Louisiana, Lawrence and his family were eating when a man driving past saw him through the window. He stopped his car and approached Lawrence, begging him to play for LSU.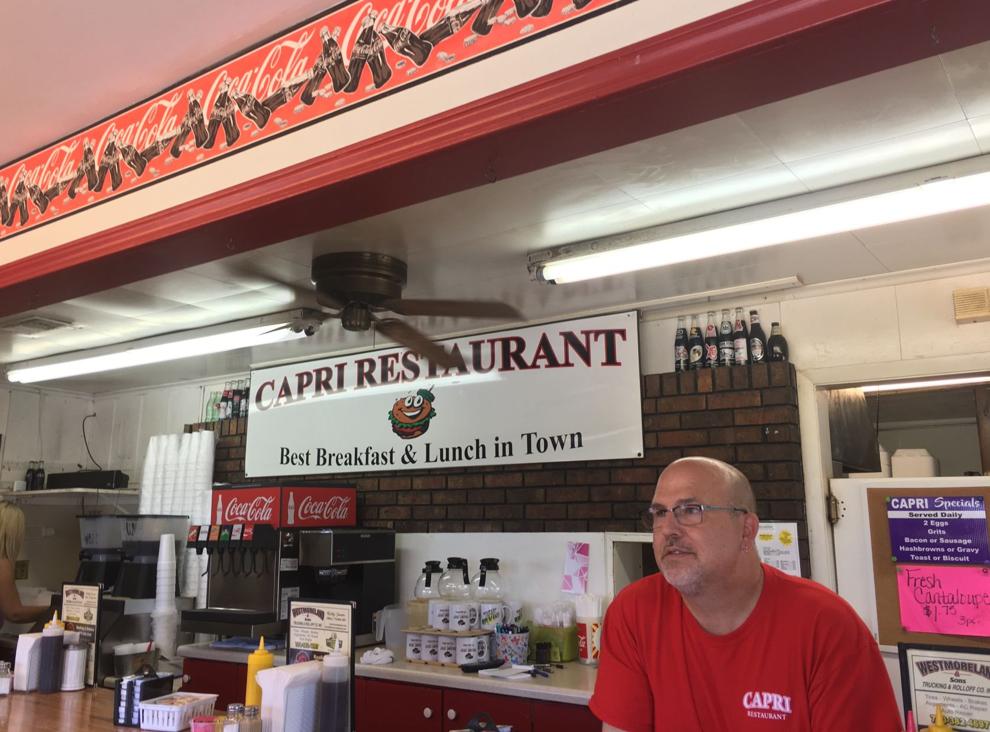 Random strangers off the street have walked through the school to catch a glimpse of Lawrence. More than 100 college coaches visited Cartersville, creating a scene King described as rivaling Grand Central Station. Once at an away game, there were so many people lined up for autographs that the football team actually slipped Lawrence out the back gate by somewhat-jokingly having another, taller player on the team pose as Lawrence.
Then, when Lawrence arrived at Clemson this spring, people recognized him when he went out for meals and asked for photos. This was before he ever took a snap at the collegiate level.
The Lawrence-mania is real. It is undeniable both locally and on a national level. And for small-town Cartersville, the people there couldn't be prouder of their communal son.
"He created a curiosity," said Cartersville school superintendent Marc Feuerbach, who was the principal when Lawrence was in high school. "That curiosity then led to more people coming to games to really see Trevor."
But behind the scenes, those who know Lawrence best insist the attention and hype haven't changed him.
The most important thing you need to know?
"He's extremely normal. Which is odd to say for someone in his situation," Cartersville defensive coordinator Conor Foster said.
"That's him," coach King added.
He can thank his family for that.
'You are worthy' 
Amanda and Jeremy Lawrence's second-born son always had an energy to him as a child that was completely wide open at any given moment.
Laid back and more quiet now as a teenager, it wasn't always that way for Trevor, whom Amanda's brother used to call the "most coordinated uncoordinated kid" he had ever seen.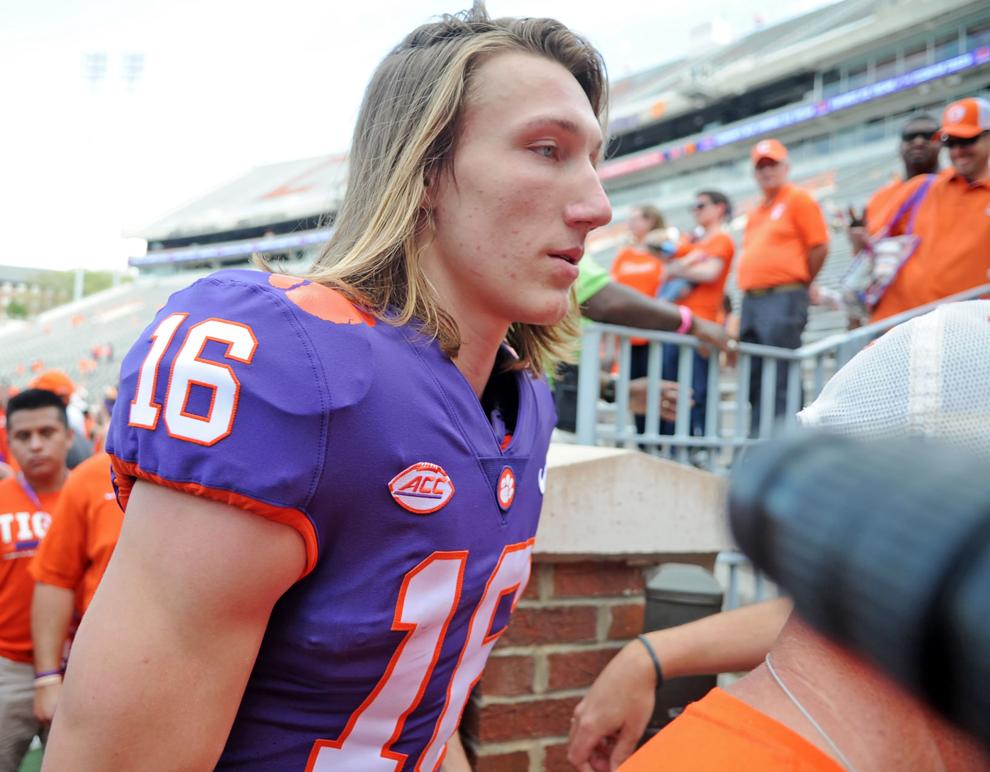 On the one hand, young Trevor was a standout football, baseball and basketball player in the backyard with his friends. On the other, he tripped over his shoe laces on a routine basis.
While her older son, Chase, couldn't be more opposite from Trevor and is now a phenomenal artist, Amanda noticed that Trevor always had the athletic knack.
And there was something else about him, too, something that hasn't changed at all.
"Trev really has an uncanny just calmness about him. Even in the midst of very intense circumstances or situations, Trevor's got a pretty level head and he's been able to handle that," Amanda said. "My husband is really like that too. He probably gets that from his dad. He's just calm, cool and collected."
Over the years, as Lawrence finished high school with two state championships, 41 straight wins as a starter, 13,000-plus passing yards and two state records (previously held by Deshaun Watson), that trait came to his aid many times.
But externally, the football field appears much less daunting when he remembers who he is internally, which his family reminds him of often: a protective older brother of 7-year-old sister Olivia, a wildly proud younger brother of artist Chase, a fishing enthusiast, a young adult of deep faith and a normal teenager who only months ago was attending his high school prom.
"This is what we've always told Trevor even before he got really well-known: You've got to know who you are," Amanda said. "If you didn't have all these people telling you how great you are, you've got to still know that you're still worthy, you're worth somebody and you're a child of God."
'A generational talent'
In less than a month, Lawrence will slip on a Clemson uniform for his first college game and, at last, one of the most highly anticipated quarterback debuts in the country will come to fruition.
Where Clemson goes with its quarterback situation and how the Tigers decide to handle the delicate balance of using senior Kelly Bryant and Lawrence remains to be seen.
But one thing is certain, the people of Cartersville say.
Vicky Durham was born and raised in the quaint southern town, was a four-year cheerleader at the high school and after 25 years away, returned home in 2015 to the place Lawrence has helped transform. If anyone knows Cartersville in and out, it's the uber-friendly southern-belle, who adores Cartersville and its people.
Lawrence has been an unparalleled sensation, she says.
"We've always had nice football seasons, good seasons, but nothing to the level of this and nothing to the level of this notoriety that we've had," she said. "I think it has just meant so much to the people. All of these guys who played in the 80s, who played in the 50s, they all just came around the Canes and it all just resurfaced and restarted again."
Indeed, Lawrence has captivated a community at home. And likely will again in the upstate.
King, who plans to watch Lawrence on television and listen to Clemson games on the radio every Saturday, says his former quarterback is ready for any role Clemson needs.
Coaching Lawrence has been a bucket-list reality that high school coaches usually only dream of.
"I think he's a generational talent," King said. "I really do. I've never seen one that good."
Then he paused.
"And probably won't."
Perhaps the same goes for Clemson.