CLEMSON — The double doors to the gymnasium of Jennings High School swung open and in walked Travis Etienne. Rusty Phelps, the high school football coach at the small Louisiana school closer to Texas than New Orleans, could see the flash of Etienne's grin all the way from his office.
This was going to be a big day.
It was Thursday, Jan. 12, 2017 — exactly three days after a new king in college football had been crowned.  
Etienne watched the Clemson-Alabama national championship showdown with his mother, Donnetta, earlier that week.
Mom had a hunch Clemson would win. Her son, a fan of the SEC, thought there was no way Alabama could lose.
They watched in separate rooms.
When Hunter Renfrow caught Clemson's game-winning touchdown pass with one second left on the clock, Donnetta shrieked so loudly it echoed off the walls of their home.
Mom was right after all. Clemson's performance against mighty Alabama surprised Etienne.
On this Thursday, the Tigers were about to surprise him again.
'Have you heard from Clemson?'
Fast forward to the present. Travis Etienne is a sophomore running back at Clemson. He's also one of the most dynamic college football players in the country, his name being mentioned in Heisman Trophy conversations.
See a hole in the middle of the field? He has already found it and is thrashing through defenders with a spin move or stiff arm. Watch him jet out in open space? His legs move so fast they're almost a blur.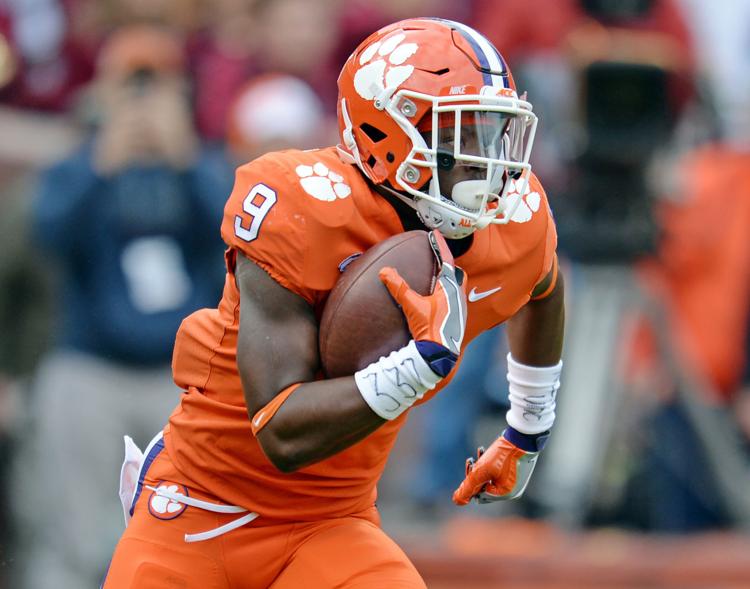 The No. 2 running back in the country when it comes to yards per carry, Etienne averages 9.17 per attempt and already has 761 yards for 11 touchdowns. Clemson has played just six games.
But for as lethal as Etienne's production is for the Tigers, there was a time when Clemson came razor-thin close to not having him in its arsenal at all. 
For months during his senior year of high school, Etienne made regular visits to Phelps' office for an update on which college football programs were vying for him in the recruiting process. He always left with the same question.
"Have you heard from Clemson?" he would ask, hoping  one day Phelps' response would change. 
"No," Phelps answered each time.
As far as the Tigers were concerned, they had their running back of the future. His name was Cordarrian Richardson and Clemson loved what it saw in him.
But everything changed in December of 2016.
While Clemson was preparing for the College Football Playoff, Richardson withdrew his commitment to the Tigers for personal reasons. (He would later sign with Central Florida and play one season there before transferring to Texas A&M).
Suddenly the Tigers were looking for a running back. National Signing Day was just around the corner.  
"I had to find a running back," Tony Elliott, Clemson's co-offensive coordinator and running backs coach, said.
So he flew to small-town Louisiana by himself on Jan. 12, 2017, where an ecstatic 18-year-old was so giddy to learn that Clemson was finally paying him a visit, he couldn't control himself as he walked through the gym doors. 
"Coach," Etienne said as he made his way into Phelps'  office. "Coach Elliott's coming to see me."
"Coach Elliott from where?" Phelps asked, though he already knew about the visit.
"Coach Elliott from Clemson," Etienne replied, having a hunch that a Clemson offer that afternoon just might prompt him to shut down his entire recruitment. 
"This could all be over with."
'How have we not heard about this kid?'
Elliott made his way into Phelps' office and took a seat.
Then, he waited. For an hour.
Upon his arrival to meet Etienne for the first time that  afternoon, Elliott looked around and saw that Tennessee was there to pitch Etienne about a future in Knoxville. So was LSU, the home-state school that had one of Etienne's all-time favorite running backs, Leonard Fournette. Both programs had already made an offer.
"Y'all were here first," Elliott told his competitors, promising himself he wouldn't be arrogant despite Clemson having just won the national title. "Y'all have at it."
He knew Clemson was late to the game. But so were many other teams. No one seemed to know anything about Etienne for a very long time.
A shy and humble teenager who just got his braces removed about six months earlier, Etienne was relatively unknown because he didn't attend the types of football camps that typically get recruits noticed.
Why go to a camp when he could stay home with his mother and devour some of his grandmother's crawfish etouffee with his family?
Why go on a tour with other recruits when he could sleep in his own bed and play basketball with his friends every day during the summer? 
Content to live in his own home-body bubble, Etienne rarely ventured out of his quaint hometown, where farmers first settled in the late 1880s and where Louisiana's first oil field was established in 1901. So, he flew under the radar.
Kansas was his first offer in March of 2016. Arkansas, Mississippi State, Missouri and Oklahoma State came calling weeks later. But things were about to change.
On April 10, 2016, the Opening Regional tour for high-profile recruits made a stop in New Orleans. Just three hours from his home, Etienne decided to give it a shot.
Upon his arrival, the teenager lined up to run the 40-yard dash. He did so in 4.38 seconds and instantly shifted from small-town unknown to the kid every coach wanted to see.
"How have we not heard about this kid?" coaches asked Phelps. "What's the catch?"
A good student and personable young man, Etienne had no baggage. He was as friendly to the cheerleaders and band members and fellow students at Jennings as he was to his own siblings.
Once Phelps made that clear, Etienne's phone started to ring off the hook. Tennessee offered that day, while Virginia Tech and Oregon State extended offers not more than 24 hours later. Within a few weeks, Etienne would hear from Alabama and Texas A&M.
But nothing from Clemson. Not until nine months later.
It was an offer Etienne was willing to wait for.
When he met Elliott for the first time that day in January, the two spent 45 minutes talking. Etienne appreciated that so soon after the Tigers won the national championship,  Elliott was there to see him instead of celebrating back home.
He liked what he saw on television from Dabo Swinney. He was impressed by the family environment Clemson seemed to offer.
It also didn't hurt that the Tigers were on top of the college football world, and that they had a track record of developing NFL talent.
Elliott made the offer and eight days later Etienne visited  Clemson for the first time. He fell in love with the campus and 12 days after his visit officially signed with Clemson on National Signing Day in February.
"I got an opportunity to fellowship with his coach and to get to talk to him and kind of sell myself without being a car salesman," Elliott said. "I said, 'Hey, this is who I am, this is what we're all about.'
"And we got to meet Grandma. We got to meet everybody."
That was the kicker.
'Mama's boy'
You wouldn't know it by the way Etienne crushes defenders on the field, but he is the ultimate mama's boy.
When he arrived at Clemson, he and Donnetta worked on reducing the amount of time they spent talking to each other. It didn't last long.
In the Etienne family, it doesn't matter if you're scoring touchdowns for a College Football Playoff team or "shooting marbles," as Phelps would say. The whole family will be there and they will arrive in their custom-made T-shirts cheering as loudly as possible.
"Is he a mama's boy?" Phelps asked. "Absolutely. I'm not scared to say that and for it to be in print."
Without a doubt, Donnetta is the most important woman in Travis' life, and if it wasn't for her, perhaps his path to Clemson would never have come to fruition.
Entienne was nervous about leaving home for a school 10 hours away, especially when he could have played at nearby LSU. So Donnetta promised Travis that if Clemson was what he wanted, she would do everything in her power to make sure he never felt homesick. That included attending every game possible.
"I expected the transition from high school to college to be kind of bumpy," she admitted. "Some of the coaches bet us that Travis and I couldn't disconnect for him to go."
But now a season-and-a-half in, Etienne has not only survived away from home, he has prospered. 
Not one to sing his own praises, Etienne seems genuinely confused when reporters ask him to explain his dominance.
In fact, his coaches are positive Etienne has no idea how good of a football player he is — a scary reality that will serve him in the NFL.
"With Travis, you just look up and go, 'Well dang,'" Swinney said. "He just sneaks up on you. I don't know how else to describe it."
And that's just the way Etienne likes it. 
"No one really knew who I was," he said. "They just knew of me." 
Now, the Tigers can't get enough.