COLUMBIA — Stanley Robinson goes to work each day at Legion Field, to his office under the south stands. At least once a week he'll notice someone stopping by to take photographs, and he'll invite them in to show them the locker rooms, the press box, and other features of what for decades was the most famous college football stadium in the South.
"They've seen the stadium on TV, seen the big games. They enjoy the architecture of older stadiums, they're enthralled by the history of the stadium. For me, that's the selling point of the stadium. I see that all the time," said Robinson, public relations coordinator for parks and recreation in the city of Birmingham, Ala.
"I'm excited that they're excited to see these things."
Robinson is hardly alone in his affinity for the place, which has stood off Graymont Avenue since 1927. Until 1989 it was the exclusive home of the Iron Bowl, so named because of the steel industry that once called Birmingham home. Legion Field is where Bear Bryant became the winningest major-college coach of all time, where the first televised night game was played, where the first two SEC championship games were held.
And yet the facility's future is much less clearly defined than its past. South Carolina travels to Legion Field to play South Florida in Thursday's Birmingham Bowl, one of just three college games scheduled for the stadium in 2016. It has no primary tenant with UAB's football program recovering from a shutdown. And there is a movement toward a new stadium, this one in the city's revived downtown, that's thrust the future of venerable Legion Field into limbo.
"I know it very well. I know its history," said Gene Hallman, president of Birmingham-based Bruno Event Team, a sports event management group. "And I know its future and what I think is going to happen is, it's going to be replaced by a new stadium in the Birmingham area."
Much of the land for the project has already been purchased by the city's civic center authority, Hallman said. A major legal hurdle was overcome in a recent referendum. A master plan has been drawn up by Kansas City design firm Populous. The bond work is in the final stages of being assembled, and within the next four years a new, 45,000-seat, $300 million stadium could stand on downtown's north side.
How realistic is all that? "Ninety percent," Hallman said. "It's going to happen."
Which means if South Carolina returns to the SEC-affiliated Birmingham Bowl in a few years, it could find itself playing in a different stadium. This time around, though, there remains Legion Field, and all its ghosts and history, and questions about might become of a facility that once rightly touted itself as "The Football Capital of the South."
Step back in time
South Carolina has played bowl games in Birmingham twice before. The most recent came at the end of the 2009 season, when a Gamecocks squad less than thrilled with being there bowed meekly to Connecticut. USC fans who were there still grumble about the cold, the lack of concessions, the old stadium surrounded by an underprivileged neighborhood.
But back in 1979, when USC and future Heisman Trophy winner George Rogers fell to Missouri, Legion Field was in its prime. Ten years earlier, Alabama had beaten Ole Miss in the first night game broadcast on television. Two years later, Bryant won the Iron Bowl to pass Amos Alonzo Stagg for most victories among major college coaches. It was another decade before the Crimson Tide would begin moving most of its big games to Bryant-Denny Stadium on campus in Tuscaloosa.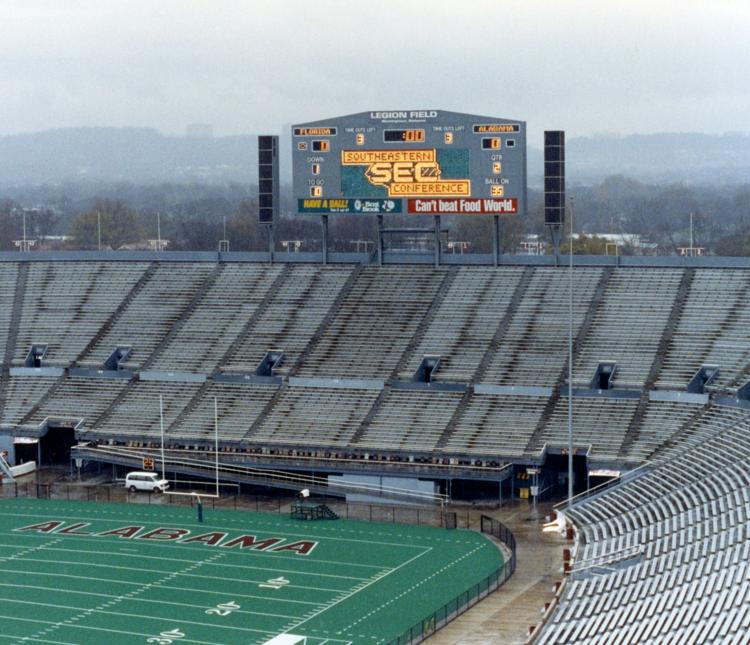 The last Alabama home game played at Legion Field was in 2003 against South Florida. High school state championships moved on as well, to Auburn or Alabama when the other is hosting the Iron Bowl. The SEC title game moved to Atlanta, and indoors. With UAB a year from returning, Legion Field's 2016 college schedule consists of three games: Miles College against Fort Valley State, the annual Magic City Classic between Alabama State and Alabama A&M, and the Birmingham Bowl.
But the cachet of the place clearly still resonates. "There's something about when you walk through the gates and see the field, and if you know the history, you can't help but be in awe of the place," Robinson said.
Birmingham city councilman William Parker is also a believer. "There's a lot of history there, and we want to preserve that history," he said. "Just like they love Wrigley Field and they love Fenway Park, we love Legion Field."
Parker estimates that the city of Birmingham, which owns the stadium, has spent roughly $4 to $5 million in the past few years on updates and maintenance. Last year brought a flurry of lighting and plumbing improvements. Robinson said there's an ongoing effort to ensure the nearly 90-year-old stadium is painted and functioning. A new $1.5 million video scoreboard was installed, and an upgraded sound system is planned for next season.
"You want to make sure you show some love to the facility on an ongoing basis. But it's not Jerry World in Dallas, Texas," said Parker, referring to the lavish Dallas Cowboys stadium built by team owner Jerry Jones.
A trip to Legion Field today, in an era when many SEC-affiliated bowl games have moved into NFL stadiums like those in Charlotte and Nashville, Tenn., is a step back in time. Minus an east upper deck removed in 2005 due to needed repairs, the place remains very much as it was for the first two SEC championship games in 1992 and '93, or even in the last days of the Bear.
"What's changed are all the other cities that have built state of the art facilities. So by comparison, it looks like it's retreated when the city has spent a substantial sum of money keeping it up to date, so to speak, with what it is, which is an old facility," said Hallman, a College of Charleston graduate whose company puts on the Magic City Classic.
"It's an arms race when it comes to stadiums, and Birmingham has fallen behind, but it doesn't mean what we have is inferior. It's exactly what it was when Alabama played its big homes games there back in the day. I'm talking '80s, early '90s, when coach Bryant was alive."
South Carolina head coach Will Muschamp is among those who has fond memories of watching games at Legion Field on television growing up, further evidence of the stature the stadium still holds in many minds. In reality, the parking areas around the stadium are grass and hardpan. There are a limited number of skyboxes, 13, last expanded for the inaugural SEC title game. The seating bowl is comprised primarily of aluminum benches.
Maintenance is constant. "Some things need to be done, yes," Robinson said. "But that's always going to be the case for a venue built in 1927."
Legion Field has found a foothold in other events besides football — it hosts concerts and music festivals and has become a popular location for soccer, dating back to when it drew the biggest crowds of any of the regional sites for the 1996 Olympics based in Atlanta. College football, though, has long been its trademark. And no one really knows what will become of Legion Field if college football goes away.
Repurpose or raze?
It's called the BJCC Master Plan, and it was developed for the Birmingham-Jefferson Civic Center authority by Populous, the firm that renovated Texas A&M's Kyle Field and built new college stadiums at Baylor and Minnesota. It's a redevelopment proposal for several blocks of downtown encompassing hotels, theatres, and an arena, the centerpiece of which would be a 45,000-seat, open-air football stadium.
Birmingham has been down this road before, in 1998 holding a referendum to build a domed stadium with a one-cent sales tax. It failed at the polls. But there's more momentum behind such a project now, with the city's minor-league baseball team already having left the suburbs for downtown, and UAB supporters wanting a newer stadium that won't be a disadvantage in recruiting.
"Coach (Bill) Clark made it clear he cannot recruit long-term to this facility," Hallman said, referring to Legion Field. "... The city leaders know that for UAB football to flourish, and there's been too much work put into bringing it back to life, not to follow through and give them the facility they need."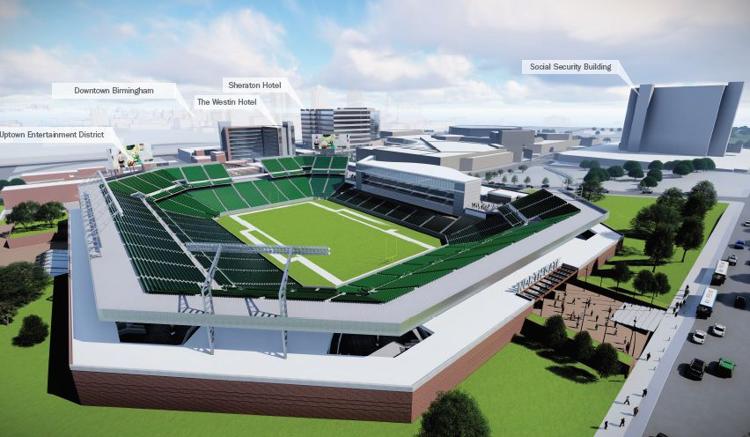 If a new stadium is built, Hallman imagines the Birmingham Bowl, owned by ESPN, would move as well. Parker is less sure about the Magic City Classic, which typically draws more tailgaters than spectators. Regardless, the writing seems as clear as the gray paint on Legion Field's exterior facade — the one-time Football Capital of the South may not have football for much longer.
"I don't know what it means for the stadium moving forward," Robinson said of the plans for a new facility. "We know that somebody wants to do something. But we're moving forward to put the stadium in its best light and to prepare to host any contest that comes our way to the best of our ability."
Parker is among those who believe Legion Field could continue as a host for concerts, soccer matches, and perhaps the occasional football game. "I think those conversations are ongoing," the councilman said. "But I think working together, we can repurpose Legion Field for the future."
A decision would ultimately be made by the city, which owns the stadium. Birmingham already has a small renovated baseball park in Rickwood Field, which is often used as a film set. But it's hard for some to see a practical reason behind the city maintaining a much larger facility such as Legion Field, for a handful of annual events and posterity's sake.
"In my opinion, it will be torn down," Hallman said "... Legion Field as a monument would be far too expensive to maintain and keep open if you have a stadium downtown."
In its place he can envision a park with monuments to the significant events that took place at Legion Field. "It would be bittersweet. So many people here in Birmingham grew up going to Legion Field to see Alabama-Auburn play, to see countless Iron Bowls. It would be sad," Hallman added.
"To maintain it just for visits, I don't see that happening. It would be sad to see it come down, but at the same time to see the community moving forward and keeping pace with other cities is so important."
By telephone from his office under Legion Field's east stands, Robinson takes a practical approach. He knows there's a movement toward a new stadium, one that appears more and more inevitable. He's unsure of how Legion Field would be managed, or staffed, or what events it might host with a modern facility standing in downtown Birmingham.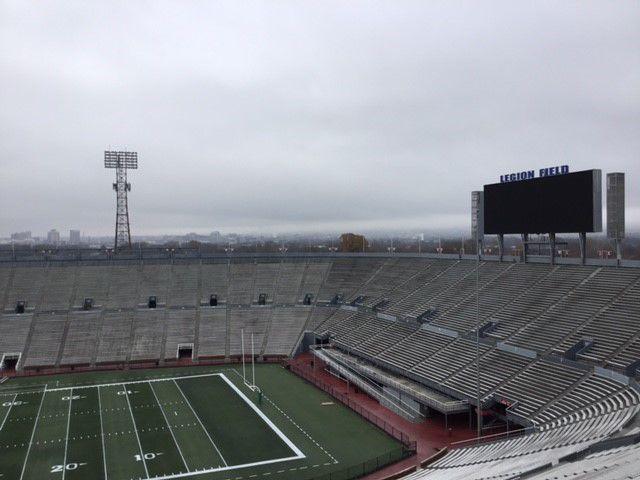 But he knows others share his affinity for the place, evidenced by the tourists he runs into outside the stadium every week. Legion Field, for nearly a century an icon of Southern college football, remains timeless. But in an era of increased competition from newer stadiums, it might also be out of time.
"I don't know if there would be a place for Legion Field. Certainly for the bigger games we're hosting now, I don't know if that still holds true. I don't know. That conversation hasn't been had," Robinson said.
"But I'm a realist. People move on. Things move on. If you can't hold onto the physical thing, you do have those memories. And certainly there are enough memories here where that will never die. So we can take some pleasure in knowing that."