The Citadel's Tyler Renew, Tevin Floyd sign NFL deals; Charleston Southern's Erik Austell to Broncos
Due to graduate on May 6, Citadel All-American Tyler Renew already has a job interview lined up.
With the Atlanta Falcons.
Minutes after the NFL Draft ended on Saturday, Renew signed as a free agent with the Falcons. The fullback will report to the Falcons' rookie camp on May 12.
A bit later, Citadel linebacker Tevin Floyd announced on Twitter that he has signed with the Arizona Cardinals.
"It's kind of surreal," said Renew, who spent the last three days studying for and taking his final exams at The Citadel while also keeping an eye on the draft. "You think about playing on the big stage on Sunday nights, practicing with all those big-name guys.
"Coming from a small high school and a small school like The Citadel and getting the opportunity to make it to the highest level of football, it's humbling. I couldn't be more grateful for the support of my family and friends throughout this whole process."
Renew rushed for 1,096 yards and four touchdowns last season as the Bulldogs won a second straight Southern Conference title and led the nation in rushing. He is No. 5 on The Citadel's career rushing chart with 2,828 yards.
Renew impressed scouts at South Carolina's pro day in March, putting on about 14 pounds to measure in at 5-11 1/2 and 231 pounds while running the 40-yard dash in 4.57 to 4.64 seconds.
The Falcons, who lost to New England in the Super Bowl, drafted one running back, taking Brian Hill (6-1, 219) of Wyoming in the fifth round. Former Falcons fullback Patrick DiMarco, from South Carolina, signed with Buffalo in March.
"The Falcons expressed to me how much they use the fullback, the formations they like to run," Renew said. "They said the fullback is vital to their offense, and they want me to come in and show the grit and toughness I showed at The Citadel and prove my worth at that level."
Floyd, an all-SoCon linebacker at 6-1 and 238 pounds, was second on the Bulldogs with 86 tackles, including two sacks and 8.5 tackles for loss. He's third at The Citadel in career tackles since 2000 with 295 and ended his career with 38 straight starts.
Austell to Broncos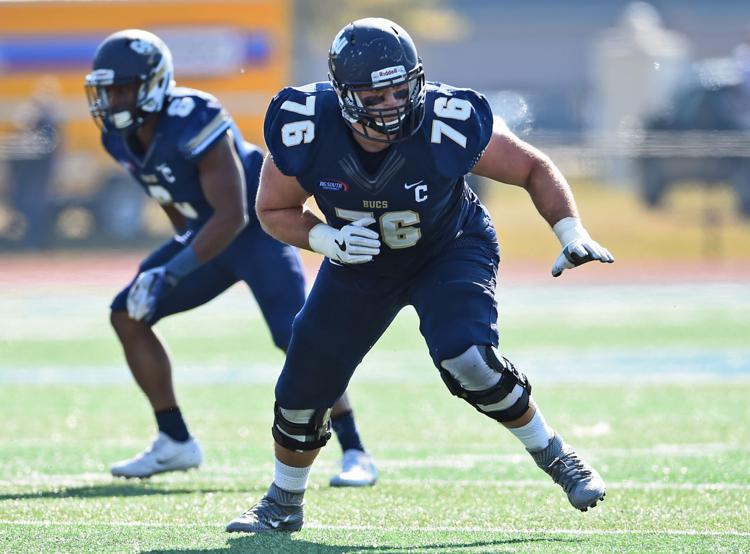 Charleston Southern offensive lineman Erik Austell, also an FCS All-American, signed with the Denver Broncos, he announced on Twitter.
Austell is aiming to become just the second CSU player to make an active NFL roster and will look to be the fourth Buccaneer to be invited to an NFL Camp, joining former teammates Malcolm Jackson (2016) and Charles James (2013) and former wide receiver Maurice Price (2006).
Austell is the first Buccaneer to receive an invitation to the NFL Combine and finished in the top half of his position group in all on-field drills at Lucas Oil Stadium on March 3.
Reach Jeff Hartsell at (843) 937-5596. Follow on Twitter @Jeff_fromthePC