Three years ago, The Citadel won nine games and a share of the Southern Conference championship, and scored a huge upset victory at South Carolina.
Two years ago, the Bulldogs won 10 games, went a perfect 8-0 in the SoCon and won a second straight league championship.
Last year ...
"Last year, we kind of got away from who we are as a football team," says quarterback Jordan Black, looking back on a 5-6 record in 2017. "We let too many outside factors influence us."
In many ways, then, coach Brent Thompson's third season at The Citadel is about getting back: Back to the success of 2016 and '17, back into contention in the SoCon, back to what Thompson calls "Citadel football."
What must go right
• The Bulldogs must cash in red-zone opportunities. Last season in SoCon play, The Citadel converted only 15 of 30 chances inside the opponents' 20-yard line into points, the worst percentage in the league. The Bulldogs scored only 13 touchdowns in those situations, ahead of only VMI and ETSU. And they made just 2 of 8 field goals in the red-zone, by far the worst percentage in the league.
The nadir came in a 31-19 loss to Western Carolina, when the Bulldogs had four red-zone trips end in turnovers.
"We've been talking about that all off-season and pre-season is the red zone, and I'm about ready to stop talking about it," Thompson said. "We can't shoot ourselves in the foot. We've got to get down there and stick the ball in the end zone, and that has to be the mentality for us."
• The Bulldogs must run the ball better. They averaged a league-best 284.6 rushing yards in SoCon play last year, but that was 43 yards off their number in 2017. With all five starters back on the offensive line, including pre-season all-SoCon picks Tyler Davis and Drew McEntyre, and an experienced QB in Jordan Black, the rushing attack should be improved. A consistent producer at fullback (B-back) must emerge in the mold of 2015-16 star Tyler Renew.
• Defensive coordinator Blake Harrell must find a reliable defense amongst a lot of moving parts. The Citadel returns only four starters from last year's unit, a middle-of-the-SoCon defense. Contributions from all four grad-student transfers on defense would help a lot.
What can't go wrong
• A tough early schedule can't blow the Bulldogs' confidence. The first four games include road contests at SoCon contenders Wofford and Mercer, and home games with Chattanooga and Charleston Southern, which has won four straight over the Bulldogs. The Citadel doesn't want to be 0-4 or 1-3 by the time a more manageable stretch of games against Towson, ETSU and VMI arrives.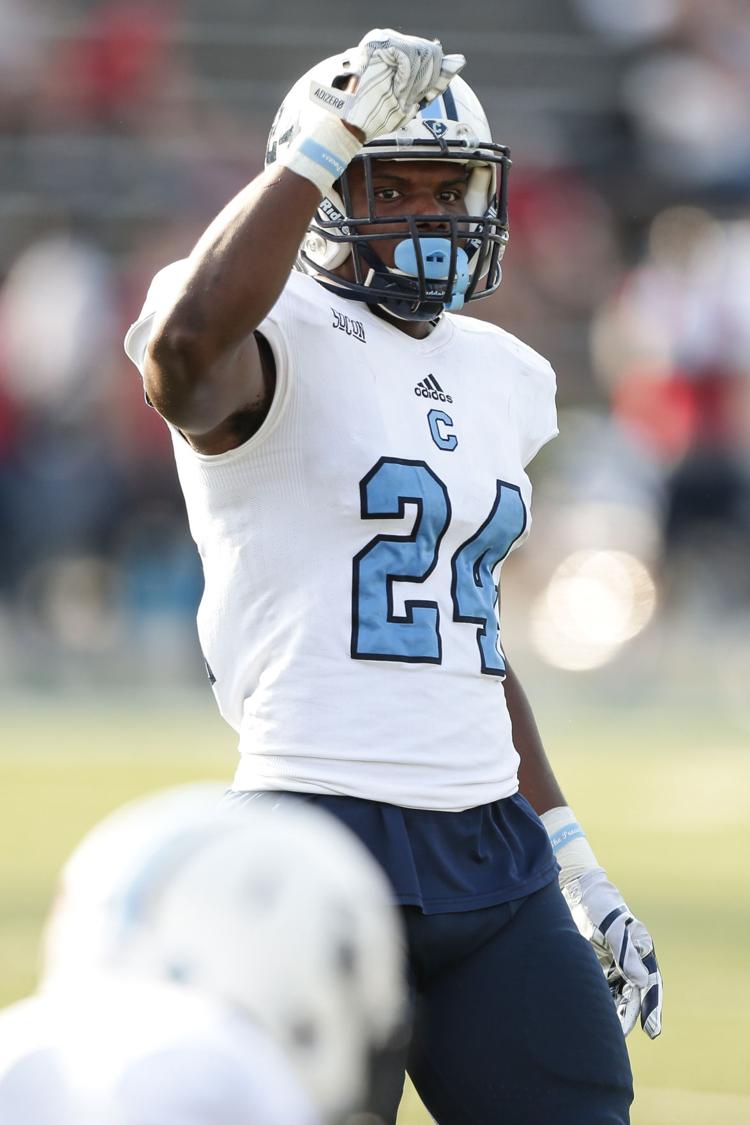 • A secondary that's both young and thin can't be overwhelmed. Senior safety Aron Spann III is the only veteran in the group, and it'd be great if grad-student transfers Cliff Barrett and Ronald Peterkin can step up. The top three passers in the SoCon from last year return to test opposing secondaries,  led by preseason player of the year Devlin Hodges of Samford, along with Western Carolina's dual-threat QB, Tyrie Adams.
• The kicking game cannot have a repeat of last year's performance. Placekicker Jacob Godek, 4 of 12 on field goals last year in SoCon play, is now a junior and should improve. The Bulldogs also were last in net punting in league play last year; freshman Matthew Campbell is pushing sophomore Gage Russell there, Thompson said.
The Citadel Bulldogs
Head coach: Brent Thompson, 15-8 in two seasons
Last year: 5-6 overall (3-5 SoCon)
Returning starters: 9 offense, 4 defense, 3 specialists
Impact players: C Tyler Davis, QB Jordan Black, DL Ja'Lon Williams, DB Aron Spann III, LB Noah Dawkins, OL Drew McEntyre.
Notable: The Bulldogs won SoCon titles in 2015 and 2016, and aspire to return to that level after a 5-6 record a year ago ... The Citadel has four grad-student transfers on the roster this year, including LB Isaac Stewart from Louisville and DL Shawn McCord from St. Francis ... The early schedule will be telling, opening with a game at Wofford before home contests with Chattanooga and Charleston Southern.
The Citadel Schedule
Date Opp. Time
Sept. 1 at Wofford 6 p.m.
Sept. 8 Chattanooga 6 p.m.
Sept. 15 Charleston Southern 6 p.m.
Sept. 22 at Mercer 4 p.m.
Sept. 29 at Towson 4 p.m.
Oct. 13 ETSU 2 p.m.
Oct. 20 at VMI 1:30 p.m.
Oct. 27 Furman 2 p.m.
Nov. 3 at Western Carolina 3:30 p.m.
Nov. 10 Samford 2 p.m.
Nov. 17 at Alabama TBA
Jeff Hartsell's SoCon predictions
1. Samford
2. Furman
3. Wofford
4. Mercer
5. The Citadel
6. Western Carolina
7. Chattanooga
8. ETSU
9. VMI