Three athletes who have never been a member of The Citadel's Corps of Cadets will dress out for the Bulldogs' football team next season. Two more will play for The Citadel's basketball team.
Even The Citadel's women's soccer team is delving into the graduate-student transfer market, adding three graduates from other schools to its roster for next season.
Nationwide, the number of graduate students transferring to other schools to complete their athletic eligibility has skyrocketed in recent years — from 23 such transfers in Division I football in 2011 to 211 in 2017, for example. In men's basketball, the numbers have grown from 17 to 104 in the same time period, according to the NCAA.
The NCAA cites enhanced academic standards, increased financial aid for summer school and more students reporting to campus with college credits in hand as factors behind early graduation.
Whatever the reasons, the burgeoning grad-student transfer market provides a military school such as The Citadel with a way to attract transferring athletes.
The undergraduate transfers and junior college grads, who fill out rosters at other schools, are are not likely to transfer to The Citadel, where they would have to undergo a "knob year" — a year of intense training under the school's fourth-class system.
But grad students can avail themselves of The Citadel's graduate programs while living off campus as non-cadets and finishing out their athletic eligibility on scholarship.
Citadel football coach Brent Thompson said grad-student transfers are a way to shore up thin spots in the depth chart. With eight of 22 high school players signed in the 2017 recruiting class already gone from the roster, Thompson recently announced that grad-student defensive backs Ron Peterkin of Georgia State and Cliff Barrett of Lenoir-Rhyne have joined the program, along with defensive lineman Shawn McCord of St. Francis University.
"I think we need to use that market to fill needs," Thompson said. "I don't know that you can take three or four every year, just because of the way The Citadel is designed. We've been successful with one or two in my time here, but you are always cautious in taking more than three or four.
"You have to ask yourself — at what cost to the locker room, and is that what you want to build your program around?"
Mixed results
The Citadel has used grad-student transfers before with mixed results, most notably in Ellis Johnson's tenure as the football coach from 2001 to 2003. 
Johnson brought in quarterbacks Jeff Klein from Auburn and Willie Simmons from Clemson to play for the Bulldogs. Klein set a school record for passing yards in a season with 2,561 in 2002, but the Bulldogs could manage only a 3-9 record.
Simmons led The Citadel to a 6-6 mark in 2003, the team's first non-losing season in 10 years that included wins over Appalachian State, Georgia Southern and Furman.
Klein is now a high school coach in Alabama, and Simmons is the head coach at Florida A&M.
A couple of other grad-student transfers, defensive back Mariel Cooper from South Carolina State and kicker Cody Clark from Middle Tennessee State, played key roles as The Citadel won Southern Conference titles in 2015 and 2016.
In basketball, former coach Ed Conroy brought in a 7-footer from the University of Washington, Joe Wolfinger, in 2009-10 to bolster a squad that had won 20 games the year before.
Wolfinger wound up starting 17 of 32 games, averaging 6.6 points and 3.9 rebounds for a team that finished 16-16. Conroy left The Citadel after that season, and Wolfinger is still playing pro ball in Japan.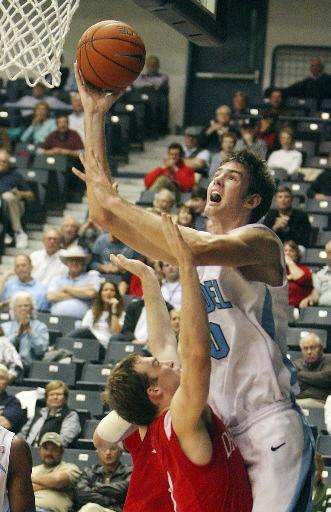 Current Citadel coach Duggar Baucom went the grad-school route in his first season with the Bulldogs, bringing in guards Derrick Henry from Winthrop and P.J. Boutte, who played at Detroit Mercy and IUPUI.
Henry was named All-SoCon and led the 2015-16 squad in scoring at 16.2 points per game. Boutte led the team in assists, but the Bulldogs were just 10-22 in Baucom's inaugural season.
Baucom was forced to find two more grad-student players — Connor Kern of Arkansas State and Lew Stallworth of UTEP — after four players left the program following the 2017-18 season.
"I think that's where we are in college basketball, and the stats prove that," Baucom said recently. "It's about 40 percent of Division I (basketball) players who transfer during their careers, so we're probably under that."
'You have to fit in'
Adding grad-student rosters to a team can be a tricky business with regard to team chemistry. And that's especially true at The Citadel, where athletes bond through their work on the field and also their common experience in the barracks.
"You have to be careful of bringing in too many fifth-years and maybe overstepping some of your three and four-year players," Thompson said.
Thompson is conscious of that issue when recruiting grad students.
"I meet with every fifth-year, and the first thing out of my mouth is, you have to fit in here," Thompson said. "You have to fit into that locker room. That's why we get most of those guys here in the summer, to start to fit in with our guys and with our training regimen.
"And we want those guys to get something out of it as well. We want to make sure they are here for the right reasons, and are going to class and working on their graduate degrees."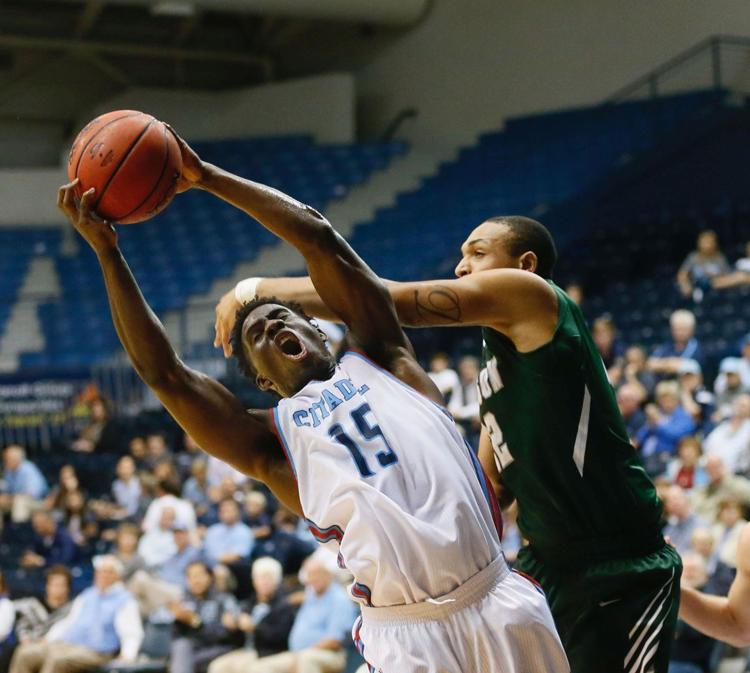 Transfer players are usually impressed by what their cadet teammates go through at The Citadel. Basketball player Henry certainly was during his final season on 2015-16. 
"Seeing what these guys do every day, wake up early, go to practice, work in the weight room and do all their military activities, they never complain about it," said Henry, who earned his MBA from The Citadel and is now a reality TV star. "It's been eye-opening for me, and I can't have any excuses after seeing what my teammates go through."