Tennis hasn't just been revived in St. George. It's alive and better than well.
From a broken down, over-grown dilapidated two-court facility a decade ago, St. George tennis has blossomed into a scenic complex all of its own, thanks to the hard work of many and especially New York City transplant Barbara Jones.
Today, Jones and St. George tennis delight in their Junior Team Tennis as well as the impact their program has had on tennis and kids at nearby Woodland High School, not to overlook the facility's team entries in the adult Lowcountry Tennis Association.
A tennis town has blossomed in the outer edges of Dorchester County.
The old run-down complex that was hardly used has been transcended into three brightly colored regulation courts and four smaller courts for 8-and-under children with its own extended and colorfully redesigned clubhouse.
St. George Junior Team Tennis even has three of its graduates on the rosters of college tennis teams. Courtney Simmons is at Virginia Wesleyan University, Tromaine Cobbs is at The Citadel and Tyree Miller is at South Carolina State. "They began lessons with us in their fifth and six grades," said Jones, the executive director of the St. George Youth Sports League.
"We also have six of our kids that graduated from four-year colleges," she added proudly.
"We have to make kids feel special. You never know who will blossom into stars" . . . or even into a Cori Gauff, the Florida 15-year-old who is the youngest player to qualify at Wimbledon in tennis' Open Era and who played in LTP Tennis' $100K ITF tournament just two months ago.
The St. George tennis revitalization all started back in 2008 when Jones and her husband arrived in town from New York.
"I was a catalyst for change in my small rural community . . . an experience that has been both exhilarating and frustrating. While my efforts yielded amazing results, it's the ups and downs of the journey that I cherish most," Jones said.
"This project stimulated residents from all corners of our town to focus on the same goal of bringing tennis to the children of St. George. I would never have succeeded were it not for the overwhelming support of the community.
"We now have an active Junior Team Tennis program which began in April 2010 serving children ages 5-18 years old who had never been exposed to tennis before."
The current programs include six-week sessions in the spring and fall as well as two-week sessions for summer tennis camps for children five to 11 years old.
"Since we are the only public junior team tennis program in the region our reach crosses county lines," she said.
But those two old courts need rebuilding. "They (the asphalt courts) need to be demolished and everything carted away," Jones said.
Jones headed up the fund-raising for the addition of the four smaller courts, one more regulation court and the redesign for the clubhouse in 2012, a project that received more than $100,000 from the state, town and other supporters.
"State Sen. John Matthews was our biggest supporter," Jones said.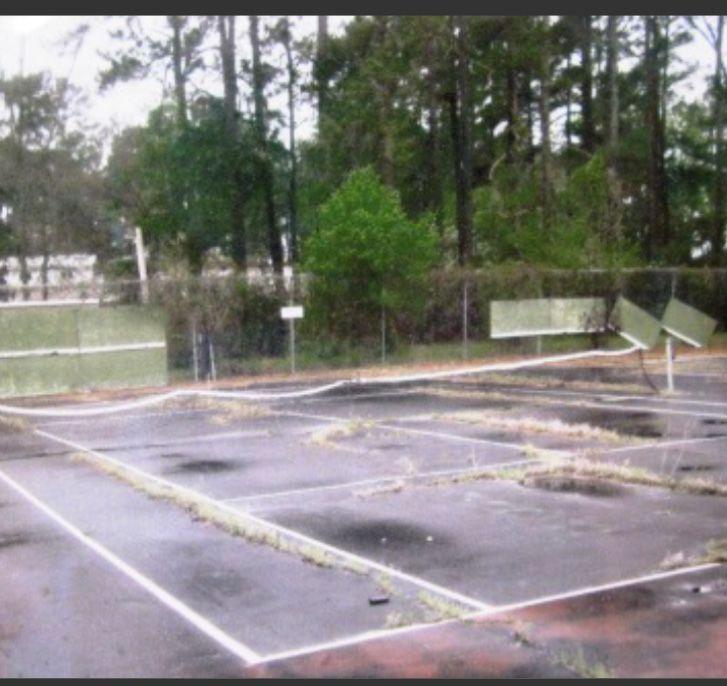 Now, the tennis complex has a new project in the works, and it has the perfect person for promoting it in Barbara Jones.
"Our goal is to raise $250,000," Jones said. "The bids are out."
She said the city of St. George has stepped in with $22,000 and Dorchester Country has donated $20,000 to the project. "The USTA has designated $43,000," she said.
"We are pleased to be a part of the growth of so many young people."
Rogers recovers
Shelby Rogers appears to have recovered from the right shoulder injury that prompted her to retire from her second-round match at the recent Mallorca Open. The 26-year-old Charleston touring pro is scheduled to oppose 20th seed Anett Kontaveit of Estonia in the first round of Wimbledon's main draw.
This could be a tough opener for Rogers, who has climbed back up the rankings to No. 293 in the world but used her protected ranking of No. 81 to enter Wimbledon's main draw. Kontaveit, a 23-year-old, has been ranked as high as 14th in the world.
Main draw first-round singles appearances at this Wimbledon are worth more than $57,000.
Rogers' advance to the second round at the French Open was her first appearance in a major second round since 2017 when she advanced to at least the second round of all four Grand Slam tournaments, including three round of 32 appearances.
Halbauer update
Ellie Halbauer is fresh from making her third ITF World Tennis Tour $25K singles final in the last nine months. The soon-to-be 22-year-old former Charleston junior was runner-up last weekend in Montpellier, France, and has advanced to No. 318 in the world WTA Tour rankings.
Halbauer also was runner-up in LTP Tennis' $25K event last October as well as a $25K in Italy in late April. After an early exit this past week at Darmastdt, Germany, as the No. 7 seed and losing a pair of tiebreakers, she is scheduled to play in Stuttgart, Germany, this coming week.
Gretkowski rising
Still just 15 years old, Allie Gretkowski already is amassing a resume from competing in ITF World Tour pro events. In early June, she made the last round of qualifying for a $25K tournament in Sumter.
"I lost the last round of qualifiers, but beat a girl ranked 800 (WTA) so that was a good win for me," said Gretkowski, who will turn 16 in late July. "I came up short in the last round in a tiebreaker to a girl ranked around 650 (WTA). I have been busy with college recruitment. Starting June 15 they could contact rising juniors."
And, of course, she is looking forward to playing in the July 14-21 girls 18 U.S. clay courts at her home courts, LTP Mount Pleasant, where she trains full-time at the Randy Pate Academy.
Gretkowski is one of eight Pate Academy players entered in the main draw of the national clay courts. The others are Lara Schneider, Emma Charney, Whitley Pate, Anna Ross, Callie Billman, Chloe Beck and newcomer Claudia Miller, who just moved here from Chicago.
Local notes
• Sunday is the deadline for entering the City of Charleston Junior Hard Court Championships that start next Friday at Charleston Tennis Center. Registration is available online using the tournament number (700037719).
• Emma Navarro is scheduled to start play in an ITF Grade 1 junior event just outside of London at Roehampton this weekend in preparation for the grass courts at Junior Wimbledon, where competition will start on July 7.
Reach James Beck at jamesbecktennis@gmail.com.