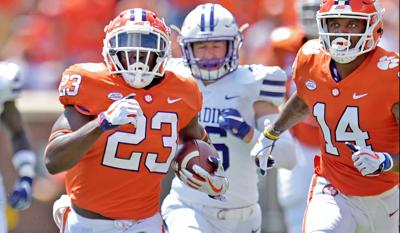 CLEMSON — Clemson's football team can — and will — continue to use two quarterbacks into this week as both Kelly Bryant and Trevor Lawrence have proven they are worthy of playing time against Texas A&M. Clemson coach Dabo Swinney confirmed that much as fact Sunday evening. How exactly the Tigers decide to manage that, though, still remains to be seen and Swinney intends to be as discreet as possible.
But after Clemson's 48-7 rout of Furman, this much is certain:
1. Deep Tigers
Swinney was telling the truth when he said multiple times this year this is the deepest team he has ever had as a head coach. A whopping 50 different Clemson players played Saturday against Furman and three freshmen had touchdowns. Lawrence threw a trio of touchdowns, freshman wide receiver Justyn Ross had a 15-yard score and freshman tight end Braden Galloway also had a 9-yard touchdown. Running back Lyn-J Dixon impressed, too.
2. Dixon flashes ability
Speaking of Dixon, the talk around Clemson is that he is the next Travis Etienne and he certainly had his flashes. Dixon's second run of the game was 50 yards. The small-town kid got a friendly welcome to big-time Death Valley.
"I thought he was going to hyperventilate," Swinney grinned. "It's so funny, some guys ... it doesn't matter how talented they are, how much success they've had. It's just a different deal. You cannot simulate game day."
3. Rodgers' work pays off
Clemson sophomore wide receiver Amari Rodgers spent his entire offseason working on his punt return technique, even traveling out to Southern California where his father and USC's offensive coordinator Tee Martin is for some work over spring break. That hard work paid off. Rodgers had two returns for 87 yards with a long of 62 that included a nasty stiff arm.
4. Getting his kicks
Freshman kicker B.T. Potter's leg is as advertised. He had seven kickoffs, six touchbacks and 430 total yards for an average of 61.4 yards per kick.
"I kind of like it," Swinney teased. "It's been a while since I've had a guy like that. It's pretty neat ... the best kickoff coverage is when they can't return it."
5. Poised Lawrence
Lawrence had the poise in front of 80,000 people and was cool as a cucumber in his postgame interview. He took a deep breath to prepare himself for the crowd of 50 reporters waiting for him, then handled it like a pro with a chilled out demeanor.
6. Splitting reps
Lawrence was on board with the way the reps were split between him and Bryant.
"I think it worked out well (Saturday) and if that's what we do all season — I don't really know (the plan right now), either," Lawrence said.
7. Injury holdouts
Clemson was able to hold out tight end Milan Richard, who is still dealing with a knee injury from the last week of fall camp. Defensive end Chris Register was also held out with a rolled ankle and offensive tackle Noah DeHond was unavailable, as well. For next week, Swinney said the only player who is currently questionable is redshirt freshman defensive tackle Jordan Williams. But the coach mentioned it was nothing serious. 
Follow Grace Raynor on Twitter @gmraynor