COLUMBIA – He devised a game plan, coordinated his team and began preparing for the next challenge.
Steve Taneyhill is still a coach, though his whistle remains at home.
"To me, it's just running a team," the fabled South Carolina quarterback and former high school coach said as he sat at his popular bar.
"Obviously less people, and you deal with adults, so there's no moms and dads and no administration that tells me, 'Hey, you can't do this and you can't do that,' and it's kind of a situation where you can be creative because you can try stuff."
It's been over a year since Taneyhill purchased Group Therapy, Five Points' oldest tavern and slightly renamed it as Taneyhill's Group Therapy. It's been a learning process, with his games these days covering seven afternoons and nights per week instead of one every fall Friday. But it's not that different from where he won 142 games and five state championships over three stops as a head coach (he also served a year as offensive coordinator at West Ashley High School).
Taneyhill was fired from Union County High in January 2016 after going 22-27 in four seasons, with one state runner-up finish and two semifinal appearances. He expressed interest in several open high school jobs, some in South Carolina and one in his native Altoona, Pa., but nothing materialized.
The phone rang with a job proposition, but not on the gridiron. Group Therapy was for sale, a former assistant coach saw the ad and thought it could be something.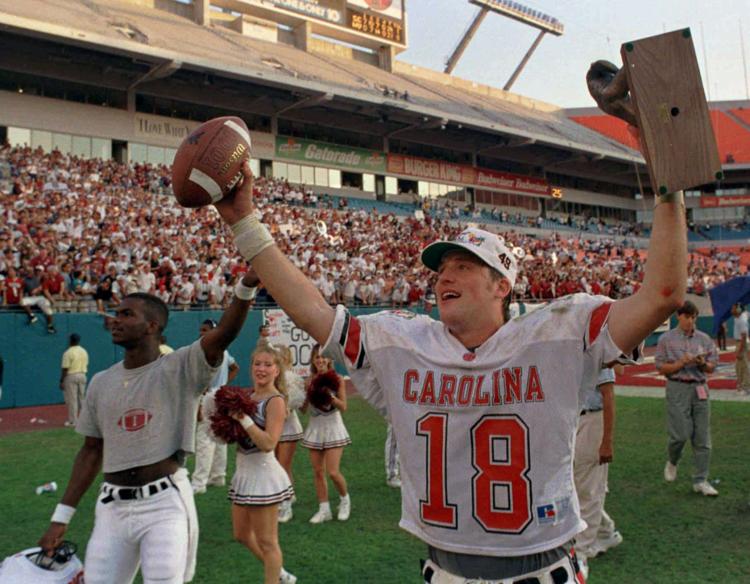 "I've had four really close friends that owned bars, and I always said one day I wanted to have a place of my own," said Taneyhill, still No. 2 behind Todd Ellis on the Gamecocks' career passing yards list. "I came and looked and three months later, I owned it."
Alive since 1978, the spot near the intersection of Harden and Greene has long been known for its lengthy bar, outdoor deck and staying power. As bars and restaurants throughout Five Points have opened and shuttered, Group Therapy has become as much an institution as the streets that encompass the neighborhood.
Taneyhill came in with zero working knowledge of the bar business, but he knew some parameters that could guide him.
"I always did my own ordering as a coach and worked with budgets, knowing what you had and what you had to spend on what you really needed," he said. He also sidelined the "do it my way" attitude that transformed Chesterfield High, which won four games over the three seasons before Taneyhill arrived, into one of the most powerful teams in the state's smallest division.
"(Previous owner) Scott Fleming stayed on for three weeks after I bought it. He helped me learn the process," Taneyhill said. "Fabian and Cedric, my managers, they've been bartenders and they've been in bars and they can say, 'Hey, we need this,' or 'We need to do this.' I don't always say yes, but it's just like taking over a team."
Taneyhill's in the bar every day, taking care of the supplies, cleaning up, thinking of new ideas or enjoying a pint with the regulars. Taneyhill is the boss but relies on his managers to make this team win.
That's what Group's done, fueled by its reputation and the usual mix of sports, beer and a college town. The Gamecocks' electrifying run to the Final Four aided Taneyhill's first season, and it helped that three USC fraternities made Group one of their regular hangouts.
His managers have been vital. If Taneyhill's the head coach, Fabian "Fabi" Ludwig, 31, a bartending veteran, is the offensive coordinator.
"It was kind of a shock because Scott owned the place for so long and we showed up for work and there was a new guy here," Ludwig said. "Pretty much he just wanted us to work like a team, keep doing what we were doing."
Not many knew of Taneyhill's USC or football past. Even now, there's only the classic photo of his 1992 pose at Clemson hanging in the bar, which is mimicked on the windows bordering Harden and Greene (a gift from the Bud Light distributor). There are plenty of Gamecock logos and Pittsburgh Steelers paraphernalia, but not much else about the famous owner who was USC's quarterback from 1992-95 and led the Gamecocks to their first bowl victory in program history.
"Some of the fraternities printed T-shirts with his ponytail from then," said Ludwig, who had to Google who the new guy was. "But we don't have one of them here."
Taneyhill stepped in and learned how to order, how to anticipate the rush nights or weeks that coincide with the university calendar. Any time he's out at other bars in other cities, he observes what they do and decides if he'll borrow their ideas.
Much has worked. Group re-introduced a food menu and it's been a hit, particularly on 2-for-1 Wing Wednesdays. The bottlenecking by the bar leading to the back deck has improved after the women's restroom was moved further inside.
There are some aspects he won't do – Dollar Beer Night won't happen under his watch – but Group offers a daily $2 draft. His whiteboard for USC lettermen (any sport) to autograph was closed on the one-year anniversary of him taking over and another one will soon adorn another wall. Folks who frequented Group five or 10 or 20 years ago often stop by for a beer and to catch up.
Taneyhill counts on his managers and bartenders. He thinks up ideas that could help and if they don't, well, at least he knows what not to do next time. He isn't afraid to ask for help from other Five Points owners, not in a usurping way, but as a nod that they're all in it together.
"He's a Gamecock legend, for one. And a serious business owner," said Brian Glynn, 14-year owner of fellow Five Points institution Village Idiot Pizza & Pub. "When he bought it, I looked at it and thought, 'What are you doing?' But he was good when he played, good coaching at different stops … I wouldn't expect anything else than for him to be successful. He had no experience with it, but I wouldn't bet against him."
It's coaching, without football.
"The competition is what you miss, the camaraderie. Now it's just a new camaraderie," Taneyhill said. "But same as coaching, you always pick up something. What liquor do other places have on the shelf? How do you balance that between being in a college town against what you see in other cities? You rely on your people in coaching, same thing here."
Sounds like another winner.