The bookie cracks open a beer in the clubhouse after a round of golf. His cellphone buzzes with a notification.
"See? One of my guys just paid off his bet," the bookie said, pointing to a payment of $444. "That's how easy it is."
The Charleston bookie, who requested anonymity, explained how his relatively small operation works. His list of bettors reaches about 40 players during the height of football season, and he said he makes anywhere from $500 to $20,000 in a week.
"On our site, every guy will get a user name and a password," he said. "Everybody establishes a credit line and then they can make straight bets, parlay bets, anything.
"They can bet on anything, from Canadian football to basketball, golf, MMA fights, any part of soccer anywhere in the world. The same with tennis, boxing, even cricket."
The betting week runs Monday to Sunday. Accounts are settled every week, with the bookie paying off winners, and losers paying their debts to the bookie.
"I square up with my guys every week," he said. "They have until midnight Tuesday to pay, and if they don't, their account is frozen.
"The only reason they need me," the bookie explains, "is because I'm a local guy and they know they will get paid. If you bet overseas, you have a chance that you may or may not get paid. Or, it might take you two weeks to get paid, or you might have to pay a $25 fee to get paid.
"That's the advantage of betting with a local guy."
'Missed opportunity'
Illegal sports betting is happening in South Carolina.
"Every town, every city in the state," the bookie said. "We don't even have a pro football team in Charleston, but I know at least eight bookies in town."
And it's nothing new, as anyone who's seen a parlay card at the local barbershop or filled out a March Madness bracket at the office knows. Enforcement is spotty; a double murder in Irmo in 2011 led to the conviction of three men for running a sports betting operation in the most recent well-known case.
In that case, a bookie's Midlands operation was uncovered after he killed his wife and another man, his gambling clerk.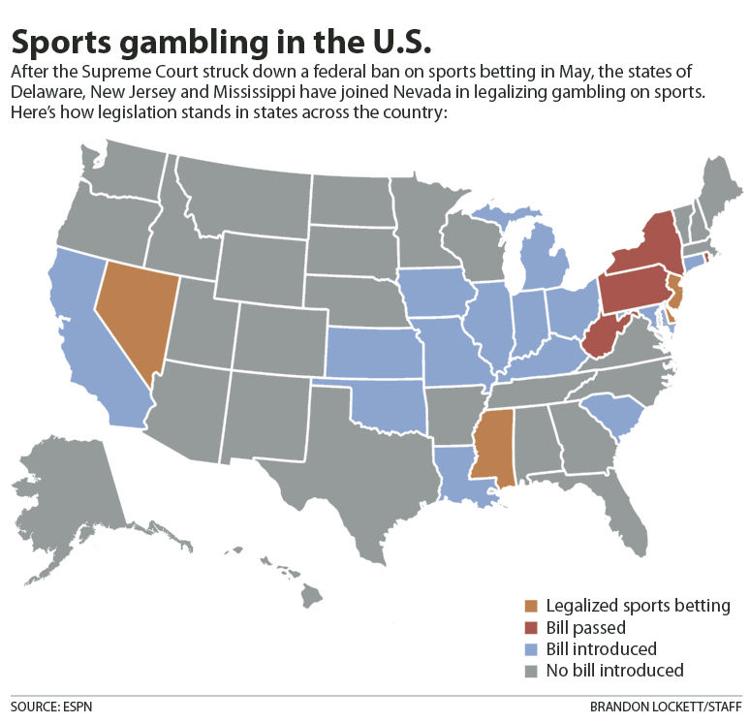 According to state law, anyone who "engages in betting at any race track, pool selling or bookmaking, with or without writing, at any time or place" faces a misdemeanor charge, with a fine of up to $1,000 or up to six months in jail, or both.
But when the U.S. Supreme Court overturned a federal ban on sports gambling in May, the high court left it up to each state to decide whether its residents may legally bet on football, basketball, baseball and other sports. Under the 1992 federal law the court struck down, Nevada was the only state where people could bet on results of a single game.
Already, Delaware, New Jersey and Mississippi have legalized sports betting in their states. West Virginia, Pennsylvania, Rhode Island and New York are close.
Will South Carolina move to legalize, regulate and profit from its share of the illegal sports betting market, estimated at anywhere from $150 billion to $380 billion annually in the U.S.?
"I'm hopeful," said state Sen. Brad Hutto, D-Orangeburg. "To me, it's a missed opportunity if we don't."
Hutto has not seen an estimate of how much the state could earn from legalized sports betting in South Carolina, but he's certain the additional revenue would help shore up a state budget of $8.2 billion.
"It's an opportunity to develop a new source of revenue for very much-needed budget items we have in our state," Hutto said. Gambling revenue could help pay for line items such as prison staffing, teacher pay and infrastructure, proponents say.
Others in the State House aren't so eager to see legal sports betting in South Carolina.
"Just because we can get money out of it doesn't mean we need to do it," Senate Majority Leader Shane Massey, R-Edgefield, told The Post and Courier after the Supreme Court ruling.
How big a slice?
How much money would be generated is hard to pin down but the experience of other states could be instructive.
During its first 20 days of legal sports betting, the state of Delaware collected about $875,000 on a total of $7 million wagered. In New Jersey, tax revenues were estimated at about $297,500 on bets totaling $3.5 million for the first two weeks, according to Bloomberg News.
In Nevada in 2017, sports books netted a record $250 million from legal bets, producing $17 million in state revenue at a tax rate of 6.75 percent. That's only about 0.15 percent of Nevada's total state revenue of about $11.5 billion.
Rhode Island, currently considering legal sports betting, has estimated its revenue would be about $23.5 million — only a tiny fraction of its $9.38 billion budget.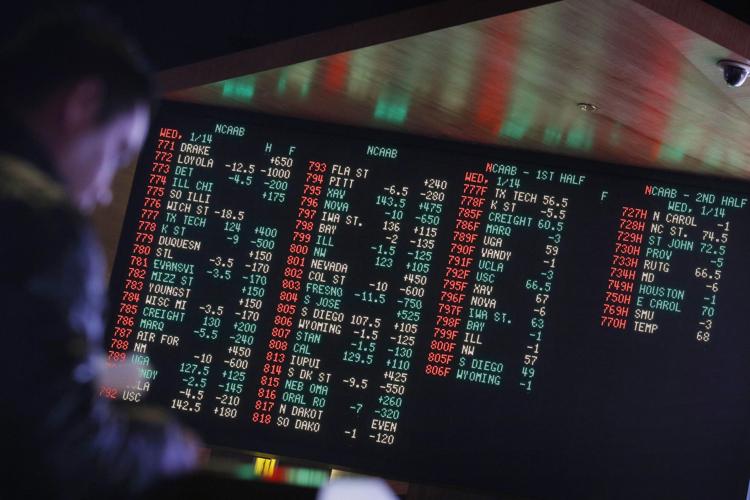 Based on those examples, legalized sports betting in South Carolina could bring in about $16 million a year, again a small fraction of the state's $8.2 billion budget.
"For a state where an average guy can buy a lottery ticket, we ought to have an apparatus for an average guy to bet on sports to control it and generate revenue for the state," Hutto said.
The money's on college football
Football is king when it comes to sports betting, and college football is king when it comes to sports in South Carolina.
You can bet college administrators are keeping a close eye on the issue of sports betting and how it might impact football. For example, sports betting already is legal in some parts of the SEC (Mississippi) and illegal in others.
"I think gambling has been going on in spots for an awful long time," said Clemson athletic director Dan Radakovich. "Some legal, some illegal. But I think as more and more states (approve it) ... it'll be important for us to educate our student-athletes and ramp up our compliance efforts to talk about gambling."
ACC commissioner John Swofford recently discussed the issue with league coaches.
"I think the ultimate question is, how do you protect the players and the integrity of the game," Swofford said. "What's different now that some things are legal from when it was illegal, and what does that change?
"But the ultimate question is, how do we protect our players?"
Swofford said transparency with injury reports and other information will be key to protect players and others in a program from being pressured for "inside information" that could impact betting lines.
"I think that's critically important," he said. "It would include not only injuries, but if there's disciplinary action where a player is suspended for a game ... I think that reduces, to some degree, people you don't really want coming around players and managers and team doctors and coaches, trying to get information in another kind of way, an underhanded kind of way."
Pro-gambling legislation has been introduced in the Statehouse before, and Hutto expects bills on sports betting to be introduced for the upcoming session.
Republican Gov. Henry McMaster, who opposed the idea of a state lottery, is on the record against all forms of state-authorized gambling.
"It flies in the face of everything South Carolina stands for," his spokesman, Brian Symmes, said in May.
James Smith, the Democratic candidate for governor, said sports betting in S.C. should be regulated.
"It's already going on every day," he said. "So we need to confront the issue, and make sure we keep the criminal element out. Failing to take action to regulate this activity could cost South Carolina tens of millions in lost revenue.
"It's not about big government or small government. It's about smart government."
Hutto said the issue will require careful deliberation.
"Just like we do with other new ideas, we'll have committee meetings and will invite people in who have done it in other places," Hutto said. "It needs to be done openly and transparently, and we'll see what we are talking about."
But in a state where even church raffles weren't legal until 2015, it might be years before South Carolina bettors can place a legal wager on their favorite team.
Grace Raynor contributed to this report.