COLUMBIA — Mikiah Herbert Harrigan has bloomed into one of the SEC's best all-around players, Te'a Cooper is scoring like the All-American she is and Victaria Saxton provides instant energy every time she comes off the bench. Those are all reasons South Carolina's won five straight and is back in its familiar spot atop the SEC.
But it's gotta be the shoes.
"I wore them the night before the Purdue game, and it was unbelievable how comfortable they were. I was like, 'Whoa. This is an experience right here, and in a good way!'" USC coach Dawn Staley said. "I put them on for Purdue, we won in the kind of fashion we won in and I'm like, 'They're so comfortable, I need to keep wearing these,' and then we kept winning.
"So it's on now. The superstition has to continue."
They're clogs painted in USC garnet. They're adorned with gold studs and buckles. They're lined with beige fur.
And since Staley put them on, the No. 21 Gamecocks haven't lost.
"The box says it's real fur," she proudly says. "Nowadays, I'm always looking for comfort. I don't know what made me try them. They didn't particularly match my outfit but I was like, 'I'm going to make it work.'"
Superstition is nothing new in sports. The late Pat Summitt told a story about how she spotted a heads-up penny in an Atlanta airport toilet and plunged her arm in to get it (Tennessee had an undefeated national championship season).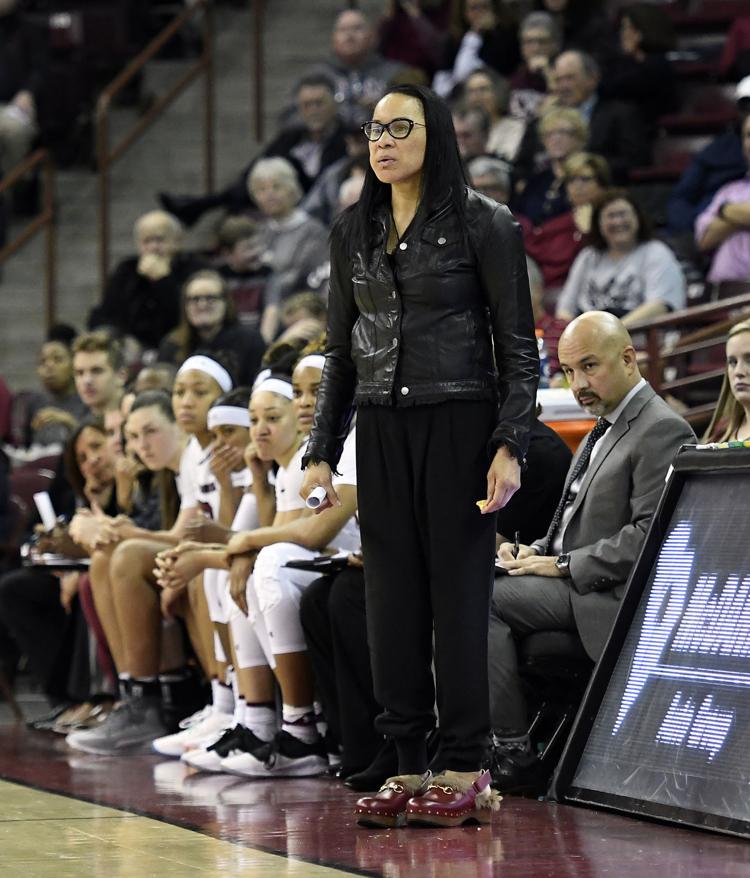 Superstition is nothing new at USC. Over at the baseball field, they've credited winning streaks to a betta fish, a Chick-fil-A special and a ball taped to a fungo bat.
Now it's the clogs for women's basketball. Staley doesn't remember where she got them, but she's had them for a few years. "Just caught them on sale," Staley said. "It was a good color and I bought them and I just stored them."
Entering her 11th season at USC, Staley needed a change. Not that the Gamecocks hadn't been winning — USC lost seven games in an Elite Eight season last year and it was considered disappointing — but pounding the sidelines in dress shoes was starting to wear on her.
"Coming into this particular season, my feet had been hurting. I did purchase some lower-heeled shoes," Staley said. "I needed something that makes my feet feel really good."
She remembered the clogs and tried them on the trip to Purdue. The Gamecocks were trailing three points after Staley was slapped with a technical foul, which almost certainly meant a loss, a 5-5 record and the end of a 120-week stay in the Top 25.
Yet the Boilermakers fouled Bianca Jackson as she was shooting a 3-pointer with less than two seconds to go, Jackson swished all three free throws and the Gamecocks blew past Purdue in the second overtime. What followed were expected wins over Temple and Furman, then a 2-0 SEC start with victories over then-No. 21 Texas A&M and Alabama.
Maybe it's just playing better, as Staley has found a stable lineup (freshman guard Destanni Henderson started for the first time at Purdue, and like the clogs, isn't stopping now). Maybe USC has found something besides T-shirts to give to its fans.
It's gotta be the shoes.