COLUMBIA — South Carolina won't get a chance to break a six-quarter scoreless drought for a while.
But the Gamecocks start working on ways to try this week.
USC begins spring football practice on Wednesday, the first of 15 sessions to indoctrinate mid-year enrollees (and coaches), fine-tune veteran players and begin seeing just how much the team was affected by graduation and the transfer market.
The five biggest questions the Gamecocks face going into spring practice:
1. Who's No. 2 at quarterback?
Jake Bentley decided to return after seeking NFL feedback and as a senior who's in line to set every significant USC passing record, there's no question he's the No. 1 guy. Michael Scarnecchia is gone, so who's No. 2?
North Charleston native Dakereon Joyner redshirted last year but finished as the No. 3 man behind Scarnecchia, so it seems he would move to No. 2. But there is that other name.
Ryan Hilinski, before he's ever thrown a college pass, is already legendary. Joyner has a year's worth of experience on him but Hilinski has an arm that can reportedly summon lightning.
2. Can the linebackers re-learn tackling?
The value of Skai Moore was shown even more when he was gone than when he was in uniform. He made the other linebackers around him better.
T.J. Brunson and Sherrod Greene didn't have bad seasons in 2018, but they didn't have great ones, and when the defensive line and secondary were rocked with injuries, the linebackers felt it the most. Far too often, they played on their heels and couldn't bring down ball-carriers.
Of course those two will play and play a lot, but can upperclassmen fix a fundamental flaw after doing it one way for a long time, and after having Moore's ability cover for them?
3. Who fills in at key positions?
Now that graduation, the NFL and the transfer market have ceased (although the latter's mysterious portal is always open), USC is beginning to peruse names to fill vacant spots. The Gamecocks are trying to replace an amazing slot receiver/kick returner, a pass-rusher, two starting offensive linemen, two backup offensive linemen and almost all of their starting secondary.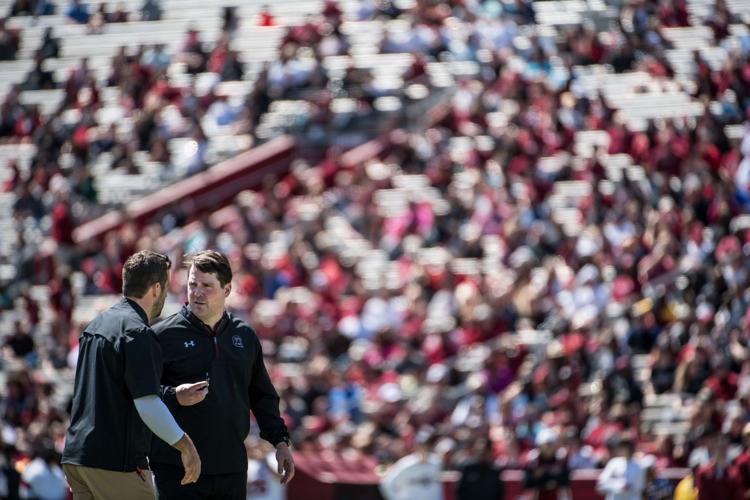 The secondary needs the most help and early-enrolled freshmen will get heavy looks, as will former running back A.J. Turner, who will stick at defensive back. Specialized talents such as Deebo Samuel and Bryson Allen-Williams won't be easy to replace, if they truly can be.
And don't disqualify the importance of a great long snapper — Ben Asbury graduated and USC will need someone to take his place.
4. What will the new hires bring?
The Gamecocks hired two new assistants. Thomas Brown will take over running backs (sliding Bobby Bentley to tight ends to replace Pat Washington), while John Scott was hired as head of the defensive line when Lance Thompson wasn't retained.
The running back position has been a concern the past three years with no definite top or No. 2 back, the Gamecocks collecting rushing yards by committee. Brown will have a revamped group, with Turner moving to defense and Ty'Son Williams transferring.
The defensive line is the Gamecocks' deepest and most promising position, despite the mercurial Josh Belk giving up the game. Scott gets one of the best prospects in the class, Zacch Pickens, as an early enrollee.
5. Who's on the shelf?
Starters Brunson, Javon Kinlaw, Daniel Fennell, Rosendo Louis, Jamyest Williams and Eldridge Thompson are at best limited during the spring. Backups Caleb Kinlaw and Tyreek Johnson are also recovering from injuries.
The Gamecocks are trying to revamp their defense after it was gutted by injuries last year and this will be the chance to get many of the youngsters up to speed. The hope is they show enough so there's no hesitation to send them in once the season-opener rolls around on Aug. 31 against North Carolina.