COLUMBIA — They need an athlete back there. There's no question that South Carolina has to have a multi-tooled player at safety, the last line of defense.
Nobody ever said they needed a tall athlete back there.
"I wouldn't say height is a major criteria for that position," said defensive coordinator Travaris Robinson, who logged two years as an NFL safety. "We want to be big outside at corner, obviously … but we want those (safeties) to be strong, quick, good communicators … and be able to tackle."
Sure, but how tall are you?
Robinson bowed his head and grinned.
"I'm 5-11."
The Gamecocks didn't lose too much in height with the departure of senior safeties Chris Lammons (5-10) and D.J. Smith (5-11). Steven Montac, expected to start at one safety spot, stands 5-10 and two key backups, J.T. Ibe and Jaylin Dickerson, are 5-10 and 6-1, respectively.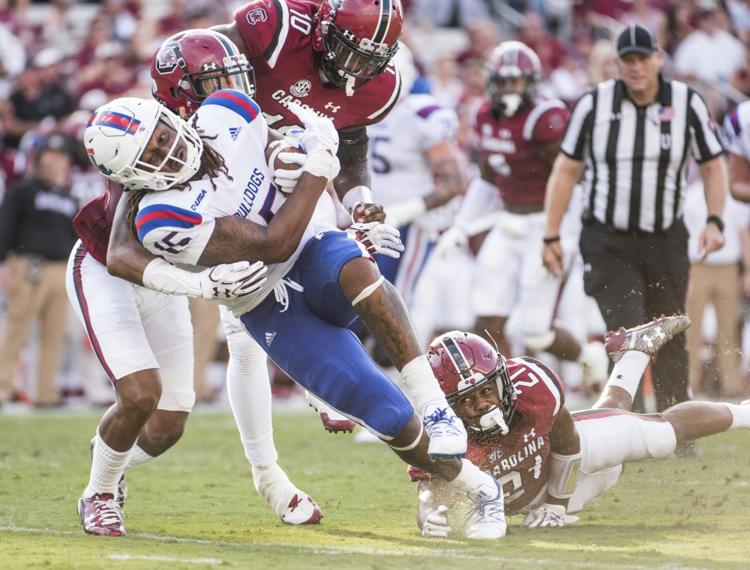 What they lost was experience. Montac is the only guy on the roster with significant snaps as a USC safety (Ibe transferred from Rice). USC was in such a crunch that they moved 5-8 Jamyest Williams, a starter at nickel last year, to safety.
It's been the predicted up-and-down camp for him as he learns a new position. Coach Will Muschamp raves about Williams' athleticism but has made it clear that USC needs a lot of improvement at that spot.
"It's communicating with the secondary. Got to play fast because we have a tempo offense," said Williams, who also said height is not at all a prerequisite to play safety. "I can show my versatility, show my speed. You have to have speed in this game."
Montac and Williams have helmed the spot in camp, while Nick Harvey, thought to be a starter at corner, has rotated back to help. Ibe was only cleared for full contact a week ago after offseason hip surgery; Dickerson was still fighting the bum shoulder that kept him out last season during the first two weeks of camp.
A troublesome position only got thinner through camp due to the injuries and illness. Tavyn Jackson was thought to be a contributor but had to give up the game due to sickle cell. The Gamecocks already broke the in-case glass when they moved Williams over and there simply aren't many other options.
There's some concern about a 6-4 receiver going for a jumpball against a 5-8 safety, but Robinson and Muschamp pointed out that those passes, or 50-50 balls, are named that way for a reason. You win some, you lose some.
USC is hoping the thin rotation strengthens into a spot that can win at least 75 percent of the 50 percent chances.