COLUMBIA — The statistic is silly, but sports is full of silly statistics. Who really cares about the exit velocity of a home run ball when it's where it lands, not how hard it was hit, that counts on the scoreboard?
South Carolina's media guide tells us that junior quarterback Jake Bentley is seven wins away from being just the sixth quarterback in school history to notch at least 20 wins. That would also make him a prime candidate to someday surpass Connor Shaw's career-leading 27 wins.
It's only the quarterback that gets credit for the win in the books. What it means on its face is that he started the game, and the team won that game.
Yet it's an important stat.
"A QB winning percentage is a very, very big stat for me. Winners win, you know?" said Florida coach Dan Mullen, who tutored Tim Tebow at Florida and developed Dak Prescott at Mississippi State. "If as a high school quarterback, he doesn't win at all, what's going to change at college?"
There was no question that Shaw won. He never lost a game at Williams-Brice Stadium and is still spoken of in hushed tones.
But his first "win" was something he didn't exactly play a part in. His first career start was in Charlotte in the 2011 season-opener. The books say the Gamecocks romped, 56-37, against East Carolina.
The deep dive shows that Shaw started and left the game early in the second quarter with USC trailing, 17-0. Stephen Garcia galloped in and engineered the rally, but Shaw got the win.
"Wins as a quarterback is a little bit of a stat that's kind of overrated, because it's not the quarterback that comes away with a win. It takes 21 other guys that get you the victory," Shaw said. "The 27 wins is something that I'm proud of but I obviously know that it just wasn't myself."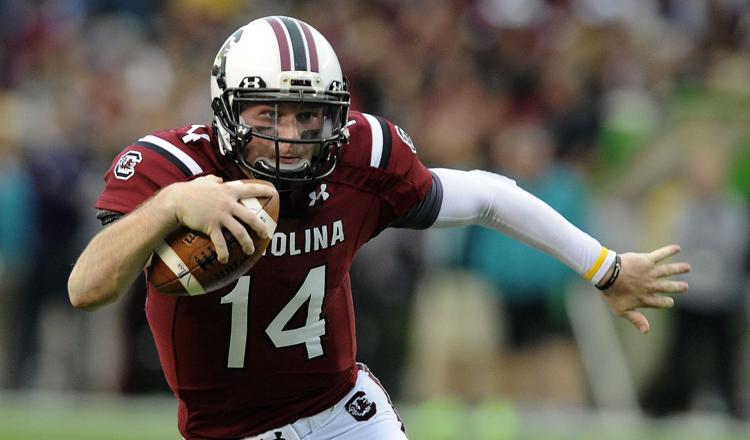 Shaw mentioned two other games that came to mind, one where he was given credit for a win and one where he won the game but didn't get the "W." In the 2013 Outback Bowl, he started but it was Dylan Thompson who threw the game-winning touchdown pass as Shaw was hurt. Shaw 1, Thompson 0.
But it was Thompson who "won" the revered "Miracle at Mizzou" in 2013, when he started, left in the fourth quarter and Shaw led the nuttiest comeback one could ever see. Thompson 1, Shaw 0.
That's what causes the questions of what it really means. Bentley has 13 wins and rode Will Muschamp's dice-roll two years ago to win four games and turn around a season that started 2-4. Last season, he took every significant snap as USC won at least nine games for just the seventh time.
The glaring omission is he doesn't quite have the "big" win yet, although last year's Outback Bowl certainly could qualify. He has two seasons (probably) to rectify that with a Georgia or a Clemson win (preferably both) and get his name up beside, or perhaps in place of, Shaw's name on a Williams-Brice ramp.
"The fact that a quarterback, if he wins a lot of games, that means a lot to me. I always look at a guy who's winning a bunch of ballgames," USC QB coach Dan Werner said. "I want him on my team."
Bentley's won a bunch of ballgames. The numbers show it.
His legacy will be tied to more than numbers.