COLUMBIA — Christyn Williams sat at a table in her high school gym in North Little Rock, Ark., waiting to make one college gleeful and another glum. As she prepared to announce her decision between Connecticut and South Carolina, she motioned to her teammates grouped at the door.
A live husky trotted between them. Williams, the nation's top-ranked women's basketball prospect, was headed to UConn.
Around 750 miles away in South Carolina, Dawn Staley and her staff pursed their lips. It wasn't fair to say USC was shut out of the 2018 recruiting class because the Gamecocks landed Destanni Henderson, who wound up No. 6 in the final rankings.
But the Gamecocks were in on eight of the top 16 recruits, and while they were close on all — in the top two on three — they got one.
"It's recruiting. It happens. It's disappointing, but you always know it's there," USC assistant coach Fred Chmiel said. "But as soon as you get the 'No,' you're working on the '19 class, the same day."
One year later, that 2019 class is the nation's best. The Gamecocks signed five prospects, four rated in the top 13. Not only is USC's group No. 1, it's drawing comparisons to the best recruiting classes in women's basketball history.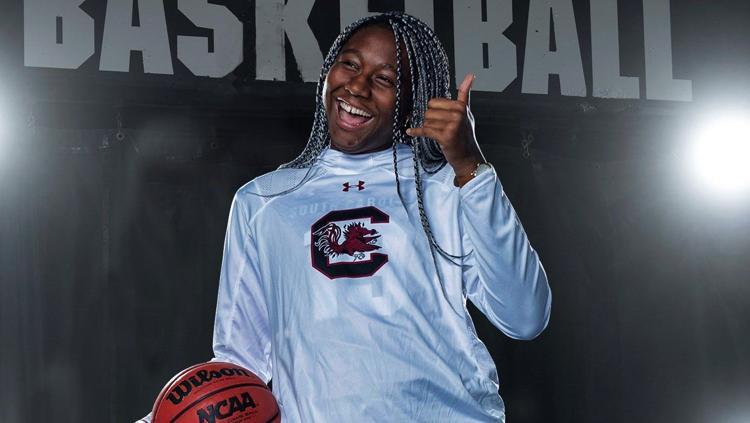 Assistant coach Jolette Law smiled and shook her head with an audible "whew." Relief or disbelief, the amount of skill USC is bringing to campus next year is extraordinary.
"They not only have the talent, but they're winners," Law said. "They're good, solid kids, they want to play at the highest level, they want to do the right thing, they want to play for coach Staley."
The players:
• Aliyah Boston, who USC plucked from under UConn's nose.
• Zia Cooke, an Ohio native who passed on Tennessee and Louisville to learn under Staley.
• Laeticia Amihere, a 6-3 Canadian who has been dunking the basketball since she was 15 years old.
• Brea Beal, twice named 'Miss Basketball' in Illinois, scores and rebounds with equal aplomb.
• Olivia Thompson, a preferred walk-on from Lexington who has been labeled more than once as the best shooter in the state.
The Gamecocks' last class resembling this one was in 2014, led by A'ja Wilson (it was No. 2). It earned four SEC tournament championships, three Elite Eights, two Final Fours and the 2017 national championship (two members of that class, Bianca Cuevas-Moore and Doniyah Cliney, are still here).
This one? Hard to predict, but players ranked this high usually play to their rankings.
"The projection is that these players will eventually make it to the WNBA, that they will be pro players," USC associate head coach Lisa Boyer said. "They all have to get acclimated. Even A'ja Wilson had to adjust to the college game. We have very high expectations, no question about it, but there will be an adjustment."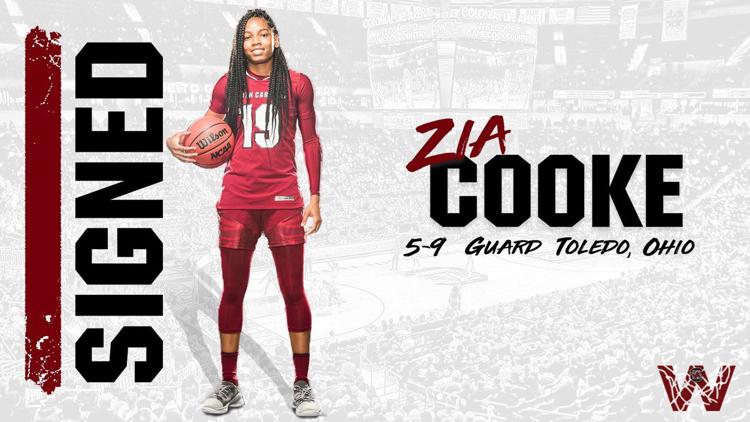 Each of the three assistants said there wasn't any extra pressure to score with this class after falling short in 2018, that it was just recruiting and there's no way to know what will happen. They also said each member of the staff took the disappointment personally and vowed to work harder, to take any extra steps available to make the 2019 class memorable.
"It just made us regroup and refocus, that this class was important," Law said. "By not getting some of those players, it made us hungrier, because this was a must-have class."
Contact can come in middle school, with USC starting to build that relationship with visits, texts and calls. Of the four top signees this year, one had already visited USC before former assistant Nikki McCray-Penson left for the Old Dominion head coaching job in May 2017. Two more were contacted two years ago, the other was around a year ago.
Everybody does their homework. They look for a local connection, a coach, an AAU parent, a relative — "the school janitor?" Law said — that the prospect is close to.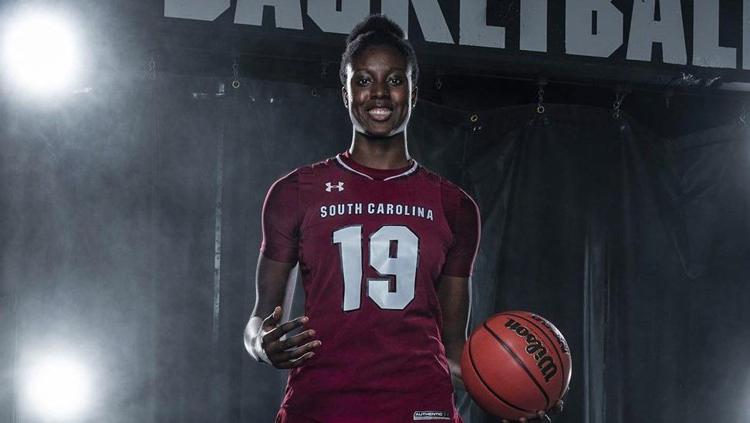 Top national recruit Haley Jones stayed close to her California home by going to Stanford. Yet USC was among her final five, in part due to an aunt living in South Carolina.
Staley's name and a message from her is sometimes all that's needed to get that first contact. Then the assistants take on the heavy work of finding ways to relate to them.
"One common link is always basketball. You can always talk hoops with them," Chmiel said. "Then you go movies and music and whatever else. If I go for a relative topic, it's usually a joke like I'm the old dad."
Law had a unique situation. She was already recruiting many of the prospects while she was a Tennessee assistant.
Staley hired her in June 2017 and she had to wait until July for another active recruiting period. The first time she went to one of Williams' games, she got a double take.
"Explaining it to them was a little hard. I'd been with Tennessee and now I show up with a different shirt on," Law said. "I explained to them that I was with Dawn Staley, I was at an institution with hands-down the best fan base in the country, so why not? They took it and they understood why I came."
Relationships continue to flourish, USC sticking to its parameters (don't text or call while they're in school, or after 9 p.m.), and then comes the visit. It's where Staley's family atmosphere really comes into play.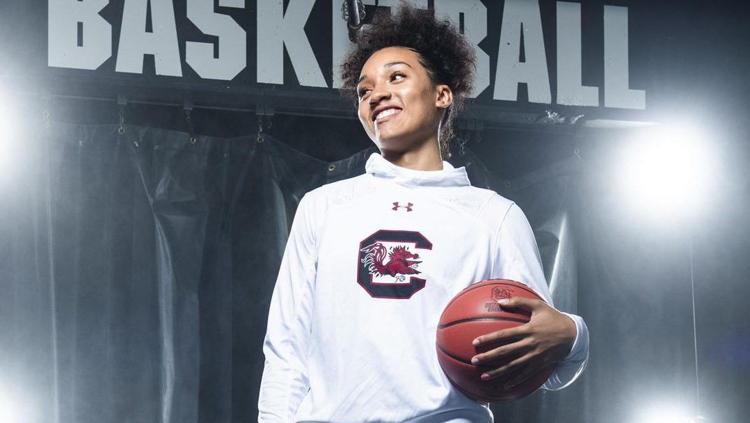 Once a recruit is on campus, it's not just the assistants who work on showing them every facet of the program. Everybody — strength coach to director of operations to sports information to equipment manager — chips in.
"They're the ones that make this train go, obviously, and then when families come on our campus, it's an entire production," Staley said.
"You want everybody's best effort. Everybody's got to be involved," Boyer said. "Dawn has to do the lion's share when it gets down to the nitty-gritty. At that point, when it gets tense, you're just trying to keep the circle tight."
Sometimes a recruit will let a coach know that they're coming before they officially announce. Staley likes to tell the story of Wilson, on the day she committed, calling the office and speaking professionally and disconnected, as if she was preparing USC for a letdown, before telling them that she was a Gamecock.
There wasn't a lot of precognition this year. USC was watching the announcement videos like everybody else.
"We had a good feeling because we know they had a great time on the visit. But I've been doing this for a long time and they all wanted it to be a surprise," Law said. "This class, I call it 'The Surprise '19.'"
Cooke picked first, Beal second. Amihere was third, and that was already a phenomenal class.
The Gamecocks weren't done. They were at the Vancouver Showcase, watching an iPad when Boston was choosing. Many thought that Boston, who prepped in Massachusetts barely an hour from UConn, would opt for the short trip.
She pulled on that garnet ballcap and the exclamation could be heard four time zones away.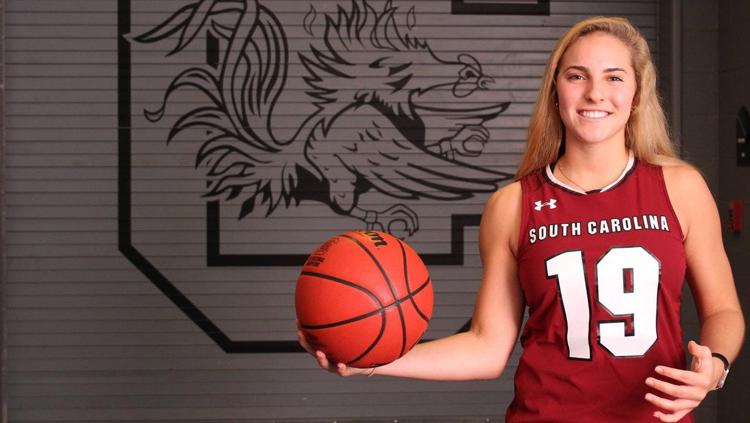 Staley was clapping, Chmiel was on his feet with arms raised and Boyer was holding up one hand while videoing the event with the other. Law rose from her seat as she channeled Kirk Gibson's best arm pump.
"Even when Aliyah called, it sounded like she was letting us down easy. I don't think she meant to do it that way, but all of a sudden, 'I've decided to come to the University of South Carolina,' and we just went nuts," Chmiel said. "It sounded like a breakup at first!"
The congratulations flowed that night, but in the morning it was back to work. The Class of 2020 waits for no one.
The coaches refused to take individual credit for landing individual players. It was a team effort, and anybody they get in the future will come via the same process.
"There are some pieces you want on a team. We're really blessed with this class," said Boyer while taking a quick timeout from a recruiting trip. "I think we're just looking for maybe the best players. We're in a position now where maybe we can go a little bit further."
Chmiel reflected on a year ago, where nobody was to blame but USC wasn't close enough to win over several recruits.
"You feel a little empty with a lot of time wasted, but this one made up for all of those," he said. "But what a different feeling from last year to this year. You realize maybe it wasn't meant to be, and this is."
There were no live roosters at any of the announcement ceremonies. Just as well.
There was already plenty of crowing in Columbia.