COLUMBIA — Frank Martin's been working hard.
Ever since the disappointing-but-expected news that Brian Bowen would not be cleared to play for South Carolina anytime soon, forcing him to go pro, the seventh-year coach has been shoring up his roster. Martin signed two players in the last two weeks alongside a verbal commitment for the season after next.
Freshman Keyshawn Bryant (6-foot-7, wing, Winter Haven, Fla.) picked the Gamecocks and will be ready for this season while redshirt junior guard Jair Bolden is transferring from George Washington. Bolden will sit out 2018-19 but have two years to play afterward.
Martin also added Hartsville guard Trae Hannibal as the first commitment for his next class, an important in-state pledge in a class that's brimming with talent. Porter-Gaud's Josiah James, Lower Richland's Christian Brown and Gray Collegiate's Juwan Gary, all Top-35 prospects by ESPN, are in Hannibal's class and could be the key to USC's future.
Along with several new faces and a reconfigured backcourt, USC will return SEC Co-Defensive Player of the Year Chris Silva and two-year starting forward Maik Kotsar, giving the Gamecocks a strong frontcourt foundation.
But the SEC has has only gotten better. USC will likely be picked in the bottom four of the league once 2018-2019 projections begin to appear.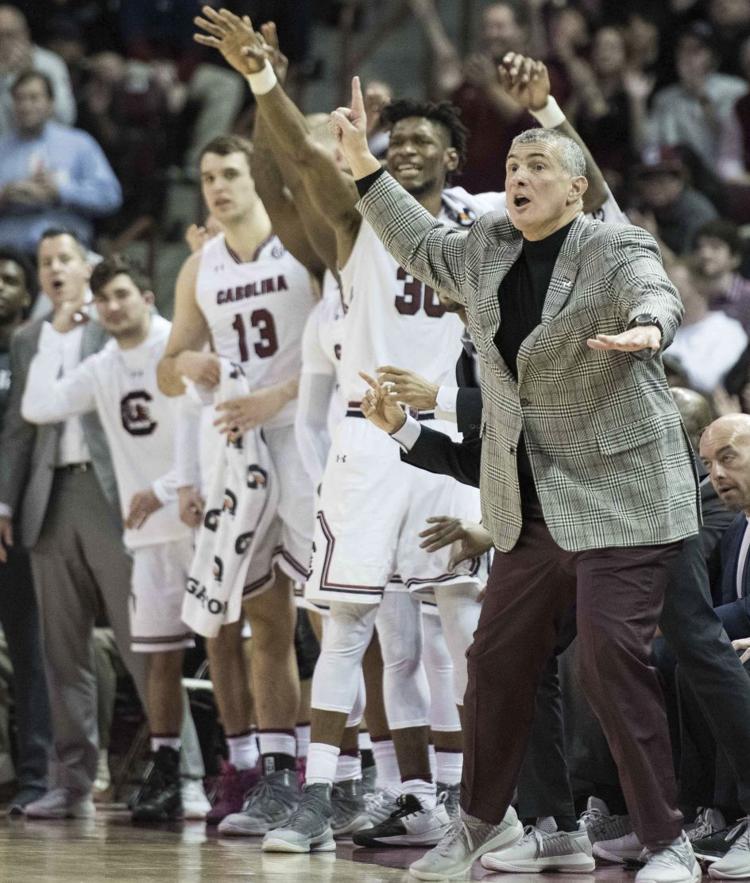 The best bet for immediate help is Bryant, an explosive athlete who has gained notoriety for his prowess at dunking the basketball. Resembling one-and-done (at USC) wing Ibrahim Famouke Doumbia, Bryant won a dunk contest in his final year of high-school ball and can add a lot of dimension to USC's backcourt.
Bolden was the Colonials' top point guard and chipped in over 11 points per game as a sophomore. With point guards Hassani Gravett and Georgetown graduate transfer Tre Campbell departing after this year, Bolden can step right into the role and compete with incoming freshman T.J. Moss and Hannibal, who will start his freshman year in 2019-20.
Each of the two should be enrolling in one of the two summer sessions and if they're in Columbia in time, will be able to compete in the S.C. Pro-Am, the summer event created by former Gamecock Carey Rich and Adam McDowell. The late July pickup games featuring college players from all over the state is a good chance to see what USC is getting before the season begins in November.
The Gamecocks have one open scholarship for this year and are heavily involved with A.J. Lawson, a top prospect in Canada who has re-classified for this season. He's currently competing with Team Canada in the FIBA under-18 Americas Championship, and while he will visit other schools after the event, he's already visited USC and the Gamecocks have a hole card.
Lawson's father is familiar with South Carolina after being stationed at Sumter's Shaw Air Force Base. The Lawsons still have family in the area.
Plus, there's the recognition of another Canadian who played brilliantly at USC. Duane Notice was an integral part of Martin's program and was a senior on the 2017 Final Four team.
Lawson is expected to decide by the end of June.