CLEMSON — Athletic officials at Clemson and LSU are negotiating a possible home-and-home football deal, one that would guarantee a couple of things if it comes to fruition.
The all-Tigers matchup would take center stage as a heavyweight extravaganza between two of the nation's best teams and would have college football fans buzzing. And the question of which team plays in the real Death Valley, a nickname used by both schools for their football stadiums, would bubble up again.
When it comes to the latter, the ongoing debate among the respective fan bases actually appears to have a clear answer — one that Clemson says is more cut and dry than it might seem on the surface.
Clemson officials insist there is no debate — their Death Valley is the original. Sam Blackman, the Clemson athletic department's historian, and Tim Bourret, the Tigers' sports information director for 40 years, tell the story:
Back in the 1940s, it was tradition for the Clemson football team to open its season against the Presbyterian Blue Hose, whose coach at the time was Lonnie McMillian.
In 1943, Presbyterian defeated Clemson, 13-12. A year later, Clemson avenged the loss with a 34-0 victory. In 1945, it was even worse for visiting Presbyterian — a 76-0 defeat.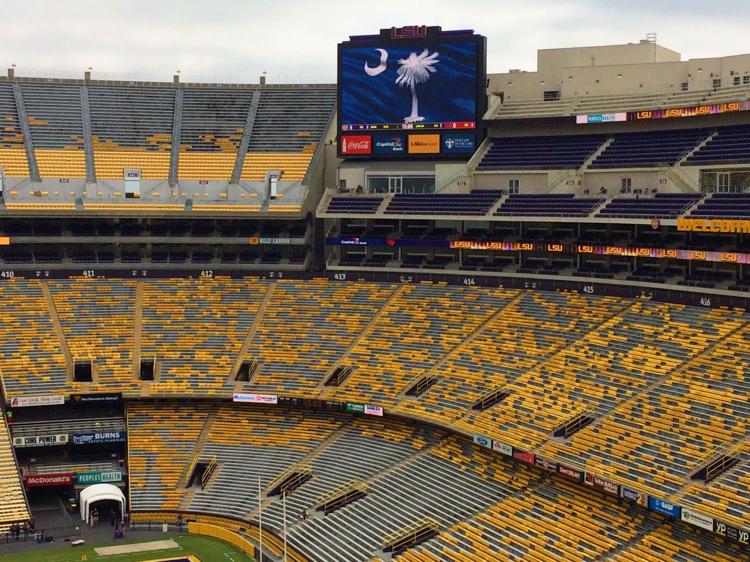 That's when McMillian, who had visited Death Valley, Calif., on his way to Los Angeles for the 1932 Olympic Games, coined Clemson's Memorial Stadium as college football's Death Valley. He noted that the stadium, which is located in a natural ravine and built of concrete instead of metal because of shortages during Wold War II, is brutally hot in early fall and one of the toughest places for visiting teams to play.
One of McMillian's former players at Presbyterian, Cally Gault, confirmed the story to Blackman about five years ago, and Gault even signed an affidavit in 2012 vouching that McMillian did indeed refer to Clemson's stadium as Death Valley.
"(Gault) said, 'I do remember this more than anything — it was hot. I mean, real hot at Clemson,'" Blackman recalled. "'You haven't felt hot until you've played at Death Valley in early September.'"
Blackman and Bourret say Clemson's coach at the time — Frank Howard — liked the nickname and proudly embraced it. When a jovial, good-natured Clemson graduate, Sam Jones, took a trip to Death Valley, Calif., in the 1960s, he brought back a rock from his travels that he gave to Howard.
Today, "Howard's Rock" rests on a pedestal inside Memorial Stadium, where players touch it as they run down The Hill before games in what has become one of college football's grandest traditions.
"So that's kind of how it started," said Bourret, adding Clemson is still looking through newspaper archives to find the very first time the stadium was called Death Valley in a newspaper. "Obviously we were referring to our stadium as Death Valley in the early 1960s, which is why (Jones) brought (the rock) to (Howard)."
As for LSU, Tiger Stadium is 20 years older and 20,000 seats larger than Clemson's, making it the sixth largest college football facility in the country. But when it comes to which was the original Death Valley, an LSU sports information director from the 1960s says that honor belongs to Clemson.
According to Bud Johnson, the SID from 1966-71, LSU only started calling itself Death Valley after the SEC Tigers swiped it from the ACC Tigers following the two teams' meeting in the 1958 Sugar Bowl.
LSU referring to itself as "Deaf Valley" before it became Death Valley originates from a gas station in the adjacent commercial area not far from LSU's campus. Crowe Peel, a former LSU boxer and 1949 national champion, named his gas station "Deaf Valley" because of the noise that boomed from Tiger Stadium.
"I'm an LSU fan but I side with Clemson," Johnson said. "I believe that LSU's creative enough to do their own thing. I think there's enough of creative strength on that campus and enough tradition here.
"This is a school that was the first American college team to play a game on foreign soil. This is a school that had a live Tiger mascot in 1936. This is a school that played night football in 1931 ... so this is an institution that had a little bit of creativity and a lot to be proud of. They don't need to lift ideas from Clemson."
Clemson and LSU have only played three times. They met in the Sugar Bowl at the end of the 1958 season and the Peach Bowl at the end of the 1996 season, both LSU victories. But Clemson won the last time they played — the 2012 Chick-fil-A Bowl in Atlanta — on a last-second field goal.
Should the two teams finalize a deal, there is no doubt the Death Valley conversation will come up again. There is one Clemson player, though, who has been to both stadiums and is firm on which one deserves the official nickname.
"I'll be taking my talents to the real Death Valley," Clemson running back Travis Etienne, a Louisiana native, told a television reporter on the day he made his college decision.
Then he picked up a Clemson hat and placed it on his head.