During a career of more than 30 years in athletic administration, Jim Schaus has never worked in the Southern Conference.
But Schaus, recently named as the SoCon's new commissioner, is no stranger to the league. His father, Fred, coached basketball legend Jerry West at West Virginia, leading the Mountaineers to six SoCon titles before going on to coach the Los Angeles Lakers in the NBA.
"His whole career launched from the Southern Conference," said Jim Schaus, athletic director at Ohio University in the Mid-American Conference for the last 11 years. "Those trophies he won, they were prominently displayed in our house. That's meaningful to me, and I've always paid attention to the Southern Conference through the years.
"Having a chance to come back and be the commissioner in this league is a dream come true."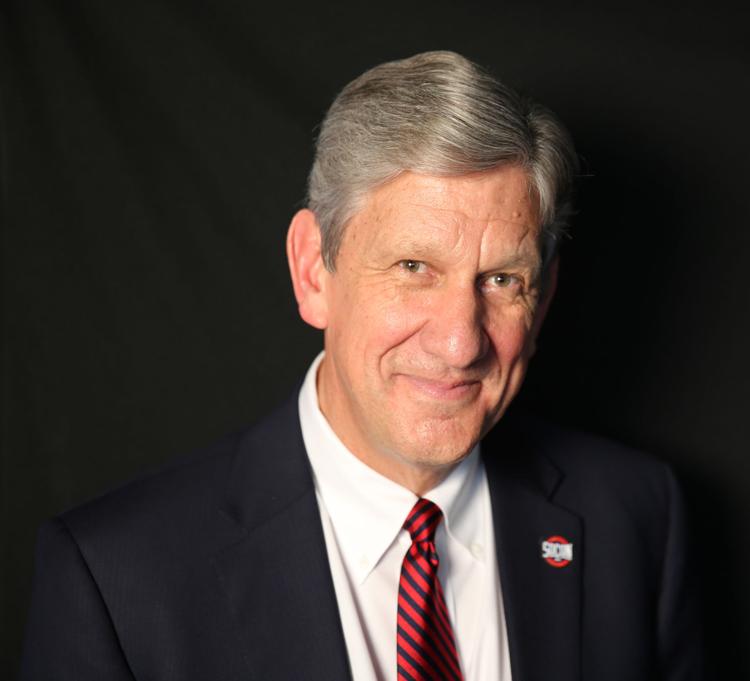 Schaus talked with The Post and Courier about his view of the 10-member SoCon, which includes South Carolina schools The Citadel, Wofford and Furman, and the future of the league.
What are the main challenges facing football at the FCS and SoCon level as Power 5 schools gain more autonomy?
"One is visibility, and I think there is a glut of coverage at the FBS level. FCS football is outstanding, and fans get to see that when they get into the playoffs. But you are not going to see those games get on an ESPN2, for example, like we did in the Mid-American Conference when we had a mid-week game. There's just not the space for it.
"So the question is, how do we better optimize the visibility and the outstanding level of play? That's a challenge, and at the conference level, that would be a priority for me to do that. The SoCon has finished year four of a six-year deal with ESPN, and we have a broadcasting partnership with NexStar Broadcasting.
"That certainly will be one of my challenges, and I'm looking forward to seeing what's in the marketplace."
Would you advocate for mid-week TV football games in the SoCon as the MAC has done?
"That's a trade-off. If you had those opportunities, you would certainly look at that if you wanted to alter game times. But if you don't, the good news is you get to play the games when you want. In the MAC, it was not unusual for us to have a Tuesday or Wednesday night game starting at 8 o'clock.
"Our fans didn't like that at all. They understood the value of that nationally, but it's not always so fun. You have to get all the information you can and make the deal that makes the most sense. You are dealing with trade-off issues that the conference membership would have to review. But we (in the MAC) got used to it, and I think people could get used to it if it would improve revenue or coverage. But there's a trade-off for sure."
In basketball, the SoCon had one of its best seasons ever in 2018-19, ranking No. 11 in the nation in RPI, and still earned only one bid to the NCAA Tournament. What can be done?
"The conference was very close this year. If Wofford had not won the SoCon Tournament, you would have had two teams in, there's no question about that. And I think UNC Greensboro was the last team out, so the league was very close.
"But there are some things that can be done from a scheduling perspective. It's important to optimize 'right-size scheduling.' That means your top teams that have a legitimate chance to be an at-large team have to schedule right, they have to schedule competitively. We have to help and work with them to encourage opportunities to get in exempt tournaments, for example, where you can play high-level opponents on a neutral court.
"There's more art than science to it. You have to get schools to project where they are going to be. You want your best teams to play up a little bit, and your teams that are going to be young not to over-schedule. When you are able to do that, it helps the overall profile of the league. Strategic scheduling is one those things that can clearly benefit a league."
Are you in favor of hard-and-fast scheduling rules about how many non-Division I teams you can schedule or how many Power 5 teams you have to schedule?
"There should be some planning and strategy. Along that continuum, there's quite a bit you can do. When I was in the Missouri Valley Conference, we tried some things that were more rigid and with a lot more communication with ADs and coaches. I believe in that, I think there needs to be communication, and it has to be more than the coach involved if you want the league to move up.
"In the MAC, we set a minimum of 15 home games, and that was a departure for some schools, to have to come up with a buy game or two to get to the mark. Once we did that, there was a clear improvement, and we got more teams that were winning and not having to play so many road games."
I'm sure all fans think the officiating in their favorite league could improve. How can you improve officiating in the SoCon?
"There has to be education, because you are always going to have young officials. There has to be an excellent way to train them and have them get quality experience as they work their way up. There has to be a way of coordinating so you can ensure your best official options on some of your TV games and critical games.
"Another factor is what you pay, and I've been involved in situations where you might have a high-tier official (in basketball), but you may not get all three at that tier. But if your lead official is really good, it can help the younger officials. There are strategies you can use when you decide how you pay.
"That's something I will spend time in reviewing and making sure in the future that we get the best officials possible."
The SoCon seems to have stabilized after a period of turmoil with schools coming and going. What are your thoughts on membership?
"You generally consider expansion because either you have to, if you've lost schools and have to make schedules work, or you want to, if you have opportunities to make the league better. Those are things that will be part of the process as I spend time with members. I plan on visiting all 10 schools in the next few months and ask those questions.
"There can be changes, and there can be opportunities as TV contracts change. It's smart to get an idea of what the membership's priorities are, and also to be prepared and plan ahead. There might be opportunities that arise that would be a good fit. If not, the great news is we have an outstanding list of 10 schools, and the SoCon does not currently need to expand."