ATLANTA – Tyler Flowers took in the panoramic view of baseball's newest showcase from the home dugout.
"It's exciting," the Atlanta Braves' catcher said. "Any time you're in a brand new anything it's exciting: new house, new car. And a new stadium is on a grander scale."
Amazing what you get for $672 million, everything from a Monument Garden and Climbing Tower to a life-sized bobblehead collection and a waterfall beyond the center-field fence.
Inside, SunTrust Park feels remarkably like a smaller version of Turner Field, the former 1996 Olympics stadium south of downtown that was the Braves' home from 1997-2016. The Chop House bar and kids' play area are in the same place.
But aside from the suburban location – SunTrust Park is located just northwest of the intersection of I-285 and I-75 - it's the adjacent Battery Atlanta dining and shopping complex that separates this place from other ballpark scenes. The lack of attractive entertainment options nearby Turner Field is the main reason why the Braves moved.
SunTrust Park positives: many.
Weaknesses: transportation issues for metro Atlanta residents and fans coming from South Carolina.
A tour of SunTrust Park by the numbers:
- 41,149. Capacity. It's deliberately 20 percent smaller than Turner Field. The more intimate setting is nice, and there won't be as many empty seats when the Braves aren't playing well.
"This is the nicest ballpark ever built in my lifetime, or any lifetime prior to that," said Braves Vice Chairman John Schuerholz, most famous for his work as general manager when Atlanta won 14 division titles in a row starting in 1991.
- $452 million. Approximate development cost of Battery Atlanta, which includes upscale shops, bars, restaurants, offices, apartments and a 40-foot TV screen at the Sports & Social Club. Businesses will open as the season goes along.
"This is the model for how new ballparks will be built," Major League Baseball Commissioner Rob Manfred said after a tour this week.
- 13. More miles from Charleston or Columbia to SunTrust Park (332 miles and 228 miles total, respectively) than it was to Turner Field. Not having to get on I-285 or come through downtown Atlanta made the old place even more convenient for weekend travelers coming from the Lowcountry or Midlands of South Carolina.
- $5-$143. Ticket price range, from weekday general admission to weekend dugout level.
Waterfall, catfish, Niekro
- One. Waterfall. It's nestled beyond the evergreens on the other side of the center field fence. Kind of a Colorado Rockies' Coors Field look.
"It's far enough away from me that I know I'm not going to get wet," Braves center fielder Ender Inciarte said. "It's pretty nice and I know the fans will enjoy it."
- $12. Price of a blackened catfish po' boy taco at the Taco Factory concession stand.
- Two. SunTrust Park parking lots that allow tailgating (Braves North 29 and Braves West 85).
- $18. Low-end parking rate at Braves-controlled lots for single-game ticket buyers (parking passes are available online).
- Four. Statues outside the ballpark: Hank Aaron, Phil Niekro, Warren Spahn and Bobby Cox. Ty Cobb didn't make it over from Turner Field.
- 755. Address of SunTrust Park (755 Battery Avenue). 755 – Hank Aaron's career home run total – was also the address at Turner Field (755 Hank Aaron Drive).
- $4. Price of a cannoli at The Slice, a pizza concession stand.
- 400 feet. Distance from home plate to the center-field fence, the same as at Turner Field (335 to left is the same, too, but it's 325 to right at SunTrust Park and was 330 at Turner Field). The Braves consulted experts at the nearby Dobbins Air Reserve Base for wind studies.
"I think the ballpark will play fair, although the ball carries quite well here so there may be a bit more advantage to the offense."
- 16 feet. Height of right field wall, including a brick façade (it's only six feet in left). There was no brick at Turner Field.
"The ball is only going to bounce differently off the bricks," Inciarte said. "Otherwise, it's going to do what it does in any other ballpark. But we're taking extra precaution to back up every play."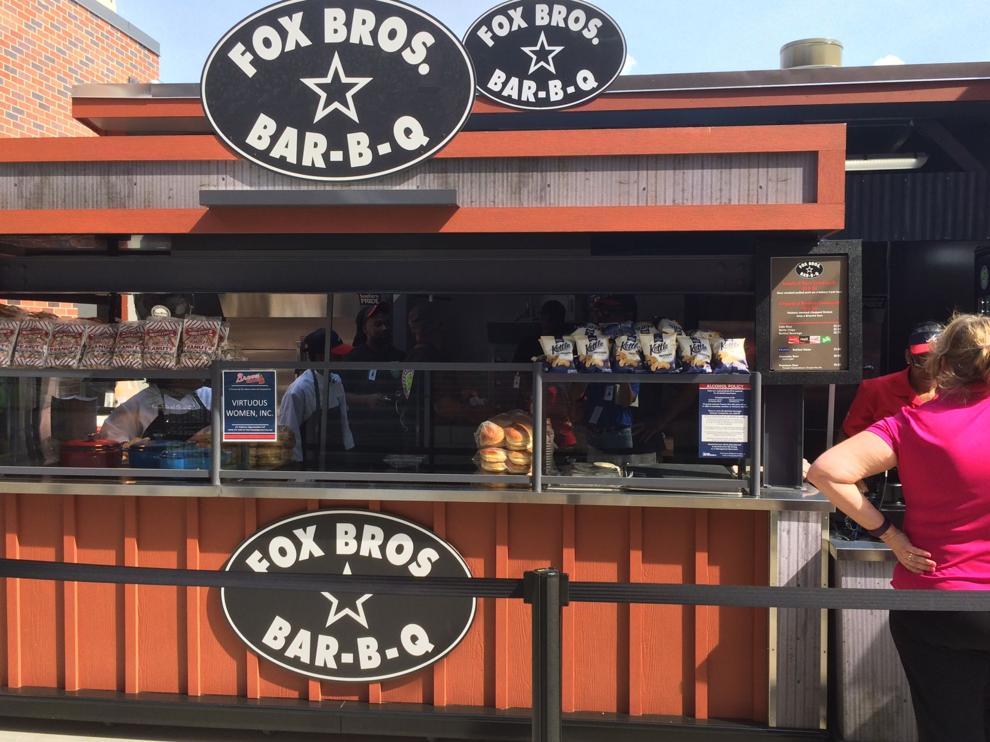 - $11.50. Price of a smoked pork sandwich at Fox Bros. Bar-B-Q inside the ballpark (a Fox Bros. restaurant is also located in Battery Atlanta).
No Marta, lots of Chipper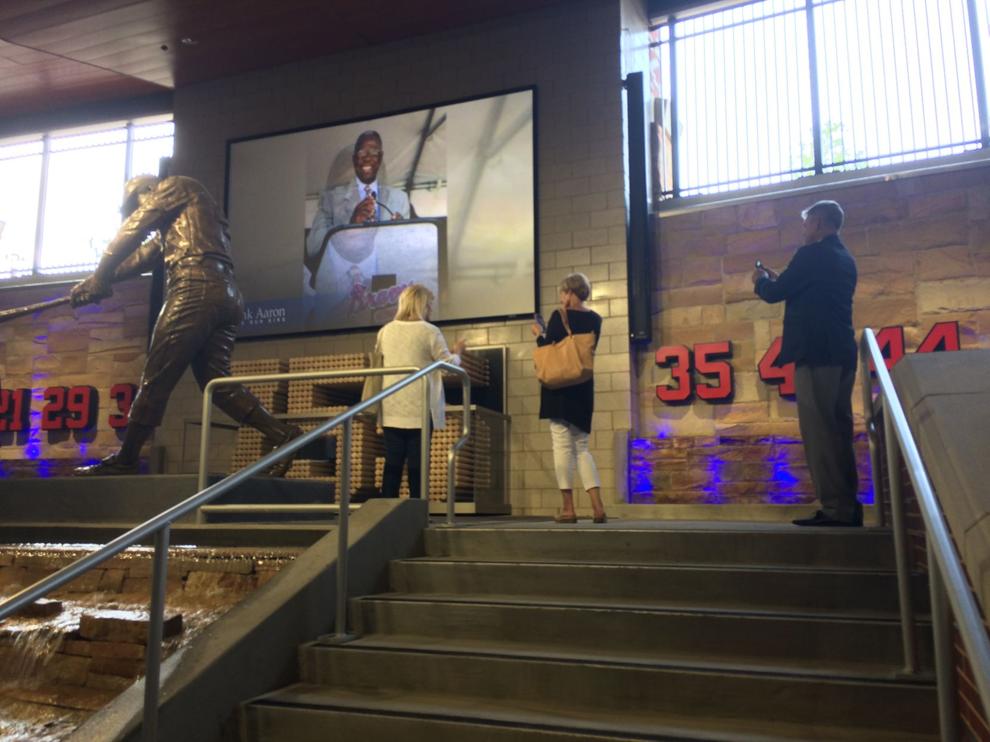 - Ten. Number of items on display at the Braves' jersey timeline at Monument Garden, an outstanding memorabilia feature inside SunTrust Park.
- 15,000. Square footage at the Delta SKY 360 Club behind home plate.
- 10. Life-sized bobbleheads on display around SunTrust Park, including Chipper Jones, Dale Murphy and Greg Maddux. All will be given away to fans at the end of the season.
- 15 minutes. Nearest MARTA station by car, without much traffic.
- $9.50. Price of a 16-ounce craft beer.
- One gallon. Size limit for an outside food container allowed into SunTrust park.
- June 9. Bartolo Colon Bobblehead Day vs. the Mets, celebrating the Braves' 43-year-old, 285-pound pitcher.
- 2042. Date the Braves' time capsule is to be opened.
- $20. Cost for a SunTrust Park tour, available Monday-Saturday.
- Three. Atlanta ballparks since the Braves moved from Milwaukee: Atlanta-Fulton County Stadium (1966-1996), Turner Field (1997-2016) and SunTrust.
Follow Gene Sapakoff on Twitter @sapakoff