Jay Lethal has heard the question more than once.
"Why aren't you in WWE?"
It's a valid and perfectly understandable question. Lethal, who turned 32 last weekend, has been in the business for half of his young life. He's wrestled all over the world, held titles in nearly every promotion he's worked for and, last but not least, is a great in-ring worker.
No less than 16-time world champion Ric Flair, in a recent interview with Sports Illustrated, called Lethal his favorite talent outside WWE.
"I do wish that Jay Lethal was in WWE," said Flair. "He's an incredibly nice guy, and he's a good talent, so I don't know why Jay never made it to WWE."
So again. Why has Jay Lethal never worked for WWE?
I asked Lethal that very question recently, and got a surprising response.
"It's funny. When I got into the wrestling business, all I wanted to do was wrestle for WWE," said Lethal, whose real name is Jamar Shipman. "That was a major goal for everyone from my generation. I'm not saying that's something that I would not want to do, but along the way I sort of re-prioritized some things."
And that's when Lethal came to the realization that he was happy doing what he did and where he did it.
"With that said, if I never got to work for WWE, I wouldn't be too upset. I wouldn't feel that my career wasn't complete. I think that I've made it. And that's something that a lot of wrestlers struggle with."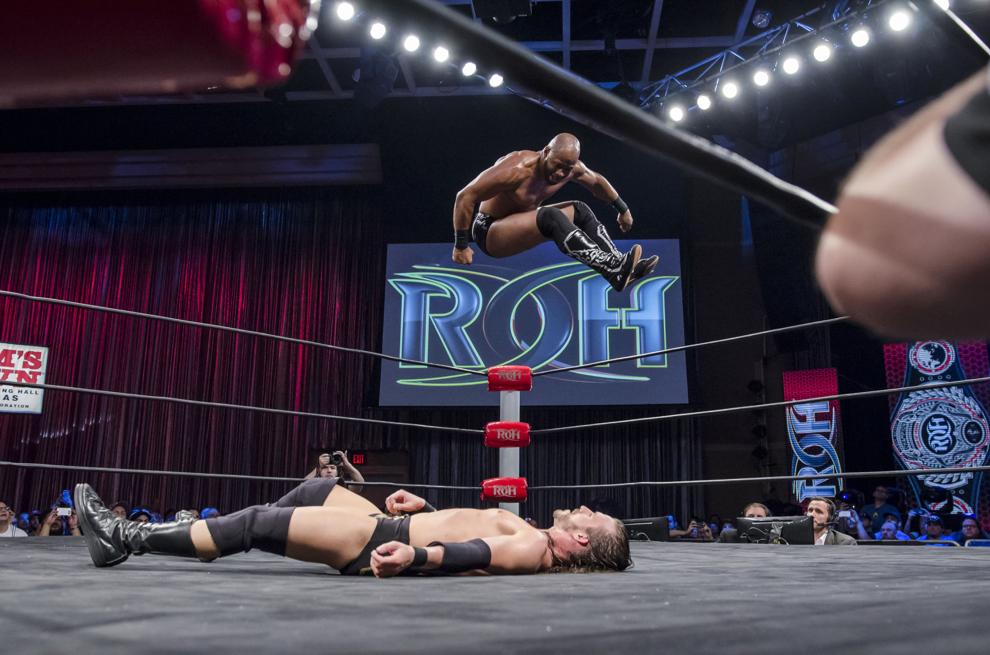 And if there are some out there who may not believe it, all you have to do is look at Lethal's sparkling résumé. The Ring of Honor sensation held the company's world championship for 427 days and the television championship even longer, a title reign that lasted 567 days.
The ROH world championship is a revered one in the wrestling industry, a title held by such WWE superstars as CM Punk, A.J. Styles, Seth Rollins and Kevin Owens, all of whom Lethal has beaten. He even trained a future WWE titleholder, former divas champ A.J. Lee (now Mrs. Phil "CM Punk" Brooks), whom he also dated for two years.
The New Jersey native loves his current position with ROH.
"I was the world champion at one point. Who wouldn't love that? If you're not having fun, then what's the point of this?"
Childhood dream
The biggest highlight of Lethal's career just might have come when, at the age of 25, he had the opportunity to impersonate Flair, his wrestling idol, on an episode of TNA Impact. His hilarious, dead-on impression was not only a hit with fans, but with Flair himself.
"He did a better Ric Flair than Ric Flair," the Nature Boy later joked.
It was a dream come true for Lethal, who remembered sitting with his brothers on his mom's couch in New Jersey years earlier, watching Flair headline WWE pay-per-views.
"It let me live out a childhood dream," says Lethal. "It was incredible."
Lethal says he was so nervous that, as the two were face to face, nose to nose, his hands went numb.
"It definitely was a highlight of my career … especially at that point. Even today I remember being so nervous because at the time that company (TNA) had never given me the chance to cut a promo in the ring before. Now the first chance I get to do it I've got to go in there with Ric Flair. Are you kidding?"
The spontaneity of the exchange between Flair and Lethal made the moment even more memorable.
"I think the coolest part about it to him was that out of all the promos that we cut, nothing was rehearsed," says Lethal. "He refuses to go over promos ahead of time. It was all off the cuff. I had to first hear what he was going to say live out there and then react to it. That's what really caught him off guard."
One particular line, says Lethal, hit home with Flair, who had already held the NWA world title three times by the time Lethal was born.
"I hit him with one of his lines that he never really used that much. But he did use it way back when. Not many people even remember the line because it wasn't a famous Ric Flair line. His line was 'Jumping on is a lot easier than jumping off.' When I said that, you should have seen his eyes light up. I could tell I caught him off guard for a second, and all he could say was 'Wow!'"
Being a lifelong fan who studied Flair's mannerisms and interviews obviously impressed Flair.
"I think that he fell in love with the fact that this kid just idolized him so much that he could do this pretty good impression. Ric loved for me to do that impression. Every show that we came to he would bring some guest and make me do it for them. He really, really fell in love with it. I feel like that has a lot to do with his critiques on me. He really warmed up to me just because he could see how much that I loved him."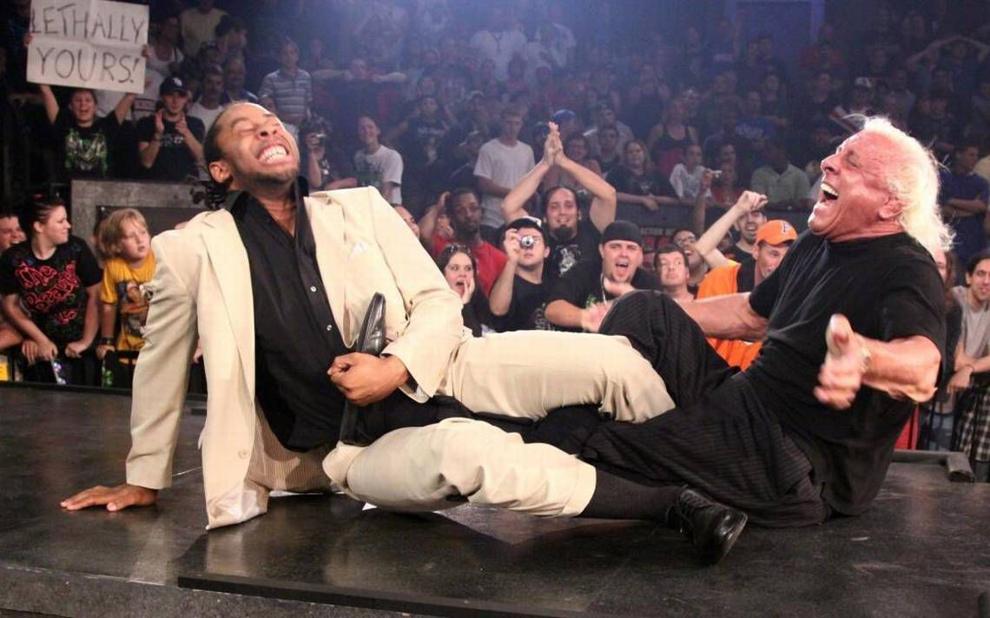 Lethal played the role so flawlessly that another childhood dream would soon be realized. Not only would he get the chance to wrestle his idol, but he would defeat him with Flair's signature figure-four leglock, a finish endorsed by Flair.
A few years earlier, his locker-room impression of another childhood idol, Randy Savage, spilled over into his on-screen character. Dressed in full "Macho Man" attire as "Black Machismo," he imitated Savage's trademark catchphrase "Oh Yeah!" and used many of Savage's in-ring maneuvers and mannerisms, most notably his finisher, the diving elbow drop. The entertaining alter-ego had about a three-year run.
"How crazy is it that I caught lightning in a bottle and got to work with or do something that resembled what I saw when I was growing up and fell in love with wrestling? If anybody had told me that years ago, I would have called them a liar."
Much of the credit, he says, goes to Kevin Nash, who collaborated with Lethal backstage on his over-the-top homage to Savage as well as other entertaining promos, and told the youngster to relax and have fun.
"What is kind of up there with my highlights is some stuff that people will never see. Kevin Nash is legit the funniest person I know. And we filmed so many promos together that unfortunately, because some of the things he said, will never make the light of day. But those times were great too. I had an overall great experience and great time when I was with them. But now I've moved on to a new chapter in my life."
That new chapter began in 2011 shortly after Lethal was released from TNA, where he had been a cornerstone of the popular X division, holding that title six times along with a run as world tag-team champions with Consequences Creed (now known as Xavier Woods in WWE). He's still not certain what led to his departure.
"I never ever really got the full true story," says Lethal. "Just one day they called and said they were going to have to release me. I've heard several different stories. I heard Dixie's parents came in and cut the budget and got rid of me. I heard three other stories, but when it comes down to it, I guess Dixie owned the company at the time. Nothing can happen without crossing her desk. So I guess the idea came up to get rid of me, and she signed off on it. I really don't know what else to say."
Lethal's problems in TNA not surprisingly coincided with the diminished role of the company's innovative X-division, a surprising move considering that the division had been considered the crown jewel of the promotion. While the division was eventually relegated to mid-card mediocrity, money was instead poured into the high-priced contracts of former WCW and WWE talent.
Everything happens for a reason, Lethal says, and his forced exit from TNA after a seven-year run was one of them. In hindsight, his release turned out to be a blessing in disguise.
"They say when one door closes, another one opens. I like to think that all that stuff in TNA helped prepare me for what was to come in Ring of Honor. I became the face of the company. I was both Ring of Honor world champion and television champion at the same time, performing sometimes twice on a show. I definitely think that being in the ring with Ric Flair and wrestling Kurt Angle – all those things I got to do in TNA – definitely prepared me for the very stressful role that I was about to embark upon in Ring of Honor. But I was ready for it because of everything that I had been through. I was a hundred percent ready for it."
Lethal quickly won the TV title there, but it was four more years before he won what he calls the biggest match of his life, beating Jay Briscoe for the Ring of Honor world championship at the Best of the World pay-per-view on June 19, 2015. In defeating Briscoe, who had not been pinned or submitted in two years, Lethal became the only person to hold every singles title concurrently in the history of a promotion known for its strong work rate.
"To me becoming the Ring of Honor world champion is the highest honor. That's like getting the promotion at your job."
Lethal held the ROH world championship for 427 days and the television championship even longer, a title reign that lasted 567 days. A.J. Styles, considered by many to be the best talent in the business today, once admitted he was humbled to be called the best when men like Jay Lethal were in wrestling.
Lethal goes after ROH gold once again on May 12 at the War of the Worlds pay-per-view at the Hammerstein Ballroom in Manhattan. He will take part in a three-way match with "The American Nightmare Cody" (Cody Runnels) and the winner of a bout between Matt Taven and current ROH champion Christopher Daniels.
Setting the standard
Lethal eats, sleeps and breathes professional wrestling. There's no timetable, he says, on how long he wants to work in the business.
"Since Flair's my idol," he laughs, hinting at a long run in the game. "To be honest, there's no end in sight for me. I can't see myself not doing this. That's how much of my life and my brain and my mind and my spirit I've put into this. I didn't put just enough in so I could do this for a certain amount of time. I put it all in and I can't see myself not doing this."
Looking back over his career, he says "it's crazy" thinking that he's already a 16-year veteran of the mat wars. He began wrestling in 2001 at Jersey All Pro Wrestling where he became a dominant member of the JAPW roster by 2005 after winning the promotion's lightweight championship and the JAPW TV title within the space of two years.
His track record since then has been nothing short of amazing.
"It doesn't seem that long. The only time I realize it is when I sit back and think about it or when someone asks me how long how I've been wrestling. When that question isn't put to me, it doesn't seem like a long time. It really doesn't seem like it's been that long."
While Lethal was rumored to be on WWE's short list of targets for 2017, he signed a two-year contract with ROH in January and hasn't looked back. His decision was made before his contract expired.
"We set the standard for wrestling," he says of the Pennsylvania-based promotion. "If you don't believe it, just go look at everyone else's roster. They're constantly plucking from our roster to make theirs better. That's a fact."
He cites the backstage chemistry and the creative exchange of ideas as reasons for the company's success. And, unlike TNA, there's more freedom with folks willing to listen to his ideas. In other words, Jay Lethal can be himself.
"The coolest part about Ring of Honor, at least from a wrestler's standpoint, is something that I don't think the fans will ever fully grasp," says Lethal. "It's something that happens backstage. It's the fact that you can present an idea or something that you would like to do, and not only do they really think about it and consider it, but nine times out of 10 they let you run with it because they feel like if this is something that you want to do, then obviously you'll put your all into it to prove that your ideas are great. So far for every company that I've ever wrestled for, that has never happened to me. I've never had a chance to do that."
Lethal says he and former House of Truth stable manager Truth Martini came up with his self-proclaimed tag as "the greatest first-generation wrestler."
"That was at a time when I was a heel and was with Truth Martini. It was when it seemed like all the second-generation guys, taking nothing away from them, were all getting pushes and notoriety. I said I was not a second-generation superstar, but I was one better. I was a first-generation superstar. We started playing around with that. All of a sudden I started calling myself the greatest first-generation superstar. It's funny considering I'm friends with a lot of second-generation superstars."
Lethal speaks glowingly about the talented Ring of Honor roster. Near the top of that list are The Young Bucks (Matt and Nick Jackson/Masse). The high-flying brothers are in their third reign as ROH world tag-team champs.
"The Young Bucks are indescribable. What they're doing right now is so cool and entertaining. They've really captured the wrestling world. It doesn't happen that often, and when it does, it's so cool to be a part of. It's cool to say that I'm in the locker room with The Young Bucks."
Along with his programs with Flair and Briscoe, Lethal lists his acclaimed series of matches with Roderick Strong, one of his best friends and the man who ended Lethal's reign as ROH world champ, as a career highlight.
"We actually had a match that went to a 60-minute draw," says Lethal. "He just went to WWE as well. He's a legit machine. In the locker room we all called him 'The Machine' because he can really go. The only person I've ever been in the ring with that I could compare to Roddy is Kurt Angle. They're both machines."
To be the man
While Lethal has developed his own unique style, every once in a while he'll almost unwittingly slip into Ric Flair mode while cutting a promo.
"Sometimes it happens without me knowing it. Sometimes it happens without me really wanting to do it," he laughs, obviously still inspired by the Nature Boy.
But there is a method to the madness.
"There's two ways you have to do Ric Flair," he explains. "One you have to yell. The other part when you're not yelling is kind of slurring the words. It's almost being lazy with the words that come out of your mouth," as he seamlessly morphs into Naitch.
"I love it. Someone asked me if I enjoyed being the Nature Boy or the Macho Man. The Macho Man lasted the longest. I think the voice for me was a bit easier to do. That one I feel like I've done for years. The Flair one I hadn't done for that long because I never even knew I could do it. If you watch any of my stuff throughout my career, hopefully you can tell that deep down inside I'm just this fan who got to be in the wrestling business and he's just having a good time."
What does he ultimately want to accomplish in the wrestling business?
If his career ended tomorrow, Lethal would have no regrets. He says he could have never imagined accomplishing what he already has in his chosen profession.
"Well, I have an action figure already," he laughs. "That was one of the coolest things. I remember thinking when I started wrestling, if I can just get an action figure of myself, because before I got into wrestling I had collected over 150 action figures, some opened, some unopened. It was so cool to me to have an action figure, and I got to do that.
"Not only did I get to have an action figure, I got to perform and work with someone I had idolized growing up. You gotta think, that's like capturing lightning in a bottle. If you love basketball, what are the odds of you getting to be on the same team or playing against someone in the basketball world that you idolized growing up? I feel like I've done that. If I never wrestled again, I would feel like I had accomplished pretty much everything that I wanted to accomplish, and I'd be content."
Lethal has had that same conversation with his father.
"I've talked to my dad about that a lot. He used to ask me if I felt I had made it."
His father would then proudly point out what his son had accomplished. He had an action figure. He purchased a home with the money he made in wrestling. People all around the world knew him.
The answer was obvious.
"Yeah, I do. I really do feel like I've made it."
His biggest supporters are his family, says Lethal, the middle child of three brothers and two sisters.
"Part of me thinks I definitely wouldn't have made it as far as I did without them. My dad taking off work to drive me to some of these shows. At one point I called my sister my secretary. She would keep little notes for me."
She also helped her brother with his "grooming."
"I remember the first time I wanted to wear trunks, because we used to wear the long tights. I had very hairy legs. I had never shaved before. My oldest sister taught me how to shave my legs. I hated the razor, so she would buy this Nair stuff. You would put the Nair on, then you'd wipe it off after a certain amount of time, and it takes the hair away. So she taught me how to groom."
Lethal remains passionate about helping aspiring grapplers. But he doesn't sugarcoat the reality of the business.
"I have a wrestling school down here in Tampa, Fla., and one of the things I say on the first day is you've got be OK knowing that this is going to go as far as you completing training, you having one match ever and then never wrestling ever again. If you're OK with that, then you can give this all you've got. But if it's not OK and you feel like you've got to work for WWE someday, you just put yourself in a little pickle there. You never know what's going to happen."
Hard work and dogged determination fueled Lethal's mission to make it in the business. His career could have ended the night he cut the promo on his childhood idol, and he would have left a happy man.
"That in itself is a highlight of my life. That in itself means I have made it."
After all, to be the man, you've got to beat the man. And that's exactly what Jay Lethal did.
"It's really been one hell of a life."
Reach Mike Mooneyham at bymikemooneyham@gmail.com, or follow him on Twitter at @ByMikeMooneyham and on Facebook at Facebook.com/MikeMooneyham.