Few teams in the state return as much production and talent as Berkeley does in 2018. Third-year head coach Randy Robinson hopes an explosive offense can shoulder the load while the defense matures.
Berkeley will have the league's best offense and best defensive secondary and should set the pace in Region 7-AAAAA.
"The pieces are in place and now we have to be able to perform to our potential," says Robinson.
Cane Bay would appear to be the second-best team in the region but will need the defense to improve.
Wando head coach Jimmy Noonan seeks more offensive balance this season. The Warriors were pass-heavy a year ago, but Wando's best success has come when they have run the football consistently. Wando will be one of the top teams in the league defensively.
Stratford and Goose Creek have new head coaches and need a year or two before they can make a serious run at a region title.
James Island's depth remains an issue, meaning the Trojans will struggle to win region games.
Berkeley
Coach: Randy Robinson
Number of students: 1,547
Record last year: 12-2
What to know: Robinson begins his third season as head coach and feels he has a team capable of contending for a state championship … The Stags were Lower State runner-ups in Class AAAA last season … Wide receiver DJ Chisolm is one of the state's top playmakers and is an early commit to East Carolina … Running back Keyshawn Wicks rushed for more than 2,000 yards last season and has committed to Old Dominion, while seniors Eric Tuttle and Dervon Pesnell also return as starters offensively ... Last year's leading tackler, linebacker Jake Dunn, returns as a junior … Berkeley's secondary unit is one of the top backfields in the state, led by Tre Morrison and Cam Myers … "The pieces are in place and now we have to be able to perform to our potential," says Robinson.
Cane Bay
Coach: Russell Zehr
Number of students: 1,809
Record last year: 9-3
What to know: The Cobras must replace two of the top players in program history in quarterback RJ Roderick and running back Kris Copeland, but Zehr has a solid core returning … Quarterbacks Elijah Bey and Alex Mart give Cane Bay two solid candidates to lead the offense … Bey, a senior, is a transfer from C.E. Murray while Mart, a junior, led a successful junior varsity team last fall … Seniors Mack Dudley and Micah Staggers will anchor the ground game, which averaged over 300 yards per game last season … Linebackers Dee Francis and Lateef Sharpe are two of the top returners on defense … Ryder Wishart returns as one of the area's top placekickers.
Wando
Coach: Jimmy Noonan
Number of students: 4,365
Record last year: 4-7
What to know: The 2018 Warriors will lean heavily on a veteran defense early on as they build an identity offensively … Wando returns several key leaders on defense, including linebacker Justin Pelic, tackle Jaelan Edwards, and defensive back Ramsey Turnage … The offense will be led by a new quarterback with several candidates competing for the starting nod … Noonan's desire is for more balance offensively this fall … Anchoring the offensive front are returners Drake Peden and Riley Hills … Andrew Weil returns as a quality placekicker.
Stratford
Coach: Dennie McDaniel
Number of students: 1,809
Record last year: 2-9
What to know: McDaniel takes over at his alma mater, seeking to bring the program back to a competitive level … The new head coach has some pieces to work with, notably senior running back Mario Anderson, who topped 1,000 yards last season …Senior Travis Lott returns at quarterback with a solid year of experience under his belt…Four seniors are slated to start along the front, anchored by center Kevin Mood … Leading the way defensively are returning linebackers Jordan Judge and Blake Marrs …Senior Brandon Simmons returns as a leader along the defensive front.
Goose Creek
Coach: Jason Winstead
Number of students: 1,990
Record last year: 2-7
What to know: Jason Winstead takes over as the new head coach after spending the last seven seasons as the defensive coordinator at state powerhouse South Pointe … Winstead was a part of five state championship teams at South Pointe, including four consecutive titles … The coach inherits a rebuilding project but feels good about the potential of his team … "They've been great all summer, great attitudes, and a willingness to work hard," the coach says … Running back Dante Smith is the top returning player and will be a focal point offensively…Goose Creek returns four starters on each side of the ball…leaders defensively are projected to be safety Tyler Ravenel, end Jameel McGee and middle linebacker Jekiah Wigfall.
James Island
Coach: Ike Allred
Number of students: 1,632
Record last year: 1-9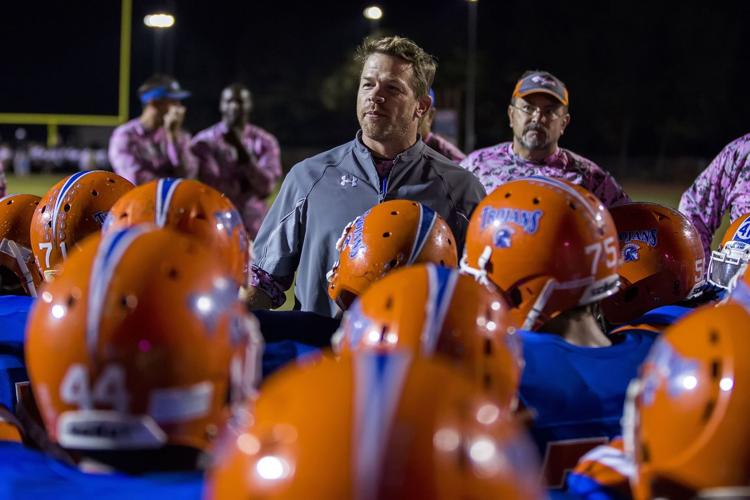 What to know: The Trojans have potential to improve on last year's win total, starting with experience at quarterback in senior DQ Vinson, who has started games in each of the last two years … Center Tereis Drayton, a Citadel commitment, anchors the offensive line while RJ Hamilton and Jaden Scott are proven pass-catchers … The defense is a bit inexperienced but will be led by tackle Quavon Frasier and linebackers John Chestnut and Mark Walker.
Region 7-AAAAA schedules 
Berkeley
Aug. 17 Berkeley at R.B. Stall
Aug. 24 Ashley Ridge at Berkeley
Aug. 31 Berkeley at West Ashley
Sept. 14 Fort Dorchester at Berkeley
Sept. 21 Berkeley at Summerville
Sept. 28 Wando at Berkeley
Oct. 5 Goose Creek at Berkeley
Oct. 12 Berkeley at James Island
Oct. 19 Stratford at Berkeley
Oct. 26 Berkeley at Cane Bay
Cane Bay
Aug. 17 West Ashley at Cane Bay
Aug. 24 Cane Bay at Fort Dorchester
Sept. 7 Ashley Ridge at Cane Bay
Sept. 14 Cane Bay at Summerville
Sept. 21 R.B. Stall at Cane Bay
Sept. 28 Cane Bay at Goose Creek
Oct. 5 Cane Bay at James Island
Oct. 12 Cane Bay at Stratford
Oct. 19 Wando at Cane Bay
Oct. 26 Berkeley at Cane Bay
Goose Creek
Aug. 17 Goose Creek at Ashley Ridge
Aug. 31 Summerville at Goose Creek
Sept. 7 Goose Creek at West Ashley
Sept. 14 Goose Creek at R.B. Stall
Sept. 21 Fort Dorchester at Goose Creek
Sept. 28 Cane Bay at Goose Creek
Oct. 5 Goose Creek at Berkeley
Oct. 12 Wando at Goose Creek
Oct. 19 James Island at Goose Creek
Oct. 26 Goose Creek at Stratford
James Island
Aug. 17 James Island at South Florence
Aug. 24 West Ashley at James Island
Aug. 31 Bishop England at James Island
Sept. 7 R.B. Stall at James Island
Sept. 14 James Island at Ashley Ridge
Sept. 28 James Island at Stratford
Oct. 5 Cane Bay at James Island
Oct. 12 Berkeley at James Island
Oct. 19 James Island at Goose Creek
Oct. 26 James Island at Wando
Stratford
Aug. 17 Timberland at Stratford
Aug. 24 Stratford at R.B. Stall
Aug. 31 Stratford at Ashley Ridge
Sept. 7 Summerville at Stratford
Sept. 21 Stratford at West Ashley
Sept. 28 James Island at Stratford
Oct. 5 Stratford at Wando
Oct. 12 Cane Bay at Stratford
Oct. 19 Stratford at Berkeley
Oct. 26 Goose Creek at Stratford
Wando
Aug. 24 Wando at Summerville
Aug. 31 R.B. Stall at Wando
Sept. 7 Wando at Fort Dorchester
Sept. 14 West Ashley at Wando
Sept. 21 Ashley Ridge at Wando
Sept. 28 Wando at Berkeley
Oct. 5 Stratford at Wando
Oct. 12 Wando at Goose Creek
Oct. 19 Wando at Cane Bay
Oct. 26 James Island at Wando