Pulling names from a hat might be as good a method as any when trying to pick a clear favorite in the race for the Region 8-AAA football championship.
Realignment has revamped the league considerably and due to graduation losses, none of the six teams could be considered a clear-cut favorite as the season begins.
Hanahan, Manning and Georgetown should be at the top of the list of potential champions, but which of those three teams can survive the gauntlet remains to be seen. It is possible that the region champion could end up with at least two league losses, and the battle for the four playoff berths will be hotly contested.
Bishop England could be a darkhorse, but the Bishops lost 22 seniors to graduation. Academic Magnet is moving up from AA and could struggle. Waccamaw should be improved while Georgetown has a new head coach this fall.
Manning
Coach: Keith Stewart
Number of students: 831
Record last year: 7-4
What to know: The Monarchs will start four seniors along the offensive front, a good place to start for a team that likes to run the football … Seniors Caleb Wright (5-11, 210) and Darias Williams (5-11, 245) will share the load in the run game … Senior Jack Owens will be the starting quarterback … Senior safety Keilan Dupree is the top returner defensively … Senior linebacker Chris Livingston and senior end Anthony Gibbs will be leaders as well.
Hanahan
Coach: David Morbitzer
Number of students: 970
Record last year: 4-8
What to know: The Hawks are under new leadership as The Citadel graduate Morbitzer takes over after nine years as an assistant … The Hawks should be solid along the offensive front and would like to be successful on the ground … Seniors Matt Murray, Kevy Bell and Kevin Johnson all return as starters up front … Hanahan lost speedster Quincy Mitchell from the running game, but seniors Gale Ball and Hunter Mills look to pick up the load … Star defensive end Cooper Dawson will miss at least half of his season due to summer knee surgery … Senior Andre Brewington and sophomore Kobi Buffalo will take up the slack … Senior Luke Mills is back as a starting linebacker and senior Chris Wright returns in the secondary.
Georgetown
Coach: Jordan Ward
Number of students: 1,030
Record last year: 7-5
What to know: Ward is another of the league's first-year head coaches and should have a physical, competitive team in 2018 … The Bulldogs will be led by Melquan Cromedy, a receiver with the ability to play several positions offensively … Left tackle Ryan Drayton is the leader of the offensive and defensive lines … Brett Kirtley enters preseason camp as the starting quarterback while Paul Lance and Ismail Taylor are the running backs … Look for linebackers Isaiah Pringle, TJ Muhammad and Nasir Funnye to lead defensively.
Bishop England
Coach: John Cantey
Number of students: 683
Record last year: 7-4
What to know: Twenty-two graduating seniors is a lot to replace, especially considering the production lost on both sides of the ball … Cantey anticipates only a handful of senior starters this fall as a younger crop of players takes their turn …Sophomore Will Daniel will compete for the nod at quarterback but the Bishops received a late summer transfer that could figure into the mix … Senior Chris Dengler is the top returning receiver, while seniors Nolan Hickey and James Busche will anchor the offensive line … Seniors Carter Rogers and Creston Tawes are back with experience at linebacker … Junior defensive backs Sullivan Clair and Jarren McCoy figure to be solid in the back.
Waccamaw
Coach: Shane Fidler
Number of students: 866
Record last year: 0-10
What to know: Fidler expects better results in year two as head coach… The Warriors return solid experience and had a productive offseason… Senior Brandon Stecz will handle quarterback duties this fall, with Kaimon Skinner expected to fill a key role as a sophomore running back … The Warriors averaged just 13 points per game last season while allowing nearly 44 points per game … Senior left tackle Cohl Young and senior center Trey Davis will anchor the offensive front … As many as eight underclassmen will start on defense, led by end Kyle Pence, a junior … Seniors Austin Hansmeyer should provide leadership at linebacker.
Academic Magnet
Coach: Steve Kamp
Number of students: 655
Record last year: 3-6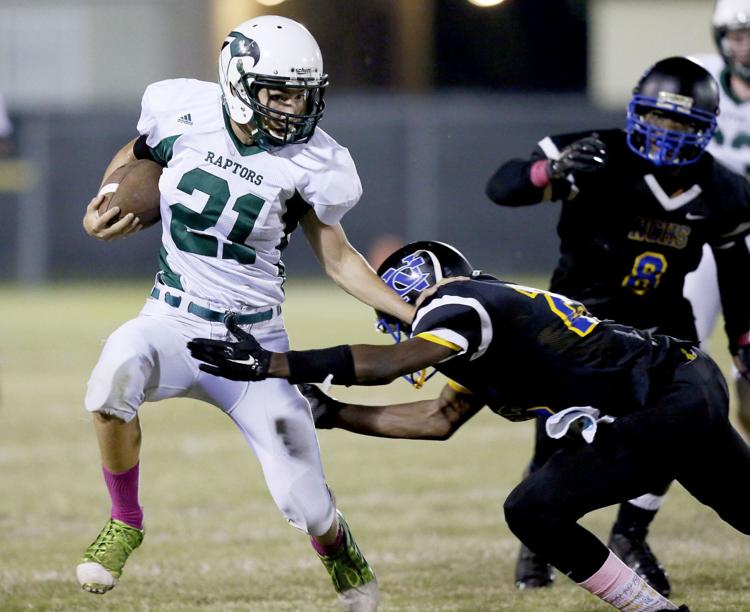 What to know: Kamp begins his second season with two key returners offensively in running back Steven Schlosser and quarterback Will Jordan …Schlosser, who accounted for more than 1,500 all-purpose yards in 2017, is also a key returner at linebacker on defense … Also returning defensively is junior linebacker Jack Patterson … Several underclassmen saw extensive playing time last season and will take on bigger roles this fall.
Region 8-AAA Schedules
Academic Magnet
Aug 17 Northwood at Academic Magnet
Aug. 24 Charleston Charter at Academic Magnet
Aug. 31 Military Magnet at Academic Magnet
Sept. 7 Academic Magnet at Baptist Hill
Sept. 21 Academic Magnet at Garrett
Sept. 28 Academic Magnet at Manning
Oct. 5 Hanahan at Academic Magnet
Oct. 12 Academic Magnet at Bishop England
Oct. 19 Academic Magnet at Waccamaw
Oct. 26 Georgetown at Academic Magnet
Bishop England
Aug 17 First Baptist at Bishop England
Aug. 31 Bishop England at James Island
Sept. 7 Philip Simmons at Bishop England
Sept. 14 Timberland at Bishop England
Sept. 21 Bishop England at Woodland
Sept. 28 Bishop England at Hanahan
Oct. 5 Waccamaw at Bishop England
Oct. 12 Academic Magnet at Bishop England
Oct. 19 Bishop England at Georgetown
Oct. 26 Bishop England at Manning
Georgetown
Aug. 24 Philip Simmons at Georgetown
Aug. 31 Carvers Bay at Georgetown
Sept. 7 Georgetown at Andrews
Sept. 14 Georgetown at St. James
Sept. 21 Socastee at Georgetown
Sept. 28 Georgetown at Waccamaw
Oct. 5 Manning at Georgetown
Oct. 12 Hanahan at Georgetown
Oct. 19 Bishop England at Georgetown
Oct. 26 Georgetown at Academic Magnet
Hanahan
Aug. 24 Hanahan at Myrtle Beach
Aug. 31 Woodland at Hanahan
Sept. 7 Bluffton at Hanahan
Sept. 14 Hanahan at Garrett
Sept. 21 Hanahan at Timberland
Sept. 28 Bishop England at Hanahan
Oct. 5 Hanahan at Academic Magnet
Oct. 12 Hanahan at Georgetown
Oct. 19 Manning at Hanahan
Oct. 26 Waccamaw at Hanahan
Manning
Aug 17. Manning at Scott's Branch
Aug. 23 Manning at Wilson
Aug. 31 Lakewood at Manning
Sept. 7 Manning at Crestwood
Sept. 14 Manning at Lake City
Sept. 28 Academic Magnet at Manning
Oct. 5 Manning at Georgetown
Oct. 12 Manning at Waccamaw
Oct. 19 Manning at Hanahan
Oct. 26 Bishop England at Manning
Waccamaw
Aug 17. Waccamaw at Carvers Bay
Aug. 24 Aynor at Waccamaw
Aug 31. Waccamaw at Andrews
Sept. 14 North Charleston at Waccamaw
Sept. 21 Waccamaw at St. John's
Sept. 28 Georgetown at Waccamaw
Oct. 5 Waccamaw at Bishop England
Oct. 12 Manning at Waccamaw
Oct. 19 Academic Magnet at Waccamaw
Oct. 26 Waccamaw at Hanahan