Raised on a foundation of family and faith, the national championship spotlight hasn't changed Clemson's Hunter Renfrow
OCEAN ISLE, N.C. — It's a Thursday evening at Ocean Isle Beach, the shore mostly barren as day turns to dusk. Hunter Renfrow can't be bothered with football right now.
There is much more at stake.
It's the Renfrow Family Olympics — an annual tradition the gang holds every year on the beach while vacationing on the North Carolina coast.
There are 132 family members gathered and Hunter is a member of the orange team. He dons an orange Clemson shirt, black gym shorts and a makeshift orange headband tied at the back of his neck.
It's go time. 
The festivities begin with the cone race. Hunter, a Clemson wide receiver, is naturally one of the quickest on his feet as he trudges through the thick, white sand.  Then there's the water balloon toss, the bucket brigade, the wheelbarrow race, the sandcastle building competition, the crab race and a water balloon relay.
The orange team takes a three-point lead midway through the competition as rivalries brew between the six different teams. But as the evening progresses, the blue team catches up and the Renfrows go to sudden death: orange team vs. blue team. Water balloon dodgeball. Winner takes all.
Hunter sprints to the neutral line where the balloons are, along with his roommate and best friend Sawyer Jordan — a student assistant on the Clemson football team who is like family to the Renfrows. Hunter and Sawyer grew up together in Myrtle Beach along with Clemson catcher Robert Jolly, another one of their roommates. 
The duo starts pelting the blue team with water balloons while sliding out of aim themselves as the game comes down to the wire.
The final balloon pops.
The Orange team wins.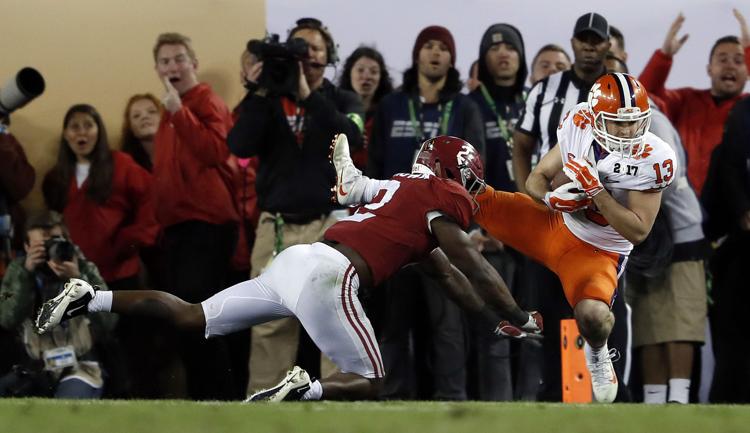 Sawyer runs to the shore and fills up a celebratory bucket of Atlantic Ocean water to dump on Hunter, while "We are the Champions" begins to play on a nearby iPhone.
"We got that dub!" Hunter says, his arm wrapped around Sawyer, who is now fake crying with joy.
"All day every day, baby! You shouldn't be surprised," Sawyer yells back.
"All day!" Hunter follows.
As they make their way back up to the beach house they are staying in for the week, Clemson's "Tiger Rag" begins to play and Hunter's younger brother Cole pretends to interview Sawyer and Hunter on his phone. The entire Renfrow clan is together. Everyone is laughing.
This is Hunter's element.
At Ocean Isle, where family members vacationed this month as part of a Renfrow tradition that Hunter's paternal grandmother started in 1955, Hunter's newfound national championship spotlight is temporarily dimmed.
'He's still Hunter'
On the morning of Jan. 10 at exactly 12:20 a.m., Hunter, the former Clemson football walk-on, caught the game-winning pass with one second left on the clock in Clemson's national championship matchup with Alabama. He became an instant celebrity.
Back at Clemson, a routine trip to Walmart for a stick of deodorant is now a 45-minute ordeal when fans recognize him.
He's taken pictures with fans at a local hardware store in rural Seneca, where he buys dog food for the golden retriever he shares with girlfriend Camilla Martin.
A drunk man once asked Hunter to autograph his chest. An economics student at Clemson showed him the cupholder he ripped straight from the seats of Raymond James Stadium on the night of the championship game. Recently, he was interrupted in the middle of a round of golf by a mother and her sons, who had a bag of items for him to autograph. 
Hunter thinks he's signed at least 3,000 copies of himself on the cover of Sports Illustrated.
But here, at the beach, none of that matters.
Instead, there are crab hunts and worship services, homemade ice cream night and family movie night featuring Disney's "Mulan." There are family olympics, a talent show, a designated time to hear about each other's mission trips and a night to celebrate all the newlyweds, newborns and graduates of the clan over milkshakes. Hunter is right in the thick of it.
While his life has changed since his game-winning catch, what rings resoundingly true among those who know him best is that Hunter is still the exact same person.
"It's one of those things that, because we love him we are so excited for him," his mother, Suzanne, said from the beach house kitchen table. "But at the same time, he's still Hunter. So we still treat him that way."
A normal person
Hunter loves Monopoly.
He and Camilla, his high school sweetheart of nearly four years, play it together all the time.
The couple met at Socastee High School in Myrtle Beach and started dating after an English teacher tried to set up the shy, quiet Hunter with a date to the prom. A night studying at Barnes & Noble together became their unofficial first date.
Hunter calls her Cami. She was the first girl he ever kissed — which warranted a celebratory text message to Sawyer immediately after — and the only girl he's loved. So if there's anyone outside of the Renfrow family who knows Hunter behind the scenes, it's Camilla — a constant in Hunter's life from the days of no major college scholarship offers to the moment she sobbed when he caught the championship pass.
As they sit together on a rainy morning at Hunter's house back in Clemson with their golden retriever, Deuce, they laughingly make a list of Hunter's goofiest quirks:
The 21-year-old is obsessed with pecans, terrified of roller coasters, does a mean sloth impression and thinks the concept of the milkshake in general is genius. He only recently started liking hot dogs.
When he was a boy, the thought of going to Kindergarten or having to sit through a fireworks show reduced him to tears.
When he got to Clemson, he decided he needed to be responsible for something, so he bought a hamster on a whim. Younger brother Cole — now a walk-on for the Clemson football team — killed it a year later. It was an accident.
Sometimes Hunter goes hunting, other times he works on his golf game when he's not playing football.
He's a terrible singer, recently had two cavities and has a goofy sense of humor that is wildly contagious. Any time Dabo Swinney jokes that the 5-11, 180-pound Hunter looks more like a manager or a scientist than he does a football player, Hunter fires back that he has more catches against Alabama than Swinney did at Alabama as a player.
The list goes on.
But for all of Hunter's silliness and light-heartedness, he would be remiss if he didn't share the one aspect of his life he wishes Clemson fans could see on a deeper level.
Behind the scenes, when the helmet is off and Hunter is left alone, no other priority is as important as his faith. It's what linked his family of eight together when he grew up in Myrtle Beach, and it's a large reason why the public attention now shining down on him hasn't created an ego monster.
"I do have a relationship with the Lord and I feel like just because people see me out on the field, they don't really get that side of me," Hunter said.
"That's how I try to live my life — according to His plan — and that's the reason why I've had success. If I drop that national championship pass down in Tampa, I'm still going to be Hunter. I'm still going to have that relationship with Christ and I'm still going to be saved forever."
A foundation of faith
Sundays were for church. No athletic event would ever get in the way.
A Renfrow family rule.
The third son of Tim and Suzanne Renfrow, Hunter grew up with three brothers and two sisters. The boys shared one bedroom, while sisters Chelsea and Joy shared the other. All six children had one bathroom. That closeness created an unbreakable bond between the siblings, who were given a foundation of family and faith from Tim and Suzanne early and often.
"As a Christian family, it doesn't make us any better than anybody else, it just gives us faith to base our decisions on and our families on," said Tim, the athletic director at Socastee High School. "I think it just gives us a peace and a joy in our family, just being a close family and just knowing that's most important."
Tim and Suzanne decided early into parenthood that if any of their children were ever on a team that scheduled practice or had games on Sunday during church, the Renfrow children would be absent from competition that day. They'd call the night before to remind their coaches.
Sundays were for worship and family time, and to this day Hunter's faith is his most proud accomplishment. He still loves going to church with old Myrtle Beach friends and is a proud member of Clemson's Fellowship of Christian Athletes chapter. His favorite Bible verse is Galatians 6:9 — "Let us not become weary in doing good, for at the proper time we will reap a harvest if we do not give up."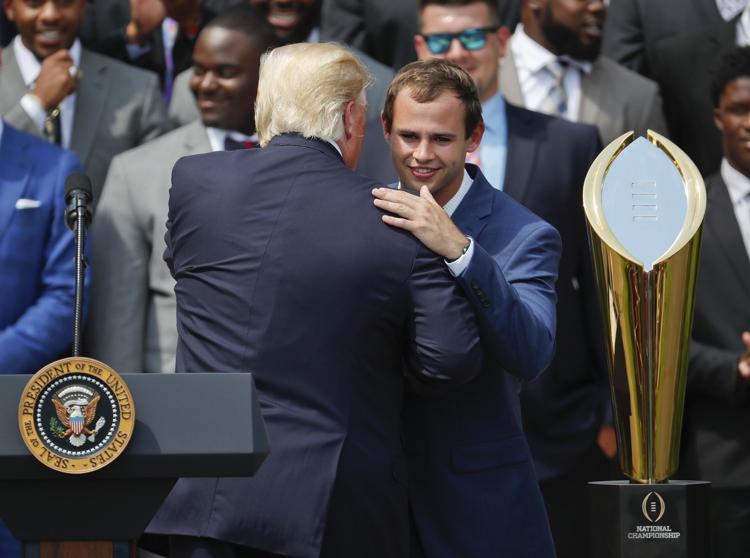 He wishes Clemson fans got to see that more often.
"My theory," Hunter's aunt Carla said with tears in her eyes, "and I tell people this all the time about why Hunter has been so wildly successful at Clemson, is because of these two precious people right here, his parents.
"I remember Suzanne sharing with me about people questioning the decision they made about the kids not playing on Sundays. Their decision was always, 'Well, as a family, we believe that church is more important than playing a ball game on Sunday and that's just the way it is.' She shared with me that people got upset, but I just believe with all my heart the Lord honored that. I'm convinced it's what God tells us about being obedient and that the blessings always follow."
Eventually Hunter became so dominant on the baseball diamond and the football field that teams began to alter their schedules around his family rule.
Coming out of high school, Hunter wasn't considered a major college football prospect. Charleston Southern, Furman, Liberty, Appalachian State, Wofford, Gardner Webb and Presbyterian all vied for his services. Liberty and Appalachian State offered him scholarships for both football and baseball.
He decided on Clemson after Dabo Swinney offered him a preferred walk-on spot. Hunter wondered if perhaps walking on at Clemson would be a blessing to make him work harder for a scholarship — which he earned.
The last-minute prayer
Two minutes remained on the clock at the national championship game in Tampa, Fla., and Suzanne began to pray.
Alabama had just scored. Freshman quarterback Jalen Hurts had sprinted 30 yards into the end zone and the Crimson Tide had a 31-28 lead. Now it was Clemson's turn to march down field for one final drive. This was it.
"Lord, Coach Swinney — he's really tried to do things right with his program," Suzanne began. "He's tried to do everything the right way. Would you just honor him with this victory and you receive the glory from it?"
She sat behind the Clemson marching band with 30 Renfrow family members and friends, including Hunter's entire immediate family.
The Tigers made progress. Two-time Heisman Trophy finalist Deshaun Watson moved the chains. The clock wound down. Clemson called a timeout with 14 seconds left and, suddenly, Hunter knew.
The son of a coach, Hunter knew exactly what the final call would be before Clemson coaches ever said a word. They'd run it in practice countless times. Sawyer, in the coaches' box, knew, too. 
The play would be "Crush," an option route to Hunter with receiver Artavis Scott blocking so Hunter could wheel into the end zone.
They lined up to take the snap. Hunter's brain churned.
"If I want to be a coach, I need to think as a coach," he thought. 
"All right, six seconds to go. We need a rollout here. We don't need to get a sack. We have one timeout. If it's not there, don't just throw it in the back of the end zone. We need to get a field goal here if nothing else."
As he prepared himself to take off for the end zone, he developed a vivid picture in his mind of dormant grass. He laughs when he says it out loud now, but in the moment he put himself back on Clemson's practice field running the same play he'd rehearsed so many times before. 
Then he took off. Suzanne couldn't see the field over the marching band, so she watched the giant video screen.
"Oh my goodness. Hunter's open," she recalled thinking. "Not only is God answering my prayer and letting Clemson have the victory, he's allowing Hunter to be a part of that last play."
Hunter caught the pass, and Raymond James Stadium erupted. Camilla started to cry. Sawyer punched a fellow Clemson assistant out of excitement then jetted down from the coaches' box to embrace his best friend, an exchange ESPN caught on camera.
Hunter stood there thinking about his journey as a walk-on and what this moment meant not only to Clemson, but to all the other college football hopefuls out there just like him who took a chance on themselves.
His 7-year-old cousin, Hampton, wasn't impressed.
"I coulda caught that," he joked.
When the game was over, the press conferences finished and the locker room celebration complete, the Tigers boarded a bus back to the team hotel in the wee hours of the morning, where fans had lined up in droves to greet them in the lobby.
Hunter sent his family a text.
"Meet me at the pool," it said. He wanted the Renfrows to have one moment together as a family before the chaos ensued.
They hugged, they cried, they celebrated. They've always come first. They always will.
Follow Grace Raynor on Twitter @gmraynor