College of Charleston athletic director Matt Roberts was hired in January 2017 with a vision of putting the school's athletic program on the national stage.
In the 18 months since he has been on the job, the Cougars returned to the NCAA Basketball Tournament for the first time since 1999 and Roberts fired and hired a new baseball coach.
In the coming months, Roberts hopes to begin a capital fundraising project to enhance the facilities at Patriots Point.
Here is part of The Post and Courier's Q&A with the College of Charleston athletic director.
Q: It's been about 18 months since you were named athletic director, just give me your overall impressions on how things are going?
A: "It's been a whirlwind, but it's been great. Our son Tucker was born here, so we've got a connection to this city forever. My wife and my family couldn't be happier. The job itself has been everything I'd hoped it would be and more."
Q: I know you did your due diligence before you took the job, but has anything surprised you so far?
A: "As I was doing my homework the thing that excited me the most was Earl Grant and what he was doing with the basketball program. Watching from afar I really admired what he was doing, but getting here and working with Earl, he's exceeded all my expectations. All of our sports have shown me that not only can we compete for CAA titles, but we can compete on the national level for NCAA titles. Our goal is to be competitive on a national level in every sport."
Q: You've worked in some major athletic departments, Oklahoma being one, but you've never been an athletic director before, how is that transition going?
A: "Anytime you go take over or start a new position there's going to be a learning curve. What I've tried to do early on is listen to what our coaches, our student-athletes, our staff and our fans have to say. I knew I needed to listen to those folks about previous successes and previous failures. Then I wanted to start to put together a plan that I felt was best for our institution moving forward. Sometimes I equate it to be a first-time parent. You can listen to all the advice you want, but you don't know what it's like until you are actually a parent. It can be a lonely job at times because everyone is looking at you to make the right decision."
Q: It's early, but do you have one moment that stands out?
A: "There have been a lot of great moments since I've gotten here, but how can you not think about winning that CAA championship at the North Charleston Coliseum. To come from behind against an unbelievably talented Northeastern team and to win the game after being down 17 points, was a memory I'll never forget. To do that in front of 8,000 of our fans and to see coach (John) Kresse going nuts in the stands like he was coaching again and to see our students rush the floor. It was surreal. It was fantastic."
Q: What do you remember most about that night?
A: "I think the embrace between Earl and Joe Chealey right after the game. To think about what Joe had been through during his five years here, a coaching change, all the ups and downs, and to see the release of emotions, especially from those two still gives me chills to this day. That will be a career highlight for me the rest of my life."
Q: Going to San Diego and playing in the NCAA Tournament had to be a highlight as well?
A: "It was. Just that experience for our coaching staff, our fans and our student athletes. It's too bad Joe wasn't healthy, but that's sports and the luck of the draw. Joe thought he had broken his ankle against Northeastern and I don't think a lot of people knew that. If it was the regular season, he would have been out two or three weeks. Joe did the best he could, he gutted it out, but he was playing on one wheel and I felt so bad for him because he was the reason why we'd gotten to where we were. I fully expect us to be in the mix again this year and return to that stage and to stay around a little bit longer."
Q: Less than a year into the job, you had to fire baseball coach Matt Heath. How difficult of a decision was that for you?
A: "You never want to go through any staff change for whatever reason. Most of the time there are families involved, there are assistant coaches, spouses and kids, but at the of the day your job as an athletic director is to make sure the student-athletes are having a great experience. If you feel like that situation can be improved upon with another coach than you have to make those difficult decisions."
Q: Hiring Chad Holbrook probably didn't go as smoothly as possible. What did you learn during that process?
A: "Every hiring process is different. All you have to do is look at what happened at Tennessee when they tried to hire a new football coach and see that it is never going to be easy. The thing that I learned the most was that the respect our baseball program has on a national level. The number of high-level head and assistant coaches that had an interest in the job just speaks volumes to the former coaches and players that helped build this program. You're never going to satisfy everyone. You're never going to hire the perfect person that everyone is going to be enamored with. Very rarely do you have that opportunity. I feel confident in the decision that we made in bringing Chad in."
Q: Overall pleased with the way baseball season went?
A: "Even though the season didn't end the way we'd hoped, I think we're headed in the right direction."
Q: There were former players, former alumni, that were not happy when you hired coach Holbrook. Has their attitude changed?
A: "I think it has and that's because Chad has made it a priority from day one to reach out to the former players and engage them and make sure they know it's their program. He wants them to be involved and to participate. I can't tell you how many alumni have come up to me and told me how proud they were and how excited they are about College of Charleston baseball and how impressed they are with Chad. All I asked from anyone is that if you're going to be mad, be mad at me, not at Chad. Give him a chance. He's an SEC caliber coach and College of Charleston normally doesn't get a coach with Chad's pedigree for any sport."
Q: There has already been some interest in Holbrook from Power 5 conference schools in coach Holbrook. There are some people that felt Holbrook was going to use this season as a stepping stone to a bigger, more prestigious job?
A: "That couldn't be further from the truth. All you have to do is spend a little time with Chad and understand they he loves this place and that there are very, very few jobs that can lure him away from College of Charleston. I think he's fully invested in taking this program places it's never been before. We've never been to Omaha and that's his goal."
Q: There have been so many ideas floating around about the facilities at Patriots Point, where are you in the process?
A: "It's priority No. 1 for me right now. We hired an architectural firm that is in the middle of a facility master plan. We should see our first renderings by the end of the month. It's a comprehensive plan that will touch every single sport that is housed at Patriots Point. It'll address our sports medicine and conditioning needs. It'll also improve fan seating, premium seating, restrooms and concessions. We love Patriots Point, but those facilities have not been touched in 20 years and it's past time that we address them."
Q: Any idea on how much the new facilities at Patriots Point will end up costing?
A: "We're going through the vetting process now and until we get something in front of our board of trustees and get their approval it's impossible to put a final price tag on it."
Q: What's the target date for starting the project?
A: "We hope to put something in front of the board of trustees either in August or October and be able to take those drawings and share it with the community and see if they will support it. Every individual component will have its own individual price tag. Once we have funding for a specific component we will begin construction. Each individual facility, whether it's for baseball or soccer or softball or tennis, will be a separate component."
Q: What's the most important component and which one will get top priority?
A: "They are all important. I can't put one over the other. If I had to pick one, it would be our strength and conditioning and sports medicine facility. That's a shared-used facility that everyone will be using. We should have something to present to the public this fall and then we hope to start moving on the facility in the 2019 calendar year."
Q: Any plans to upgrade TD Arena?
A: Yes. We're looking to put in two end-wall high definition video boards and a new floor. TD Arena is 10 years old and that's typically the time to go in and reinvest some money in a building. My goal is for our fans to see a noticeable chance at TD Arena every year. We will be constantly trying to improve our fan experience as long as I'm the athletic director."
Q: Will there be some luxury boxes?
A: We've added two "loge" boxes and we're hoping to get up to a total of eight. The "loge" boxes are kind of becoming the trendy thing to do at a lot of facilities. They are more affordable and fans really seem to like them."
Q: You have a couple of lawsuits still lingering out there. Where are they right now?
A: Obviously, I can't comment on specifics right now. I think one is close to being settled and the other one, I don't even know where it stands."
Q: What did you know about sailing before you came here?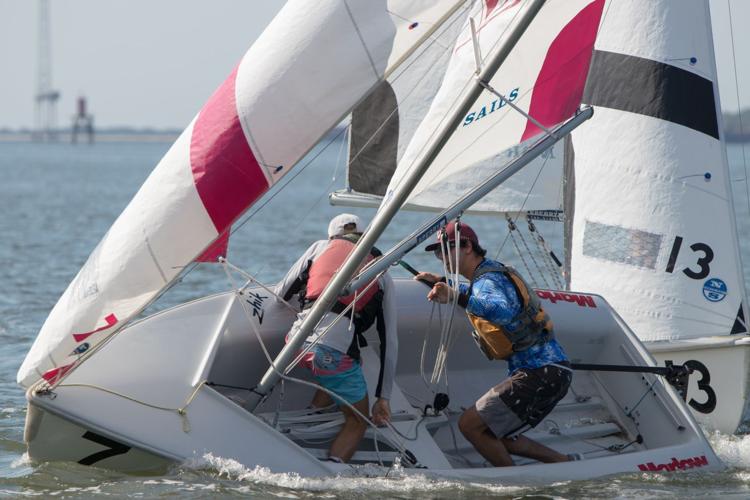 A: "Absolutely nothing and I told our sailing director Greg Fisher that when I got here. They just keep on winning national titles. Oh, hum. Greg is a rock star in the sailing community. He's been so great to work with. It's not an NCAA title, so it doesn't get the recognition it deserves, but when you're beating the likes of Navy, Yale and Boston College, some of the most prominent institutions up and down the east coast, you know you're a national power."
Q: Any thought of adding more sports?
A: "Not right now. It's something we always look at. My focus is to get the sports we have resourced at a competitive level within the CAA. Unless we have a unique opportunity to resource a sport at the appropriate level, then I don't want to take away from the other sports we have right now."
Q: Lacrosse seems to be a sport that people want to add?
A: "I think it would be a phenomenal sport to add, especially considering the growth of the sport here in the Lowcountry. But to do it in this conference would be difficult. The CAA is one of the best lacrosse leagues in the nation. James Madison's women just won the national championship and Towson men's team was in the Final Four. If we jumped in at the CAA level, we'd be jumping in with the big boys. The CAA is not a mid-major level conference when it comes to lacrosse."
Q: Was the move from the Southern Conference to the CAA a good move for the school?
A: "For me, going to the CAA was a positive decision. Obviously, I wasn't here when the decision was made, but I think it has had a tremendous impact on our institution as a whole. The second-highest number of students in the upcoming freshman class will be from New Jersey. We have so many students from Boston, New York, Baltimore and New Jersey. Being in that footprint helps with the growth of the College of Charleston as a whole. I think it's a great fit for us."
Q: Will the landscape of college athletics shift again?
A: "If any athletic director tells you they know what's going to happen with the landscape of college athletics and conference affiliations they are lying because no one knows. It can be so volatile. It's something I know our conference has their eye on. It was something we discussed at our athletic director's meeting last month. We want to be proactive and prepared if there is a shift."
Q: Would football ever be a sport you'd consider adding?
A: No. As the years go on its becoming increasingly more and more difficult to add it at a financial level where it adds value to the institution. The CAA has a group of schools at the FCS level that are as good as any in the country. James Madison is one of the top programs and they had to spend $1.5 million dollars to win a national championship. When you considered adding that many scholarships and with Title IX gender equity and finding a place to build a facility it becomes that much more difficult to add a sport like football. I saw that at SMU. To compete at that level against the Power Five conferences, it takes a tremendous investment and to do it on a consistent level, it takes a huge commitment."
Q: Is your vision to move College of Charleston out of that mid-major level?
A: "Absolutely. The term mid-major is just a term. Coastal Carolina won a national championship and have hosted a super regional in baseball. They are not a mid-major program. Wichita State has been to the Final Four in basketball. They aren't a mid-major. Gonzaga, same thing. My goal is to resource every sport so they can compete on a national level. If they want to call us a mid-major, fine, but we're going to be compete on a national stage."
Q: How hard can it be to retain coaches this level?
A: "It's very difficult. Look at VCU and the transition they've had over the past 10 years in their basketball program. Wichita State has done it right. They've got the right guy and he's been able to grow with the program. I've told Earl, and all of our coaches, they will grow as we grow. Sometimes you get lucky and get a coach that is from the area and they appreciate what they have and can grow with the program and make this their destination job. As challenging as it is to keep talented coaches here, I certainly wouldn't want it the other way. If no one is knocking on our coaches doors then they are not doing a good job. I want our coaches to be coveted by other programs."
Q: The graduate transfer rule, especially in basketball, has started to become an issue, especially with mid-major programs. We've seen Canyon Barry leave after he graduated to play at Florida. How big of an issue is this for mid-major programs?
A: "Canyon's situation was very unique. He went to Florida for a very specific academic program. Hopefully, we can continue to develop the academic and athletic opportunities here so going somewhere else isn't even a consideration. I don't think this rule has really effected one of our programs very much and we hope it never does."