He is widely known as "The Greatest Wrestler on God's Green Earth." While that point might elicit some debate among pro wrestling scholars, there's little argument that Harley Race truly is one of the toughest men to ever grace the squared circle.
And he'll need every ounce of that legendary toughness to overcome his latest setback.
The 74-year-old Race recently broke both legs in a fall at his home in Troy, Missouri. His left leg was shattered in several places, including the fibula and tibia along with a spiral break of the left ankle, and he needed four blood transfusions during emergency surgery. Not so surprisingly, Race had to be convinced to go to a local hospital.
After all, the eight-time NWA world champion has survived his share of injuries over the years, including hip and knee replacements, multiple abdominal surgeries and vertebrae fused together, and a metal rod for a forearm.
His son, Leland Race, told Bill Apter of 1wrestling.com that his father was transferred to a bigger hospital near the metro St. Louis area due to the complexity of the injuries he suffered in the fall.
Doctors operated on Race's fractured right leg, but decided to let the left leg heal naturally rather than do further surgery.
Race has begun the physical therapy stage of his recovery, and according to his son has been improving "by leaps and bounds."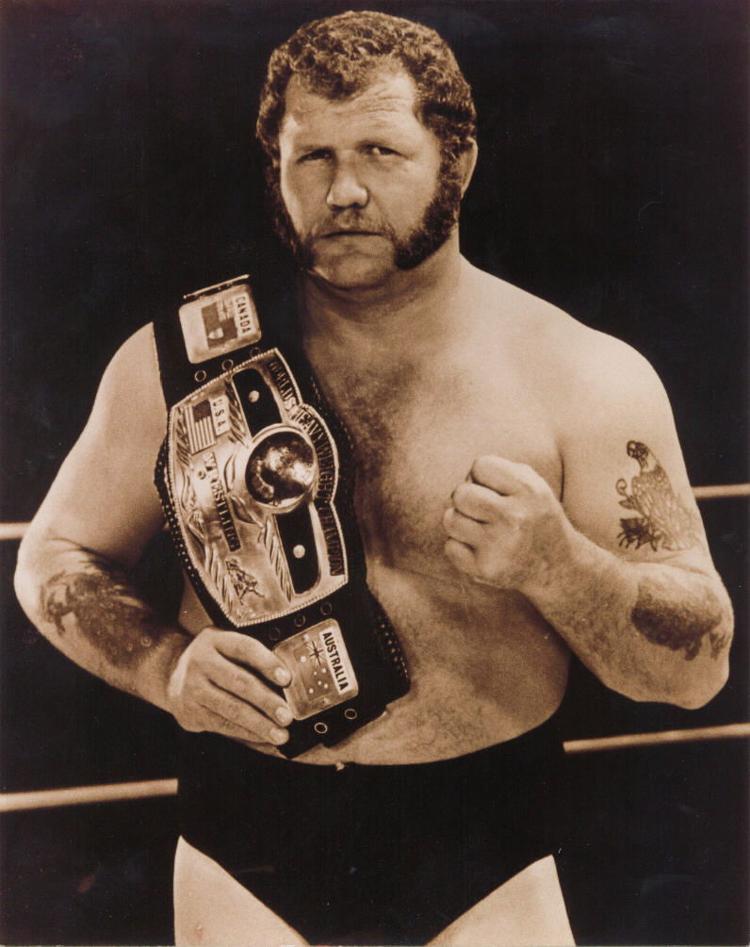 "Nobody has said he's never going to walk again or anything like that. I think they know him better than that. If there's anybody in this world that can get through this stuff he's going through, it's going to be him," Leland Race told Apter.
"He's frustrated," Race added. "He was doing so well and making progress. A couple of years ago he had to have surgery to fix some hardware in his back. That doctor, who didn't know him, told him that a person in his shoes, with all the medical conditions he had been through his entire life, probably would never walk again."
Harley Race's response? "He just kind of laughed it off and said, 'We'll see!'"
It wasn't the first time Race had been told he would never walk again. Shortly after he began his pro career in 1960, he was involved in a serious automobile accident that claimed the life of his pregnant first wife. Both were pronounced dead at the scene; only when Race moved slightly in the ambulance did medical personnel realize he had a pulse. He regained consciousness several days later in the hospital.
But the accident shattered one of Race's forearms and nearly cost him a leg. Shortly before his right leg was to be amputated, a local promoter stepped in and told doctors that his leg would be amputated "over my dead body." The leg was salvaged, but doctors told the grappler he would never walk again. But after months of intense physical therapy, Race returned to the ring less than two years later. The doctor who operated on Race was at ringside to cheer him on.
Race, who overcame polio as a child and later survived cancer, again finds the odds stacked squarely against him. Anyone who knows the tough-as-nails veteran, however, would never bet against him. He's made a career out of defying the odds.
Race has used a motorized scooter to get around in recent years while running his World League Wrestling League promotion based in Troy. His son says he's been steadily improving in recent months.
"It took him a while, but for the past five or six months he's actually been walking a couple hundred feet at a time more than one time a day," said Leland Race. "He had been attending his local wrestling school every day and making most of his events, while tolerating the driving, even though that's what he did for half a century."
"He's just really frustrated right now because he was doing so good," added Race. "Fortunately there's not too many things in this world that would be able to keep him down. This is going to be one of those situations where most people would probably just throw in the towel and go from there, but I don't believe he's going to be in that category. It's just how he is and who he is. His motivation and attitude in life keep him going."
Race, who won his first NWA world title in 1973, was inducted into the WWE Hall of Fame and is a member of several national wrestling halls of fame.
Tales of Race's intimidating presence abound. A throwback to a bygone era, he could drink a case of beer and smoke a pack of cigarettes, then get up the next day and go 60 minutes with the likes of Ric Flair and Jack Brisco. There were no nights off for men like Race; the schedule ran seven nights a week, 365 days a year, and most of the taxing traveling from city to city was done by car.
No less than 16-time world champion Flair called Race "the toughest man on the planet."
"There was no better indoctrination into the business than driving more than 400 miles in a snowstorm across the Rocky Mountains with Harley Race and Ray Stevens passing around two quarts of Southern Comfort, with Harley gunning this old station wagon 100 miles an hour down these snowy, winding roads, and me heaving out the back window," laughed Flair.
"No one gave more to the business than Harley. He's a champion who would rather show you his scars than his medals," Bret Hart wrote in Race's 2004 autobiography.
"The only two men in the world that Andre The Giant feared were Meng and Harley Race," Bobby "The Brain" Heenan once declared.
Fans can send Harley Race get-well messages to World League Wrestling, 198 Cherry Blossom Way, Troy, Mo. 63379, or email at getwellharley@harleyrace.com.
Advice for The Rock
Former WWE CEO Linda McMahon had some advice for Dwayne "The Rock" Johnson in an interview with Yahoo Global News Anchor Katie Couric
McMahon, current administrator of the Small Business Administration, was asked about the possibility of her former employee and Hollywood's highest-paid star running for president in 2020. Johnson, 45, recently told GQ magazine that running for office is "a real possibility."
Her advice for Johnson if he decided to throw his hat into the political arena:
"Dwayne, do your homework really, really carefully so that you're up on all the things you want to talk about. He's a very bright, smart, I can still call him a young man."
"He's very passionate about what he does, and he's had some great success, and from what I've heard I think he wants to give back," McMahon added. "Now I'm not sure what all the different roads that would take, but if he were to decide to do this, I think he'd be all in."
The "Baywatch" star steered clear of endorsing a candidate in the 2016 election. He has said that both candidates, Hillary Clinton and Donald Trump, asked him to back them.
"I feel like I'm in a position now where my word carries a lot of weight and influence, which of course is why they want the endorsement," Johnson told the magazine. "But I also have a tremendous amount of respect for the process and felt like if I did share my political views publicly, a few things would happen … I felt like it would either make people unhappy with the thought of whatever my political view was. And, also, it might sway an opinion, which I didn't want to do."
Johnson spoke at the 2000 Republican national convention, attended the Democratic convention that same year, and is now a registered independent.
Audience going gray
According to a SportsBusiness Journal study of Nielsen television viewership data of 25 sports, all but one have seen the median age of their TV viewers increase during the past decade.
The study, conducted by Magna Global for SBJ, looked at live, regular-season game coverage of major sports across both broadcast and cable television in 2000, 2006 and 2016.
The study found that the median age of viewers in most sports is aging faster than the U.S. population as a whole. The median age TV viewer has gotten older for every sport except women's tennis.
Pro wrestling, somewhat surprisingly, saw the biggest change in the period from 2000-16. The age of the wrestling audience has nearly doubled in 17 years. Its median age jumped by 26 years since 2000. The study found that the median age for those watching pro wrestling on TV was 54 years old in 2016, up from 28 in 2000 and 33 in 2006.
According to Dave Meltzer of The Wrestling Observer Newsletter, the average age of those watching Raw and Smackdown is in the 40s.
The WTA Tour was the only property to see its median age decline during that 16-year span, as well as over the past decade.
Ex-Knockout signs WWE deal
Former TNA Knockout Thea Trinidad has signed a deal with WWE.
Trinidad, who worked as Rosita in TNA, is engaged to WWE cruiserweight standout Austin Aries. She teamed with WWE Performance Center trainer Sarah Stock, who worked as Sarita in TNA.
She also plays the part of AJ Lee in the soon-to-be-released "Fighting With My Family" biopic about WWE diva Paige and her family. When Paige debuted on WWE's main roster in 2014, she defeated then-champion Lee for the divas title.
Dwayne "The Rock" Johnson is one of the producers on the film.
"Casting the right woman to play our champion was critical," said Johnson. "I wanted to keep the integrity of our movie's authenticity. We had to find a woman who not only has a real star quality, but she also had to have a real reverence and love for our unique wrestling business. Thea has been working extremely hard for years on the independent wrestling circuit and for those who understand what that means – you know how much one has to love our crazy business to work independently for years."
Trinidad, he said, fit that description.
"She has a star quality, great presence, humility, and is always all about being 'the hardest worker in the room.' She's working her butt off to put on an outstanding performance in our movie."
RIP Ron Starr
"Rotten" Ron Starr, a former two-time NWA world junior heavyweight champion and accomplished journeyman during the '70s and '80s, recently passed away at the age of 67.
Starr, whose real name was Bobby Nutt, also held the San Francisco version of the U.S. heavyweight championship on three different occasions, defeating Roddy Piper, Johnny Mantell and Ed Wiskowski (Col. DeBeers) for the title. One of his biggest wins came in the Bay Area's annual battle royal in 1978 when he eliminated Harley Race.
Starr was a regular in the mid-'80s in Stampede Wrestling as a tag-team partner with Wayne Farris (later known as Honky Tonk Man) as "The Memphis Mafia," but was best known in Puerto Rico where he was a multi-time WWC world tag-team champion with "cousin" Chicky Starr (Jose Laureano).
Mick Foley, who credits the underrated Starr with teaching him the art of brawling during their 1989 feud, wrote the foreword to his 2016 autobiography titled "25 Years of Riots and Wrestling: Bad to the Bone."
Reach Mike Mooneyham at bymikemooneyham@gmail.com, or follow him on Twitter at @ByMikeMooneyham and on Facebook at Facebook.com/MikeMooneyham.