Outgoing Citadel AD Jim Senter greeted by UTEP bombshell: Basketball coach retires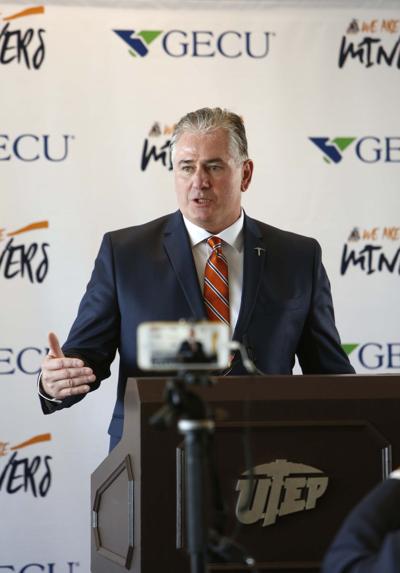 Jim Senter, The Citadel's athletic director until Dec. 15, attended his first event as UTEP's incoming AD on Monday night, a men's basketball game.
After the game, UTEP basketball coach Tim Floyd dropped a shocker into the new AD's inbox — he announced his retirement.
Floyd, whose team was off to a 1-5 start, said the time was right for him to step aside, and for Senter to help decide the program's future. Senter, introduced just hours earlier in El Paso, Texas, already was tasked with hiring a new football coach for the Miners, 0-12 this season.
In his farewell news conference, Floyd said Senter also should try to move UTEP from Conference USA to the Mountain West Conference.
"The one thing I would encourage our new athletic director to do is try to find a vehicle to get this program where it belongs, in the Mountain West Conference," Floyd said. "Travel is shorter, the opponents and the teams you are playing against are in line with what the history of this school is."
Floyd's decision to retire didn't seem to have anything to do with Senter personally — the two were young coaches at the same time at Idaho, Senter in football and Floyd in basketball. At his introductory news conference Monday, Senter said he and Floyd have spent some time reminiscing about their days at Idaho.
"I want what's best for this school as they move forward," Floyd said. "This seems like a great time with a new athletic director for him to evaluate ... this program, where it is, and try to make a decision on what he thinks is best for this program as they move forward."
Senter, whose four-year contract at The Citadel expires in August 2018, said he'd long considered UTEP, a school of about 23,000 students and athletic revenues of about $32.9 million, a "sleeping giant."
"I've had my eye on this job for over 20 years," he said Monday at UTEP. "I've always looked at this place as a sleeping giant. People have shown here that you can win, but the question is, how do you sustain winning?"
During his tenure of just more than three years at The Citadel, Senter hired new coaches in the major sports of football, basketball and baseball. Now at UTEP, he must hire coaches in the Miners' two flagship sports of football and basketball.
"I do not have a (football) coach in mind already," Senter said. "We are already in search mode, and I have been working on that since this job was offered to me."
Until Dec. 15, Senter will be balancing responsibilities to both schools.
"For the next 15 days I'll be balancing two different jobs and two different responsibilities," he said. "Those I have at The Citadel, and those I have with our new leadership team in hiring a football coach. It's all on the plate."
Reach Jeff Hartsell at 843-937-5596. Follow on Twitter @Jeff_fromthePC