Fish taxidermy is still something of a sideline for Andy Johns. But the 27-year-old West Ashley residents feels there's a correlation between trying to replicate a customer's trophy fish and his day job working as a collision repair specialist for the Rick Hendrick automotive group.
Johns, whose taxidermy business is Living Water Fish Replicas (livingwaterfishreplicas.com), recently told his wife "it's almost like fish/auto body."
In both instances, he is working with fiberglass and Bondo and paint — materials used in repairing damaged auto bodies are the same materials used in taxidermy.
"I feel like a lot of my ability to use and understand these products and how to work with them comes from the auto body aspect," Johns said. "It's kind of crazy how it's all worked together. It's been a little bit of a wild ride."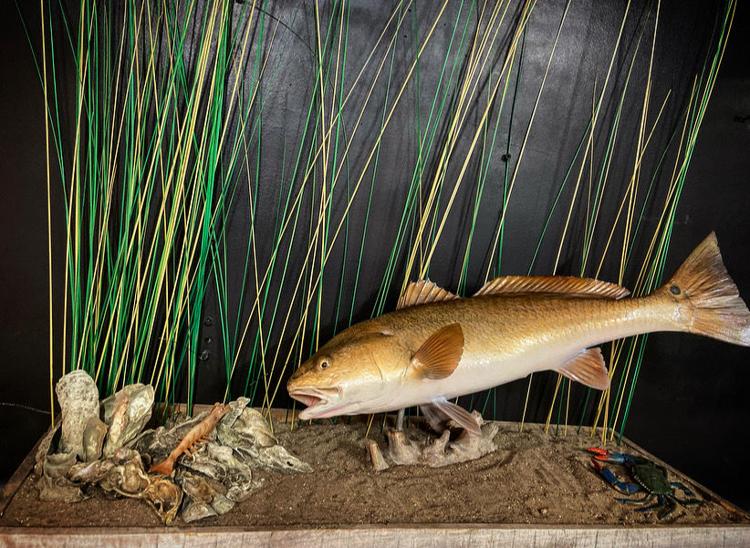 Johns said as a youngster growing up in Harrisburg, Pa., he was always drawing and painting. But he also grew into a passionate fisherman who loved the challenge of catching muskies, pike, walleyes and smallmouth bass. His fishing targets changed from freshwater to saltwater species when he moved to Charleston, but his passion for the sport continued to grow.
"I used to make my own fishing lures, these big crazy fishing lures for muskies and pike," Johns said. "I was doing super crazy stuff. I actually started putting real fish skin on the lures to make them look super-realistic. Long story short, that sparked the idea of fish taxidermy."
Fish taxidermy has evolved from the early days when taxidermists would skin a fish and then mount it over a form. Most of today's fish mounts are fiberglass reproductions. A fisherman can take careful measurements and several photos of his trophy and release the fish to fight another day. And with those measurements and photos, taxidermists like Johns can give the angler a lifelike reproduction of their catch.
Most reproductions are designed to be hung from a wall, but top-quality taxidermists can turn their work into pieces of art. Johns' website features a pedestal mount of a sheepshead and driftwood that can displayed on a shelf and viewed from 360 degrees.
When Johns began doing fish mounts, he would post photos on his Facebook page and people began asking, "Hey, can you do one for me?" He's just now catching the attention of local anglers after doing a seminar for Haddrell's Point Tackle.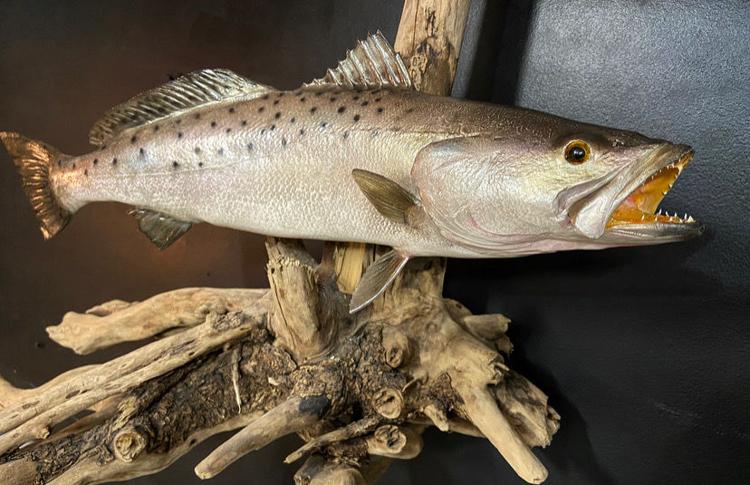 "I'd say 90 percent of my customers are not from South Carolina," Johns said. "I get a ton of stuff from the Northeast or Midwest: muskies, pike, walleye. I've done a good bit of (freshwater) trout and largemouth bass."
Johns said he's done almost 100 fish replicas during the past year and has another three dozen in process. The average turnaround is three to four months.
Johns explained that a lot of inexpensive fish mounts look like plastic fish. But his goal is to make the mount look like the real fish. He pays attention to the mouth, to the gills and to the fins and spends hours looking at photos of an angler's catch so he can replicate the scars and individual markings of the fish. When working on a jumping mahi mahi, he is careful to position the eyes of the fish so they are looking down, just like the living mahi mahi.
The most difficult fish, for him, have been muskies.
"(The muskie clients) want to check the picture of the fish and check for every spot and marking and make sure it's authentic," Johns said."My ultimate goal is to make the nicest replicas I can. I'm super passionate about it. If I don't make a ton of money doing it, but I'm making really nice fish, that's kind of where I am right now. When I started, I didn't know what it was going to be or if it was going to be fun. The fact that it's grown to what it is now is super exciting. I'm really having a lot of fun doing it. It all comes from being a die-hard fisherman. I love fish and I love the community of fishing, everything about it."