COLUMBIA — Other teams, like the last two national champions, are holding their own versions of quarterback battles during preseason camp.
South Carolina enters another year of holding its breath.
The Gamecocks are confident and assured in Jake Bentley, their starting quarterback for 20 straight games, as they should be. He in turn is confident in his backups, because he sees them every day.
For the second straight season, though, Bentley and the coaches' confidence in Michael Scarnecchia and Jay Urich is all anyone else has to go on. USC's quarterback depth chart may as well read "Bentley," then "Gulp."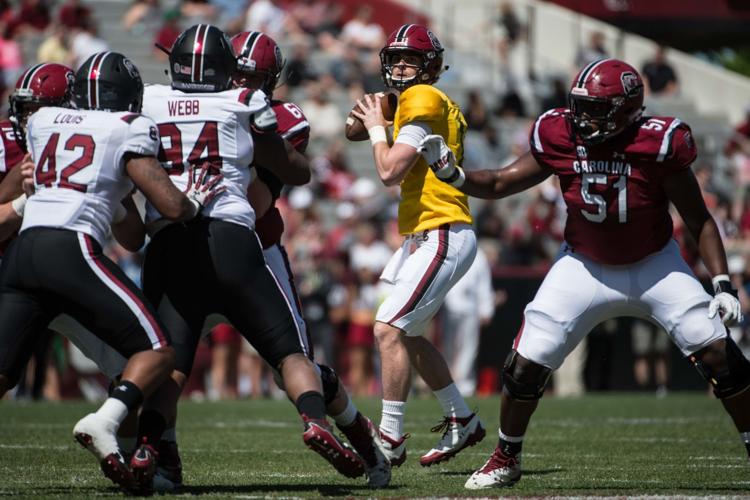 "I think for them, for Scar especially, he prepares the same as I do. We watch film a lot together, because you never know," Bentley said. "As much as you don't want to think about it, you never know, and Scar's got to be ready to go."
Scarnecchia said last year he always prepares as if he's playing, and also said he felt great about his chances to succeed if ever pressed into service. A player who's been around forever and already earned his degree, Scarnecchia has drawn rave after rave for his commitment to training as if he's the starter.
Yet he's barely played. The plan is always to get any backup at any position a few reps if the Gamecocks are cruising toward the end of the game, but they didn't often do that last year. Scarnecchia got into two games, the comfortable wins over Arkansas and Wofford, and didn't throw a pass or attempt a rush.
He's still the best quarterback in school history in terms of completion percentage, because he completed a 9-yard throw in a loss at LSU in 2015. That remains the only attempt of his career.
USC is a little better off than last year because it at least has another scholarship QB who's been around for a season. Freshman Jay Urich redshirted last year while running the scout team, and he will probably be the No. 3 guy behind Bentley and Scarnecchia.
"He's a really good athlete and he's a guy that we want to see what he can do," quarterbacks coach Dan Werner said during spring ball. "Between he and Dakereon (Joyner), both of them can really run. So I want to see if there's some things that they can do to really stretch the defense by using their legs."
Dakereon Joyner, the former Fort Dorchester High star and reigning "Mr. Football" in the state, has been around since spring. If there's a chance to take advantage of his unique skills, USC will do it, but if the Gamecocks never have to break the glass on their emergency QB case, they're fine with that.
Nothing against any of them, but of course there would be some jittery nerves if they get called into a tight game. Werner and Bentley credit all of the QBs for their camaraderie in the meeting room and work ethic on the field, but come Sept. 1, it's another season where USC really, really needs Bentley to stay upright for 12 games.
Bentley is utilizing them to help avoid the "oh, geez" moment as well. While attending the Manning Passing Academy, he picked up some pointers from Archie, Peyton and Eli. They told him to not be afraid to ask his backups to practice a certain way from week to week.
"This year especially, going into a game, I'll watch my film and watch what I need to watch, but maybe ask Jay to do something very specific and focus in on one aspect of what a defense does, and see what they come up with," Bentley said.
The hope is for all of the backups to get some time this season. If it has to be significant time, perhaps it will be as seamless as Bentley's transition into the role.