COLUMBIA — Let's get it out of the way now because it doesn't need to be repeated even once more this season, much less several times if South Carolina happens to get out-muscled in the post or lose a game.
A'ja Wilson is gone. She is not coming back. The greatest player in USC women's basketball history is fulfilling her destiny as one of the best players in the world, first in the WNBA and then in her Chinese professional league.
So stow the "A'ja's not walking through that door," or "Boy, they're missing A'ja." Wilson leaves a powerful legacy, one that no individual can match.
But that doesn't mean the Gamecocks won't try to equal the success of Wilson's teams, and that they don't feel prepared to do so.
"It's going to be different," point guard Ty Harris said, "but I think it's going to be a good different."
The Gamecocks won 25, 25 and 29 games in the three years before Wilson's arrival (granted, the last was with Alaina Coates) and Dawn Staley sees this team as a return to what made those teams great. USC was led by its guards — and this year's Gamecocks have seven — and its post players perhaps weren't the biggest or most talented, but they were steady and productive.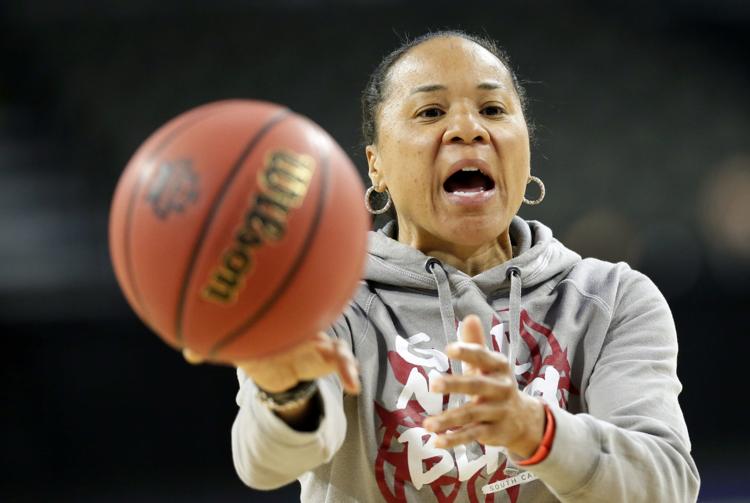 This roster has more length, those teams probably had more basketball IQ, at least compared to right now, when the four newcomers are learning a new system. Staley likes what she sees, reminding herself that the team is still young, particularly on defense, but the enthusiasm and chemistry is already intact.
"They're in pretty good shape, we were able to get through a three-hour practice with really no lulls, and that's a lot different than previous years," she said. "They're probably playing above where I thought they'd play."
Harris, the floor general as a freshman on a national championship team, leads a veteran group in the backcourt. Bianca Cuevas-Moore returns for a fifth year after transferring to West Virginia, then changing her mind. Te'a Cooper, a scoring star for Tennessee two years ago before injuring a knee and then sitting out after transferring, is eligible. The do-everything Doniyah Cliney, 25-game starter Bianca Jackson and Nelly Perry, a graduate from Clemson, are all bidding for significant time.
They can pass to forward Alexis Jennings, an all-SEC performer if she brings it every night; Lele Grissett, who shone in the postseason; and the always steady Mikiah Herbert Harrigan, who was as instrumental in the Gamecocks' fourth straight SEC tournament championship as Wilson was. LaDazhia Williams is finally healthy while Staley added freshmen Destanni Henderson, Elysa Wesolek and Victaria Saxton.
The non-conference schedule is again pockmarked with Top 25 teams and the SEC won't be a picnic. Yet even with so much talent in the league and no Wilson, the Gamecocks were picked second — behind a Mississippi State team they defeated for the last three SEC tournament titles and the 2017 national championship.
The respect is still there. The Gamecocks may have lost a superstar, but they have plenty of budding ones behind her.
USC Women's Schedule
Nov. 11 at Alabama State
Nov. 15 CLEMSON
Nov. 18 MARYLAND
-
Vancouver Showcase (in Vancouver, B.C., Canada)
Nov. 22 vs. East Tennessee State
Nov. 23 vs. Oregon State/Western Kentucky
Nov. 24 vs. TBA (Notre Dame, Gonzaga, Rutgers or Drake)
-
Nov. 28 DAYTON
Dec. 2 BAYLOR
Dec. 5 APPALACHIAN STATE
Dec. 9 at Duke
Dec. 16 at Purdue
Dec. 21 TEMPLE
Dec. 30 FURMAN
Jan. 3 at Texas A&M*
Jan. 6 ALABAMA*
Jan. 10 FLORIDA*
Jan. 13 at LSU*
Jan. 17 at Mississippi State*
Jan. 21 MISSOURI*
Jan. 28 VANDERBILT*
Jan. 31 at Kentucky*
Feb. 3 at Arkansas*
Feb. 7 OLE MISS*
Feb. 11 at Connecticut
Feb. 14 GEORGIA*
Feb. 17 at Florida*
Feb. 21 KENTUCKY*
Feb. 24 at Tennessee*
Feb. 28 at Auburn*
Mar. 3 MISSISSIPPI STATE*
March 6-10 SEC tournament (in Greenville)
*SEC game
Home games in CAPS