With daily heat indexes hovering around 100 degrees, it certainly doesn't feel like football season in the Lowcountry. Yet thousands of high school football players here and across the state are hitting the fields for the start of practice. 
An early end to summer is nothing new for football players, but there are new rules in effect this year designed to protect them from heat-related emergencies and even save their lives.
The S.C. High School League (SCHSL) and the S.C. Independent Schools Association (SCISA) passed new regulations earlier this summer that put specific restrictions on high school activities conducted outdoors. 
During football practices — SCISA teams started Thursday, SCHSL teams on Friday — athletic trainers and/or members of coaching staffs will be equipped with a wet bulb globe thermometer (WBGT) to measure several weather factors. The device takes into account air temperature, humidity and wind to produce a number that will determine how much and how long teams can practice. The rules include requirements for water breaks and cover all outdoor activities, including cheerleading and marching band. 
The WBGT also will be used prior to the start of games, particularly in August and early September. It could result in games kicking off later than scheduled times.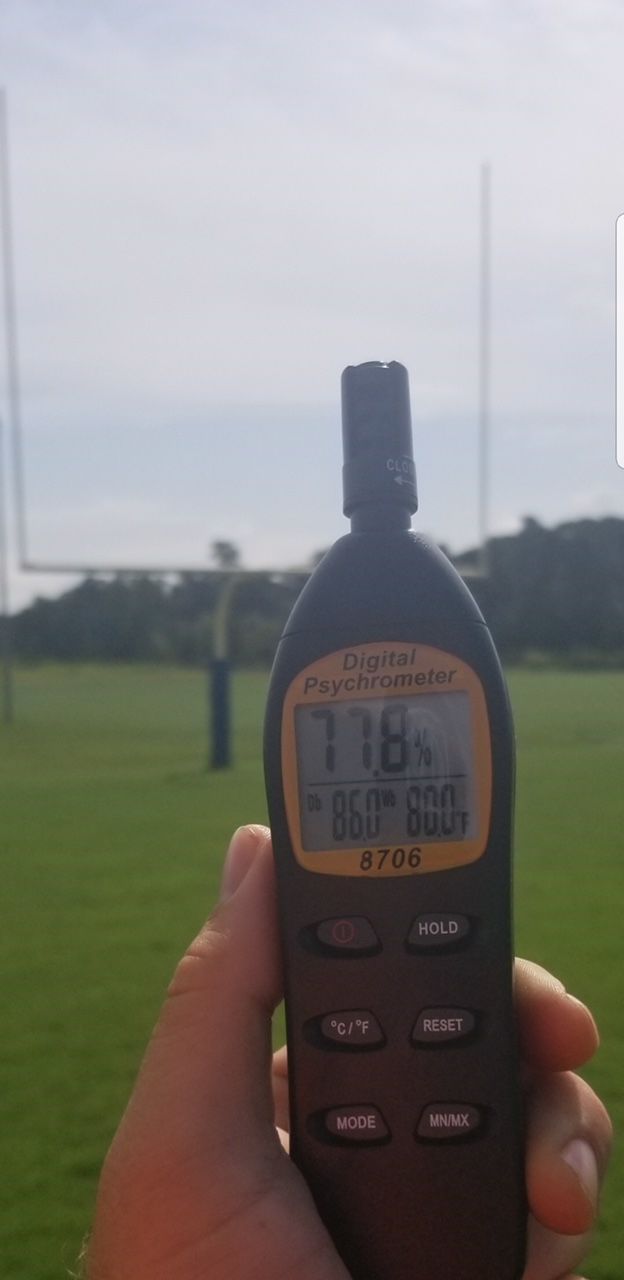 "We have to be careful, the stakes are too high," SCHSL commissioner Jerome Singleton said this week. "It may cause some adjustments in terms of when teams can practice and what they can do for certain periods of time but this is a good thing for the health of our athletes. Most of the concerns are centered around when practices can start (morning or evening) but everyone will figure it out."
The system has four levels based on WBGT readings. The range is from a composite reading of under 82, allowing for normal activities with rest periods factored in, to a high score of 92.1, which cancels all outdoor activities. Practices will be delayed until levels fall under 92, and there are limitations in place for what teams can do as levels fall into acceptable range.
"It gets hot at different times of the day around these parts so it's definitely something we have to be aware of," Ashley Ridge football head coach Kenny Walker said. "The other night, around seven o'clock, it was near 100 degrees. So we would not have been able to practice at that time.
"It's going to be different on some days. We will adjust because we want to be safe ... Our trainer has been monitoring this for two years so we have been operating under some of these rules."
Most football programs will practice in the mornings for the first two weeks of August. Once school begins, teams shift to afternoon practices and most coaches feel that will be when teams are most affected.
"Instead of going right after school, like at four or five o'clock, we may be pushing practice back to where the levels allow us to do more," Walker said. "It's hotter at some places than at others. Some schools may be at a disadvantage because of a lack of wind or whatever. Everyone will have to adjust to their own situation."
Singleton said teams that play or practice on turf fields, which are more prevalent in the Midlands, may find the heat more of a problem on Friday nights. He stressed that games will not start if WBGT readings on are higher than 92. Most Lowcountry teams will open the season on Aug. 17.  
"I had not really thought of that possibility so that is something we will need to be prepared for," Bishop England head coach John Cantey said, referring to games being affected. "We will have a plan. I think having backup plans will be very important for everyone."
Singleton said there has yet to be a penalty defined for breaking the rules, but he hopes that will not be needed.
"I'd like to think the people making the decisions will be cautious and will do the safe things for our athletes," he said. "This (WBGT system) is one of the better things we've done to assure safety for all."
Three preseason football jamborees — Sertoma Classic, Dorchester 2 Jamboree and the Moncks Corner Lions Club Jamboree — are scheduled for Aug. 9-10, with start times between 5 and 6 p.m.