SANTA CLARA, Calif. — After the confetti fell and the celebration was well into its beginning stages, after he gave his head coach a Wet Willy on live television in a fashion only he could pull off, and after the magnitude of the moment all started to sink in, Christian Wilkins found himself on a golf cart Monday night in California. 
The Clemson defensive tackle was on his way to the Tigers' locker room, where plans to stay up all night were already forming into place and a healthy dose of ecstatic yelling was already echoing off the walls.
Clemson stomped Nick Saban's mighty Alabama team 44-16 in the College Football Playoff National Championship game Monday night, a performance that will go down as one of the most dominant ever in the sport, and this was Wilkins' chance to celebrate the one thing he returned to school to accomplish. 
Then, after he had already cried tears of joy, it hit him. 
"I ain't taking off this uniform," he said to no one in particular. 
And then he walked right in.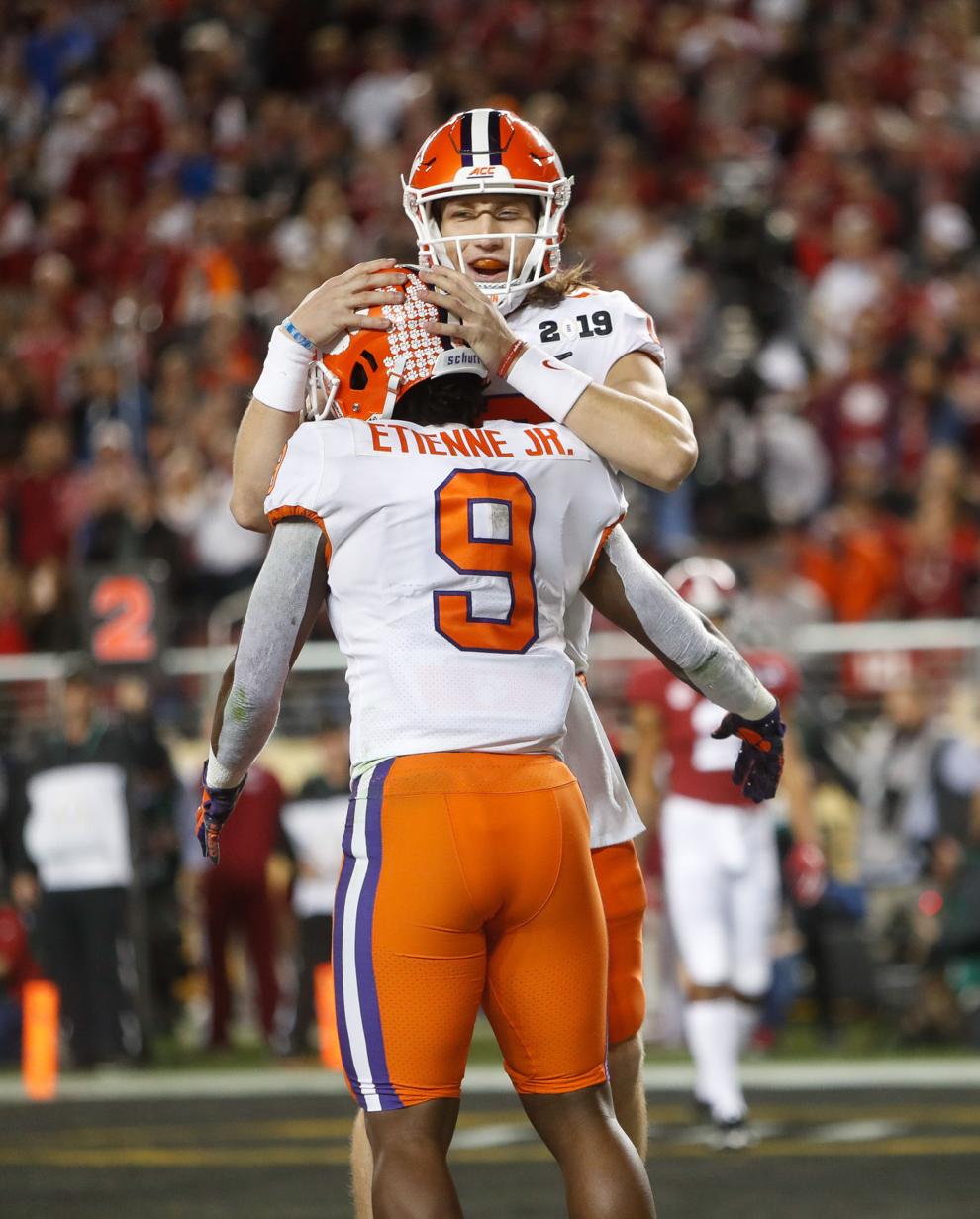 Monday night for Clemson was more than one game on one large stage for Dabo Swinney's second national in three years and the program's third overall championship. 
It was the culmination of a genius game plan masterminded by the coaches, then executed to perfection by the players that made an emphatic statement. Clemson, led by seniors like Wilkins, has arrived and is here to stay. 
"Our guys, they had a clear vision of the way we wanted this to go," Swinney said. "There was a lot of talk about 'best ever' all year long. We were never in that conversation. But (Monday night), there's no doubt.
"I'm just thankful to be a part of it. It's just an amazing moment." 
What went right
Everything.
Everything went right for the Tigers in a game they dominated from start to finish in all areas. 
From an offensive standpoint, Clemson tapped into the always-fruitful combination of quarterback Trevor Lawrence, running back Travis Etienne, wide receiver Tee Higgins and wide receiver Justyn Ross — a quartet that is as talented as any in the country and never failed Clemson all season.
Lawrence, just 19 years old, was sensational in the biggest game of his career, passing for 347 yards with three touchdowns and no semblance of nerves. He set up Clemson's second touchdown with a 62-yard pass to Higgins, followed by a 17-yard touchdown run by Etienne.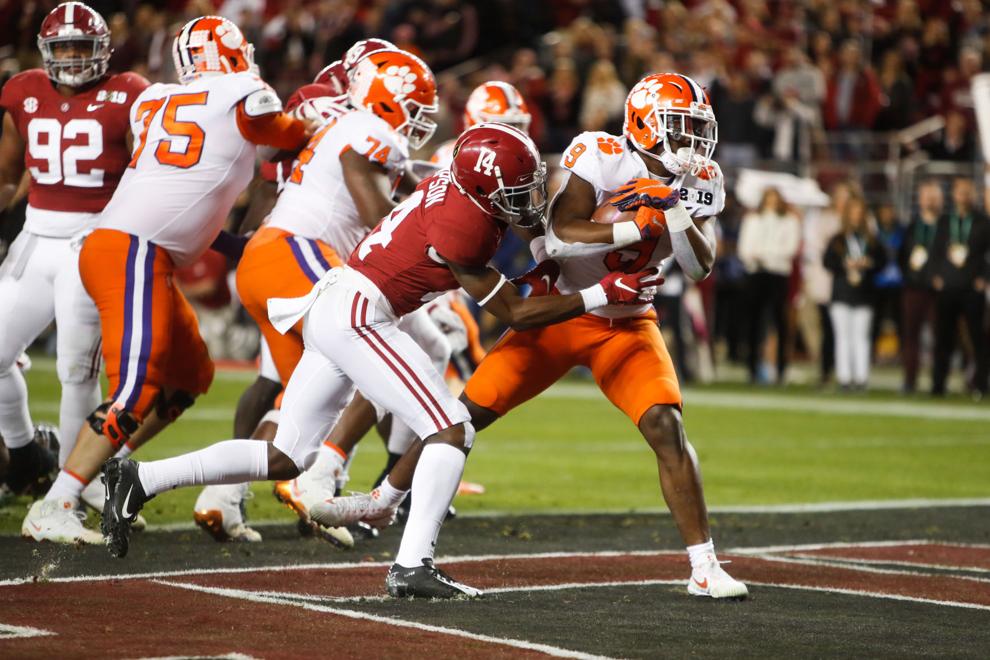 As for Lawrence's playmakers, Ross torched his home-state team on the national stage as he busted out for six catches with 153 yards and a touchdown, one of his catches including an electrifying one-handed snag down the sideline. Etienne was relentless with both his speed and his physicality, running for 86 yards and two touchdowns on 14 carries, while he also had a receiving touchdown. Higgins added 81 yards and a score on three catches.
"Really, it's true — even if we didn't go all this way and win a national championship, this has been a team that I'll never forget for one, and it's just been amazing," said Lawrence, who looked as calm as ever in the aftermath with his signature casual grin. "These seniors, just taking me in, they kind of dragged me along until I got my feet under me and they just — they're awesome people, as well as players." 
Defensively, Clemson's secondary was able to put to bed questions about its consistency as the cornerbacks played their best game of the season. A.J. Terrell got things rolling with an explosive pick-6 in the opening minutes of the game and Trayvon Mullen, the defensive MVP, had an interception and 46-yard return as well as a sack for a loss of 11 yards.
Swinney and his assistants put together a plan that co-offensive coordinator Jeff Scott told his close friends that if executed to near perfection, would win the Tigers the game by 10. Then the players took it to a whole other level and dominated arguably one of Saban's best teams ever behind a Clemson senior class that became the first in school history to field a winning percentage of .900 or better for their careers. 
"It's special," Clemson defensive coordinator Brent Venables said. "To see them literally live out their legacy as the best ever is just, it's special. And to have the opportunity to witness that and all that it took to go into that, you don't just look up and do that. It takes a collective decision by a group of guys that's very selfless and committed in the grind. The grind is so hard. And to have success and sustain it, is even harder. That's what you really have an appreciation for with those guys." 
What went wrong
Not much.
Kicker Greg Huegel missed an extra-point attempt that proved to not matter in the slightest when it was all said and done. Clemson kept its miscues to a minimum while taking advantage of Alabama's mistakes. 
"If you look at the stats of the game, their yards and all that are fairly equal (to ours)," Saban said. "But the score, because of turnovers, not finishing drives in the red zone, not getting off the field on third down, giving up explosive plays, doesn't indicate anything like that." 
Turning point
When Clemson went up 31-16 at the half thanks to three Etienne touchdowns alongside Terrell's pick-6 and a Huegel field goal, the foundation was laid for a second-half breakout. Then Lawrence hit Ross for a 74-yard touchdown midway through the third quarter that proved this game belonged to Clemson. There was no return for the Crimson Tide.
"We had a great season, but five words: good is not good enough," said Alabama quarterback Tua Tagovailoa. "We didn't do the things we needed to do to execute and be successful in this game and that's all it is." 
Looking ahead
Dabo Swinney loves to celebrate. The university will host a parade on campus Saturday morning that begins at 9 a.m. 
After that?
The Tigers have their first meeting for the 2019 season on Friday. 
"So thankful," Swinney said. "Can't wait to get back started Friday and see if we can find a way to go do it again."