Think NASCAR, but with motorcycles.
And instead of a stadium track, the racers navigate through rough terrain and mountainous sand dunes in South America.
That's what Mount Pleasant's Petr Angelo Vlcek faced recently in Peru.
For the third year in a row, Vlcek, a Czech Republic native, competed in the Dakar Rally, one of the most dangerous and grueling motorcycle races in the world. To that point, 28 racers have died during the contest since it began in 1978.
Luckily, there were no fatalities this year. But there was the usual tally of broken bones and burns.
About 140 racers from around the world competed in the 2,500-mile race that ran from Jan. 7 to Jan. 17. Just 75 people finished the race. Vleck placed 47th, duplicating his finish from the previous year.
"Making it to the finish line is an accomplishment in its own way, but obviously you want to do better," he said. "But I'm glad I didn't suffer any broken bones this time around."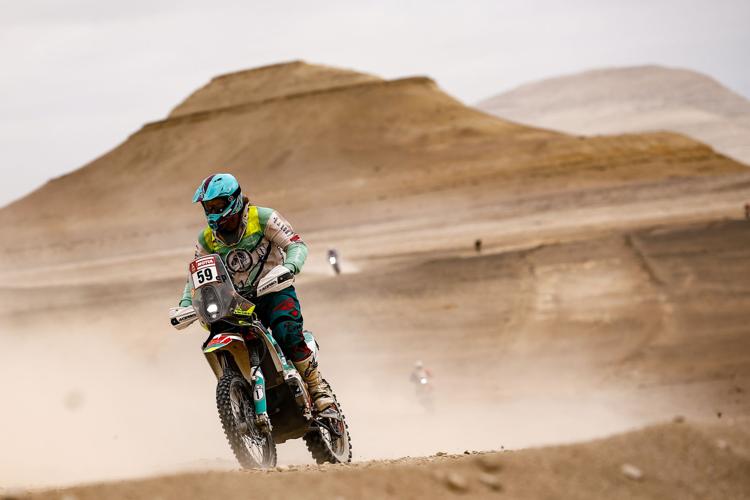 Vleck underwent surgery for a separated shoulder after last year's Dakar Rally. The year before, he suffered third degree burns and a gash that required stitches. But it's the thrill and desire to compete that keep Vleck heading back each year.
His wife Cacky has attended the past two years and sees firsthand how committed the racers are.
"There's just so much energy in the atmosphere, and you can tell all of them love what they do," she said.
Vleck said he'd like to see the Dakar Rally become more popular in the U.S. His team, Klymciw Racing, has a few Americans, but he hopes others from around the country will eventually make the trip to Peru.
It's not an easy undertaking, Vleck said, and he is thankful for the friends and sponsors who make it possible for him to compete.
"It really is a group effort. I'm grateful to have so many people in my life who help make this happen."