Now that Santa has come and gone, the focus of the final week of 2018 turns to high school basketball in the Charleston area.
Two long-running boys holiday tournaments — Rotary Roundball Classic and Modie Risher Classic — and one of the largest girls tournaments in the nation will be played Thursday through Saturday across the Lowcountry.
The Carolina Invitational is an 80-team girls tournament that includes 24 high schools from the Charleston area and teams from nine other states.
Host sites include Cane Bay, Summerville, First Baptist, Porter-Gaud, Goose Creek, Philip Simmons, Northwood Academy, James Island and Bishop England. Porter-Gaud, with two playing facilities, will host two brackets.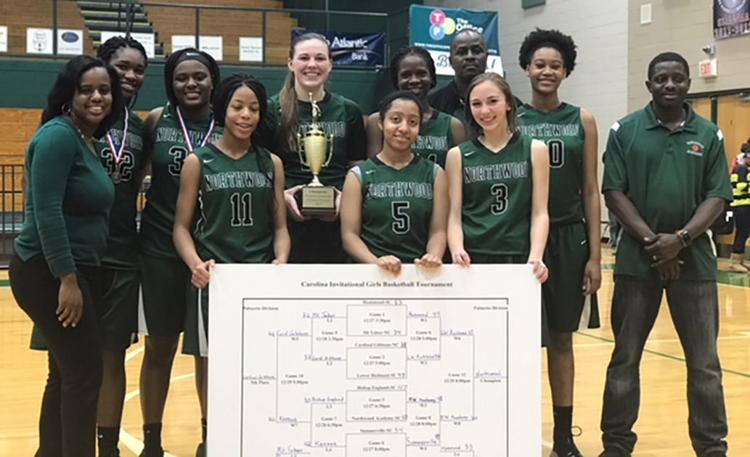 Each site is a designated bracket of its own and each will crown a champion. Area teams are scattered throughout the brackets. The top bracket is the Coastal bracket  hosted by Goose Creek, which is the state's second-ranked team in Class AAAAA. Its bracket includes South Pointe, ranked No. 3 among the state's Class AAAA teams, and Louisville Male High School, one of the top girls' basketball programs in Kentucky.
Other area teams involved include Cane Bay, Stratford, Hanahan, Timberland, Ashley Ridge, Summerville, Berkeley, Wando, First Baptist, Fort Dorchester, Porter-Gaud, Oceanside Collegiate, Palmetto Christian, Burke, Philip Simmons, Academic Magnet, Cathedral Academy, Northwood Academy, West Ashley, Stall, James Island, Bishop England and Woodland.
In all, nine teams in the tournament are currently ranked in the top 10 of their respective classifications in South Carolina, including Fort Dorchester (No. 3 in AAAAA), Bishop England (No. 1 in AAA) and Clinton (No. 2 in AAA).
The Roundball Classic features 16 boys teams with all games played at North Charleston High School. Area teams include West Ashley, Porter-Gaud, Stall, Goose Creek, First Baptist, Pinewood Prep, James Island, and Wando.
The tournament is divided into two championship brackets with a pair of title games set for Saturday night. Play begins at 10 a.m. each day. The marquee game involving local teams on Thursday has Goose Creek and First Baptist playing at 1 p.m. The nightcap has three-time defending state SCISA champion Porter-Gaud taking on Cape Fear Academy of Wilmington, N.C. Cape Fear is 13-1 this season.
Burke High hosts the annual Modie Risher Classic, an eight-team, three-day tournament. Local schools competing include Cane Bay, Colleton County, Fort Dorchester, Burke and Baptist Hill. The event features four games each day, beginning at 4 p.m.
Roundball Classic
Thursday
(All games at North Charleston High School)
10 a.m. – Georgetown Prep (D.C) vs. Palmetto Christian
11:30 a.m. – Bullis Schools (Md.) vs. Stall
1 p.m. – Goose Creek vs First Baptist
2:30 p.m. – St. John's College HS (D.C) vs. James Island
4 p.m. – Roswell (Ga.) vs. Pinewood Prep
5:30 p.m. – Milton (Ga.) vs. West Ashley
7 p.m. – Providence Day (NC) vs. Wando
8:30 p.m. – Porter-Gaud vs. Cape Fear (NC)
Modie Risher Classic 
Thursday
(All games at Burke High School)
4 p.m. – Cane Bay vs. Swansea
5:30 p.m. – Dutch Fork vs. Colleton County
7 p.m. – Spruce Creek (Fla.) vs. Fort Dorchester
8:30 p.m. – Baptist Hill vs. Burke