The Charleston RiverDogs have been stretched to Game 5 in a Low-A East Championship Series they hoped wouldn't last so long. The Down East Wood Ducks on Sept. 25 kept with a theme of road-team victories throughout the best-of-five minor league baseball title matchup, beating the RiverDogs for a second night in a row.
This time, 9-3 before a crowd of 4,998 at Riley Park.
Shortstop Keyber Rodriguez knocked in four runs with a two-run homer and a two-run single for the Wood Ducks, a Texas Rangers affiliate based in Kinston, N.C.
Hot-hitting Johan Lopez had three hits for the RiverDogs. The Venezuelan second baseman has eight runs batted in for the series.
The decisive Game 5 is Sept. 26 at 5:05 p.m. at Riley Park.
It means a lot: Charleston hasn't won a minor league baseball championship since 1922.
But reaching the verge of once-a-century fun to the delight of large crowds is part of a bigger picture of RiverDogs success. It appears sustainable with ties to the Tampa Bay Rays.
Four of the five teams in the Rays' top-rated farm system, including Charleston, finished with the best record in their respective leagues in 2021. Double-A Montgomery was second-best.
The frugal big-league Rays made it to the World Series in 2020 and are in first place in the American League East, well ahead of the big-market Yankees and Red Sox.
The RiverDogs, in their first season of a second affiliation stint with Tampa Bay and with a changing cast, went 82-38 in the regular season. The .683 winning percentage is best in Charleston minor league history, topping the 1988 Charleston Rainbows (.616), a San Diego Padres farm club.
RiverDogs manager Blake Butera personifies outside-the-box thinking within the organization: he's just 29.
"There is no real secret ingredient to what we're doing over here," said Butera, a former Rays minor league infielder who played at Boston College. "It's more of the fact that we have really good coaches, really good scouts and really good front office members that can evaluate players and understand how to make players better and just get after it."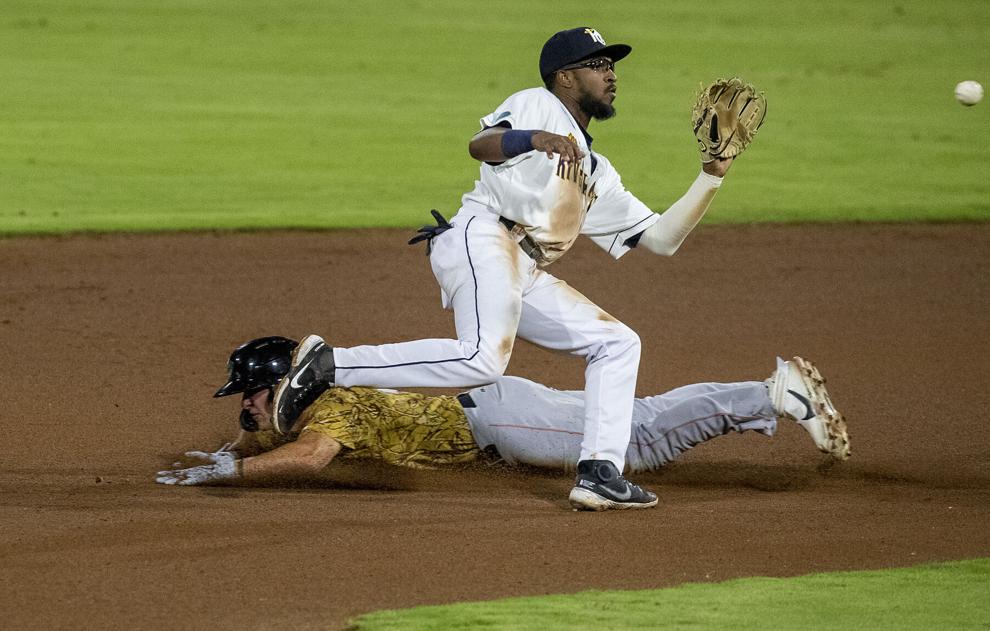 The Rays rely on shrewd dealing at the minor-league and big-league levels, and heavy analytics. They have to with local media revenue at a mere $48 million for 2020, per FanGraphs. That's 22nd among the 30 teams in Major League Baseball and well behind the No. 1 Los Angeles Dodgers ($239 million).
"Drafting well, signing well, developing well – those are critical components to our success," said Erik Neander, the Rays' 38-year-old team president just given a contract extension. "So is trading well. We are a high-volume transaction team, and there's deals that have played out well for us, others have not, but that's another source of talent that fits us well for a myriad of reasons."
The 1908 Charleston Sea Gulls and 1922 Charleston Pals won South Atlantic League championships with no other ultimate prize for a Charleston team in the seasons since.
RiverDogs management was concerned about attendance on a college football Saturday on which the Cooper River Bridge Run took place. But a good Game 4 crowd of 4,998 came one night after a Game 3 overflow of 6,224 for Down East's 7-5 victory.
Charleston had a home average of 3,660 fans per game, second-best in the Low-A East (the Augusta GreenJackets averaged 3,712).
The RiverDogs are offering special $2 tickets to the decisive Game 5. Go to riverdogs.com and use the code: COMEBACK.
Follow Gene Sapakoff on Twitter @sapakoff.