During this happiest of Citadel football seasons — the Bulldogs are 10-0 for the first time ever — there's been something missing at Johnson Hagood Stadium.
Mike Groshon, best known to Citadel fans as the keeper of bulldog mascots General and Boo, was absent from the sidelines and pregame tailgates for the Bulldogs' final two regular-season games.
"Probably the first home games he's missed in 30 years," said one of Groshon's best friends, Citadel track and field coach Jody Huddleston.
Groshon, whose official title was assistant athletic director for facilities, died Friday after battling a type of leukemia known as chronic lymphocytic leukemia/small lymphocytic lymphoma.
A 1976 Citadel graduate, Groshon was 62. A service for Groshon will be held at 11 a.m. Thursday at The Citadel's Summerall Chapel.
"We are all saddened by the loss of Mike Groshon," said The Citadel athletic director Jim Senter. "He devoted most of his life to The Citadel and cared deeply about the institution, athletics and people that he encountered throughout his time here.
"His affiliation with the college began in the 1970s as a cadet, and his dedication improved many different areas of the college. He worked behind the scenes in many roles, taking great pride in preparing each of our athletic playing surfaces for competition, but he also took on a public role as our live mascot guardian.
"Mike worked tirelessly to ensure our live bulldogs had the best care. The dogs were like his children, and he was a proud papa when he would show them off at games, parades and community events. We will never be able to replace Mike's presence in our athletic department, but we are certainly better because he chose The Citadel. He will be missed but not forgotten."
Groshon, a Charleston native and lifelong bachelor, and his bulldogs were ambassadors for the military school for 13 years, since the class of 2003 sparked the idea of an official mascot program.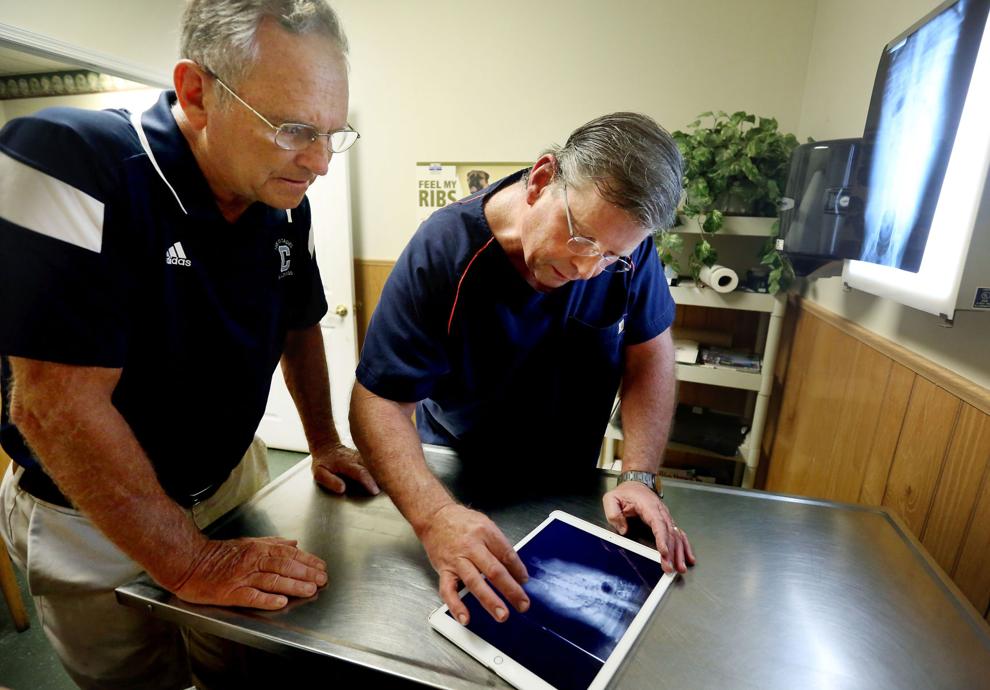 Groshon, who at the time already had a Boykin spaniel and Labrador retriever, reluctantly took over the care and feeding of the bulldogs. Since then, Groshon and the bulldogs had become a familiar sight in their navy blue Ford F-150, a truck covered in decals featuring Boo, General and their sponsors.
The bulldogs lived with Groshon in his on-campus apartment, where they had their own air-conditioned doghouse, a replica of a Citadel barracks.
"I think he loves being the guardian of those mascots more than he loves any one thing associated with his job," Senter said before Groshon's death. "We don't pay him to do that, but that's what he does. Those dogs are like his children, so they are the most pampered things on campus.
"When you see him in that truck or with those dogs at a game, he's like a rock star — the handler to the rock stars."
Handler to the rock stars is just one of the jobs Groshon held during his long career.
After graduation, he worked for a while at a tool-and-die company, then traveled the South opening up stores for Kmart. He returned to The Citadel in 1981 as equipment manager. He also coached the tennis team (he was Southern Conference coach of the year in 2000), and served as assistant AD for facilities, in charge of Johnson Hagood Stadium and other athletic facilities.
For 30 years or so, Huddleston and Groshon went to lunch nearly every work day, and usually got together for "Monday Night Football" as well.
"We got too old to stay up and watch the game, so now we go to dinner, watch the first quarter and go home," Huddleston said.
In younger days, Groshon loved to sail and was often on the water in Grey Ghost, his Sea Island One-Design boat. Sailing with the blunt and opinionated Groshon, Huddleston said, was like "sailing with Captain Bligh."
Groshon also impacted the lives of many cadets over the years, including Drew Takach, class of 2002.
"He's been almost like a father figure," Takach, who lives in Columbia, said before Groshon's death. "He comes up and stays with our family at Christmas, and my kids love him. But sometimes the roles are reversed, where you have to say, 'Coach, you can't do that.'"
Citadel football coach Brent Thompson saw the impact Groshon and his bulldogs had on his own young daughters.
"He loves those dogs, and he loves The Citadel," Thompson said before Groshon's death. "He means so much to the community and to our athletic department."
Before his friend died, Huddleston called Groshon's dedication to The Citadel "amazing."
"He's by far the most dedicated Bulldog I've met," he said, "and I've been here 30 years. He's loyal to a fault, and will do anything for the school — and gets mad at people who won't.
"He wants the football field to look perfect for every game. He wants the parade ground to look perfect. He does all he can to make The Citadel look good."
In lieu of flowers, contributions may be made to The Mike Groshon '76 Memorial Scholarship, c/o The Citadel Brigadier Foundation, or to the Bulldog Mascot Enhancement Fund, c/o The Citadel Foundation, 171 Moultrie Street, Charleston SC 29409. Credit card donations may be made online at BrigadierFoundation.com or by calling 843-953-5277 during regular business hours.