LEXINGTON — Game on.
Chas curls his chip into the bowl to get the maximum amount of green and saucy before artfully guiding the loaded triangle into his mouth, not a speck left on his fiery bushy beard. Jake sticks to the edges, picking apart the defense of Paulette and twins Emily and Brooks, before going for the big score, much like he does on fall Saturdays at Williams-Brice Stadium.
"Better get in there quick," Bobby says. "This crowd loves its spinach dip."
A meal with the Bentleys, the Gamecocks' first family of football, starts with a toe in the water, like that appetizing spinach dip, and progresses through the main course and dessert of how a group of seven was split, reunited, split and again reunited due to the game synonymous with their surname.
Football's been an avenue for wild success, and also a burden, such as when the good times are never as high as the bad times are low, or when it's slightly frayed some of the tight family fabric due to sons playing in different places at the same times.
Each has their role just like in the huddle so many have commanded. Patriarch Bobby views from the sideline before relaying the plan to mom Paulette, who coordinates her children.
Chas, Shuler, Jake, Brooks and Emily run the plays.
"It's really great, it is. Because that's what we are," Paulette says. "Regardless of where we are, we try to be a family, try to do things together, because that's what we want. So that's been an awesome experience to have most of us here."
Tonight's starters
"Bentley" still has powerful connotations among those who follow South Carolina high school football. Whatever side you were on in the early 2000s, it was hard not to know of the powerhouse Bobby Bentley built at Byrnes High School.
It's like he coached every game fueled by the memory of the state championship he lost by one lousy stinkin' point in '85, when he wore those same colors. A rookie head coach at age 25, Bentley constructed a dynasty that earned him Nike's National Coach of the Year Award a decade later.
The Rebels were the most feared program in the state, racking up an incredible 57 wins in 59 tries and four straight state championships from 2002-05. And there was no end in sight.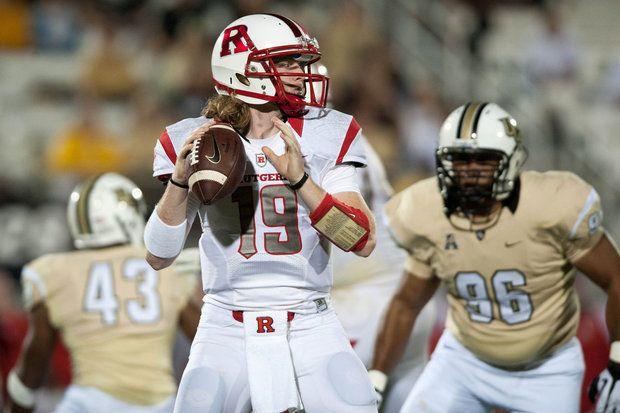 Bobby, today USC's running backs coach, installed his spread offense in the youth feeder systems, teaching the pee-wees to play the same style they would play as Byrnes Rebels. Also in it were his own boys, who were never forced to play quarterback but knew they would be great at it.
Chas was a big-time Byrnes QB who started at Rutgers. Shuler advanced to Old Dominion and then Murray State, where he still has one season to play. Jake has thrown for over 4,000 yards and only needs seven more to become the seventh QB in Gamecock history with 20 wins.
It's silly to ask Brooks his position. The middle-schooler flexes his right arm as an answer.
His twin Emily plays volleyball, where her arm is reputed to be as strong at serving and spiking the leather as her brothers are at throwing it.
"I knew that Chas was going to be a QB, Shuler from Day 1 was going to be a QB, Jake was very athletic so we knew he would be a QB," Bobby said. "When we got outside, we threw the ball around. Didn't worry about catching, we worried about throwing. I even picked on them about how I could throw a spiral with a toilet paper roll."
First quarter
A mutual friend set them up. He was getting ready to start the summer grunt work to prepare for the upcoming season. Finally he called.
"I said, 'Well, I coach at Byrnes,' she said, 'You coach where?'" Bobby said. "She's from Inman. She knew Byrnes, but didn't know me."
Paulette accepted a date to one of the mid-August football jamborees. They were married a year later.
Sons grew up and played for their father.
Wins became more wins, nationally televised wins, state championship wins.
Life was really, really good. Of course Bobby's reputation as an offensive mastermind and the players he was developing led to college assistant offers, but he turned them all down.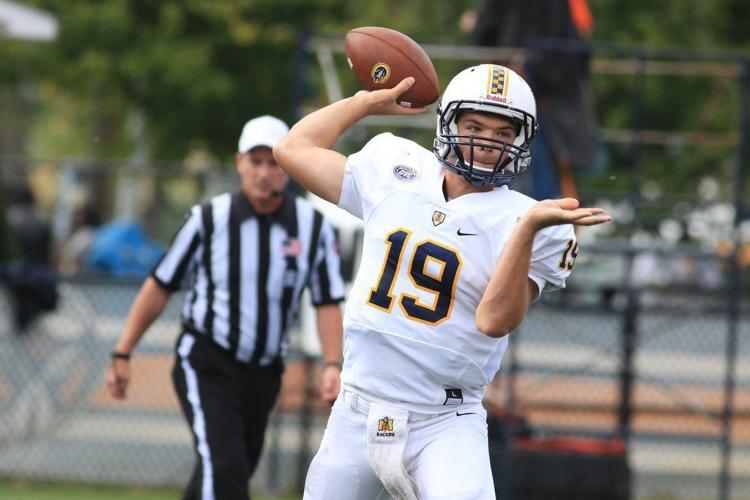 "I was coaching the boys, I felt like it was such a good community event, we had the system rolling … I felt like we had a mission to be there. I never saw myself as anything other than the coach at Byrnes High School," Bobby said. "I literally had no other goals other than to be coach at Byrnes and to win championships."
Yet after the 2006 season, the phone rang. Presbyterian College, Bobby's alma mater, wanted to know if he'd be interested in coaching the Blue Hose. Not an assistant, like other schools had proposed, but as head coach.
He never thought he wanted to be a college coach, but that was intriguing.
But he and Paulette's family were all around the area, Chas had just finished his first year quarterbacking the Rebels while Shuler and Jake were in the system.
"Shuler was in middle school, and he said, 'If you take that job, I'm not leaving, I'm moving in with the neighbors,'" Paulette said.
Bobby compromised. He took the job, but the family didn't move. He commuted to Clinton every day.
Second quarter
The first year was a great season, but coaching at PC wasn't what Bobby thought it would be. He resigned and came back home after a second season, serving as the school district's athletic director while still calling plays Friday night as a Byrnes assistant.
That lasted three seasons as Shuler completed a record-setting career, then Bobby was re-hired as head coach when Jake was a freshman. He was back doing what he meant to do, and had already turned down another college job.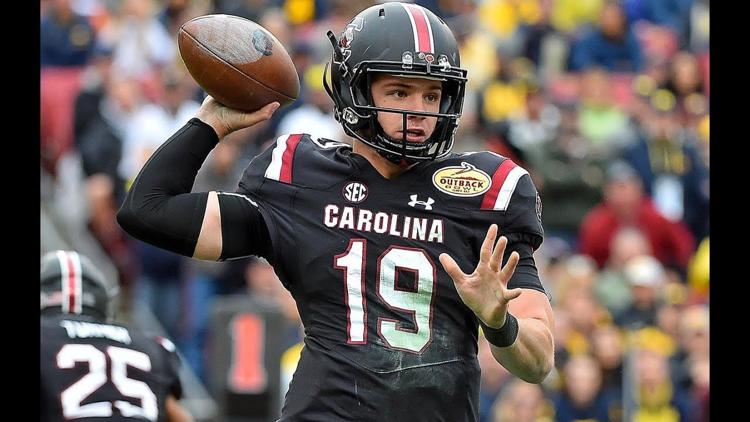 Bobby and Auburn head coach Gus Malzahn were close friends from their high school coaching days and Malzahn offered Bobby a gig in 2012. Bobby turned it down — it wasn't the right time.
But Auburn played for the national championship that season and Bobby turned to Paulette while watching the game. "If this opportunity comes up again, we have to take it," he said.
It did. Chas was at Rutgers, Shuler at ODU, and Jake was coming off a knee injury that ended his freshman year at Byrnes.
But it was a big opportunity.
Third quarter
"Growing up, I was the ball boy, running on the field. I always thought, 'I want to be Willy Korn, I want to be Chas and Shuler,' Jake said. "It did sting a little bit, because our whole lives revolved around Byrnes. You want to be the guy, eventually."
The family moved to Opelika, Ala., the neighboring town to Auburn. Bobby was an offensive analyst, Jake was an up-and-coming star and Paulette, Brooks and Emily were discovering a new town and new friends.
"The first day of school, especially, getting your classes, sitting there with no one to talk to, it's nerve-wracking," Brooks said. "All of a sudden, you meet your friends and it's really nice to be there."
"Our two years in Auburn were really good," Paulette said. "Opelika is a small town, so it was a lot like Duncan, Lyman … a lot like Byrnes."
Things were good. Jake became a top prospect going into his junior year and the family had settled. After the 2014 season, Auburn added another coach to its staff — defensive coordinator Will Muschamp.
Bobby's role as analyst didn't allow a lot of on-field coaching, even at practice. Yet no one could keep him from instructing players on his own time, such as the youngster who wanted to watch his dad coach.
Jackson Muschamp was always around the field and Bobby started working with him, teaching him the drops, the steps, the release that put his own sons into the most visible role on the field.
Will noticed.
Fourth quarter
The season was merely OK. Auburn was a decent team but nothing like the squad that had run to the national title game two years previous.
Jake was lighting it up at Opelika, and Chas started coaching at Opelika. Bobby liked his job but missed all that came with being a true coach.
The phone rang early one Sunday. It was Muschamp, who left Auburn after a year to become South Carolina's new head coach. He remembered how Bobby had mentored his son during the year and asked him if he'd like to keep doing so — with 100 other Gamecocks also available for him to teach.
"If I don't get that connection, he doesn't take that chance and doesn't make that call. He hired me without a position," Bobby said. "All I knew was I was getting to come home."
Chas landed a job as a graduate assistant in the Gamecocks' strength program. Shuler was still in college, Brooks and Emily loved the idea of going back to South Carolina.
That only left Jake, who still had a year of high school ball.
"He got the job here and to make Mom choose between being with me in Opelika or here in Columbia with the rest of the family didn't feel right to anybody," Jake said. "I was only going to be in high school for six more months, why not just take the leap?"
Jake committed to the Gamecocks and gave up his final year at Opelika soon after. He was starting for USC midway through the next season.
Next game
"We played apple relay at midnight this past Saturday. You know where you hold the apple under your chin and pass without using your hands," Bobby said. "It was after Shuler's graduation party, in the living room."
A week later there's still a debate. Bobby says his team won. "No, no," Jake protests. "I came around the back of the couch and you dropped it."
It's like being in the backyard again, throwing spirals. There's a sand volleyball court that Emily owns out there now and a basketball hoop in the driveway.
"We play cards, board games, anything to compete," Jake says. "I beat him in Fortnite all the time," boasts Brooks, chiding his brother's outdated Xbox.  
Jake's on campus most of the year, Chas has his own place downtown. The rest of the family (save Shuler at Murray State) is in Lexington.
Byrnes is 90 minutes away. Friends are all over, and the Bentley name continues to evolve.
The scheduling is still tough with so many games and travel plans, but at least the family is mostly together. That's been the most important part — football made family possible, but family won't be forsaken for football.
"That's the real job. Right now I'm trying to schedule a vacation and I can't do it. The twins are in middle school and they have their sports, Bobby and Chas and Jake have to be back for workouts and football camp," Paulette said. "But we are so grateful to be back in the state of South Carolina."
The waiters began clapping and brought out ice cream with cake for Paulette. It was her birthday.
The hands she held around the table were the present.