The blue marlin struck at 12:59 p.m. on a blazing hot day in the Atlantic Ocean, somewhere off the coast of Georgetown.
The fish hit on the right short line, and was soon leaping rapidly across the surface of the water.
"One of the guys was right there on the rod," said Mackenzi Truluck, who was aboard the Tina's Trippin', a boat entered in the annual Georgetown Blue Marlin Tournament earlier this month. "He set the hook and handed me the rod, since I was the lady angler in the boat.
"I got in the chair and started cranking."
It was not the first marlin for Truluck, a 17-year-old rising senior at First Baptist School. She's been fishing offshore since she was six years old, and had previously hooked two or three marlin.
"I like to be able to go out there and think about nothing but fishing," Truluck said.
On this day, Truluck had some eight hours to think about nothing but fishing. With her father, Brad, among the five on board, Mackenzi battled the marlin for hours on end, through sunburn, soreness and fatigue.
"She jumped out of the water right when she got hooked, and started greyhounding," Mackenzi said. "She greyhounded again, but then she got trail-wrapped and headed straight to the bottom."
With the line wrapped around the marlin's tail, the boat's captain, Brett Wood, tried several tactics to bring the fish up.
"We had to try a bunch of different things," Mackenzi said. "We were fighting the current, then we tried circling her to bring her up. Then we figured out we had to back down as close as we could to the line and start reeling and reeling, and then do it all over again."
After an eight-hour brawl with the fish, Mackenzi got her up only to suffer heartbreak — the blue marlin was three inches short of the 105-inch limit to bring in a marlin in the S.C. Governor's Cup.
"You could tell she was a fat fish," Mackenzi said. "When she jumped, we thought she'd be long enough, but she was three inches too short."
Still, the experience will go into the memory bank as some of the most fun she's had on the water.
"It's fun to fight them," she said. "You can catch dolphin or other fish all day long, but when you catch something you rarely see, it's a lot of fun."
Billfish such as blue marlin, white marlin and sailfish are just some the South Carolina saltwater fish that will provide the fight of a lifetime. Here are seven others that will make you earn it:
Spadefish
(State record: 14 pounds, 2 ounces)
"Pound for pound, the hardest fighting fish you will catch around here is the spadefish," says Capt. J.R. Waits of Fish Call Charters (fishcall.com). "They fight as hard as any fish out there."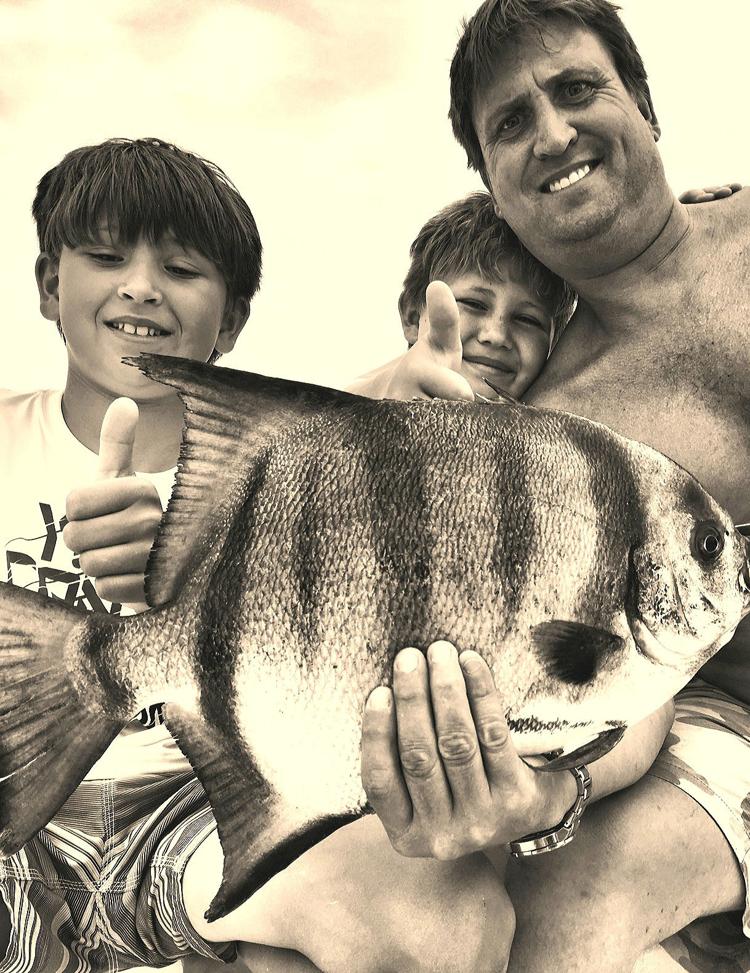 Spadefish average five to seven pounds, and are best caught on light tackle about 10 to 15 miles out over offshore wrecks or reefs.
"They will peel-drag you like crazy," Waits said. "They will try to take you down to the wreck or the reef. And if you can't stop them, they will break you off."
Tarpon
(State record: 154-10)
Along South Carolina's ocean inlets, tarpon can grow up to 150 pounds.
And when they hit, they will let you know it.
"Ninety-eight percent of them will jump in the first 30 seconds," said Waits. "It makes it extremely exciting. And more than half the time, that first jump is when you lose the fish."
Tarpon are known to jump as high as 10 feet above the water.
"We say you have to 'bow to the silver king,'" he said. "Every time he jumps, you have to point the rod at him and give him some slack, so that when he jumps and shakes his head, he's not going to break the line.
"If you pull back while he's jumping, you are more than likely going to lose him."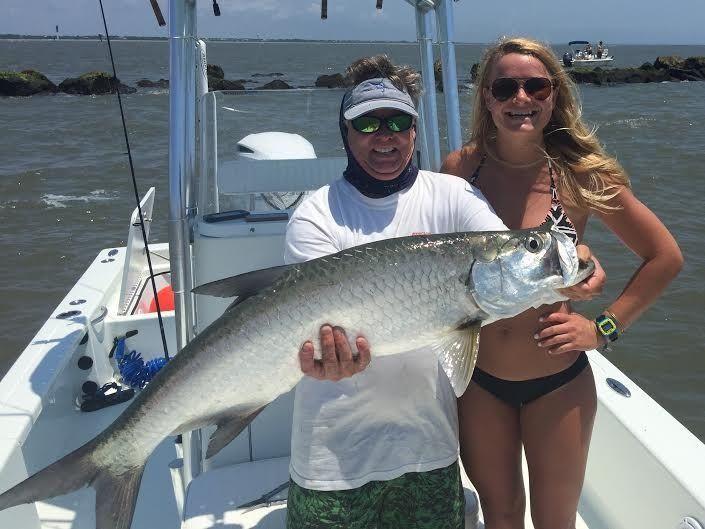 Wahoo
(State record: 130-5)
Known as the "fastest fish in the ocean," wahoo make for a thrilling initial rush and a delicious dinner, as well.
"When you get one, if you don't see the bite, you'll think it's a marlin or a big tuna," said Capt. Mike Glaesner, who runs the Sportin' Life out of Toler's Cove Marina, near the Ben Sawyer Bridge to Sullilvan's Island. "The first run is like nothing you'll ever see.
"They burn a bunch of line up and can get up to 60 mph. But they don't have a lot of stamina like a marlin or tuna, so the first run is the exciting part. They also are one of my favorite fish to eat."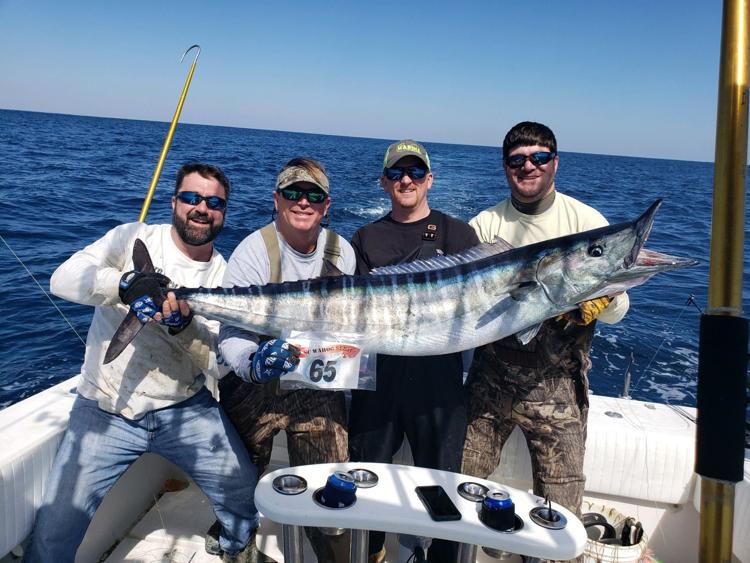 Wahoo, along with dolphin (mahi mahi), migrate closer to shore during the summer. Glaesner said anglers are having good results with "high-speed trolling" at up to 14 knots.
"Wahoo are very aggressive fish, and the high speed triggers something in them," he said. "And you seem to catch more big ones doing it that way."
Jack crevalle
(State record: 40-1)
The jack crevalle is a powerful, predatory fish that can be caught in Charleston Harbor, according to Waits. They usually range from 20 to 40 pounds.
"Inshore, the jack crevalle is the hardest fighting fish," Waits said. "They fight like most jacks. They go straight down and it's a tug of war.
We've had people fighting them for over two hours, so it can be a lot of fun."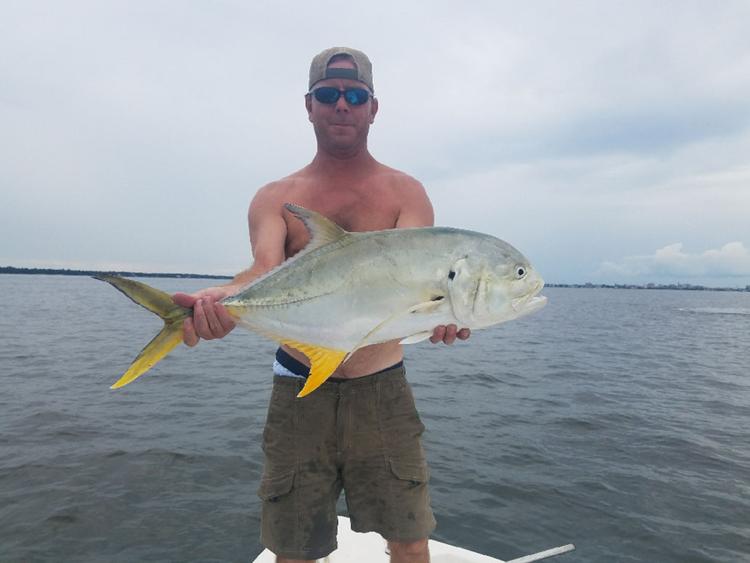 Amberjack
(State record: 123-0)
Near the shore, the next step up in size from the spadefish is the amberjack.
They usually range from 20 to 50 pounds, according to Fish Call's J.R. Waits, and live on the same wrecks and reefs as spadefish, though they can also range into deeper waters. They hit hard and go deep, and are know for their fighting stamina.
"They will do the same thing as a spadefish, grab the bait and head straight down to the wreck to break you off," Waits said. "When you are fishing for amberjacks, you've got to use a real tight drag. And all your knots better be up to par, or you will lose them."
King mackerel
(State record: 62-0)
Fishing for kings is up and down in the summer months, but big kings of up to 40 pounds can be found in nearshore waters outside bays and sounds. Light drag settings are important for landing the biggest kings (called smokers), because the fish's fast first run will break a line of pull the hook.
Kings are known for their speed and willingness to fight, and they taste good, too.
Anglers often say that kings attack the bait "like a missile," and they can run out 100 to 200 hundred yards of line in the first 30 seconds. And they taste good, too.
Dolphin/Mahi Mahi
(State record: 77-5)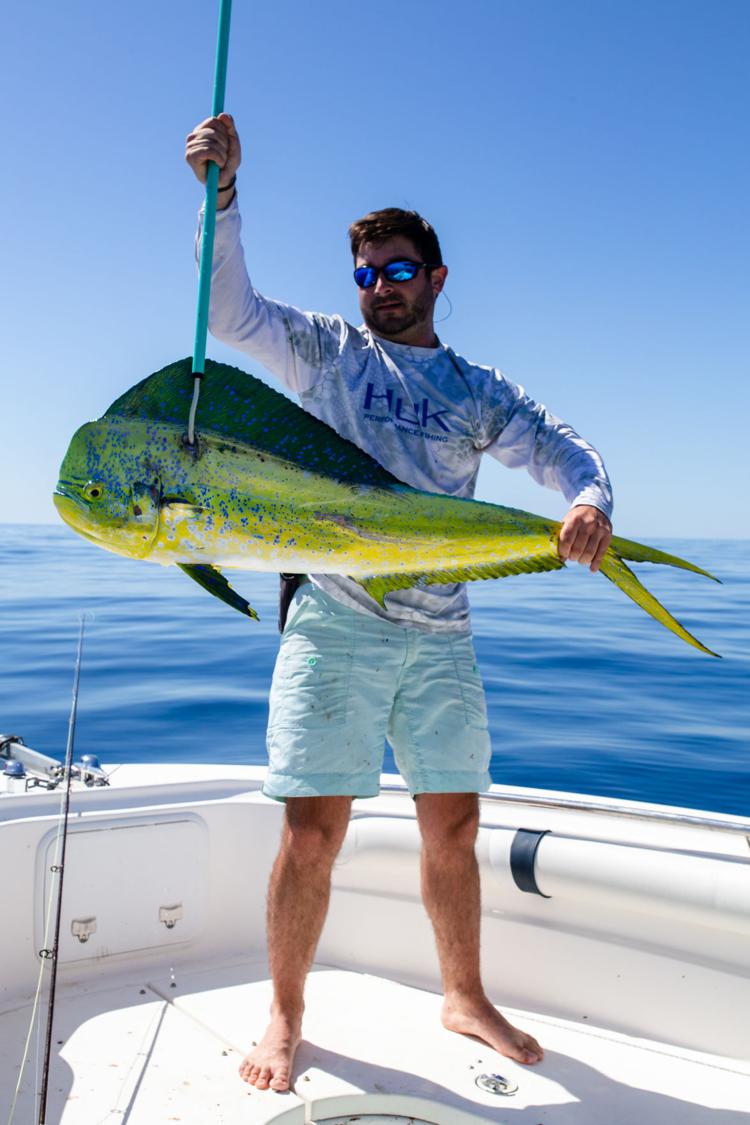 Not known for their discretion, mahi have a reputation as "the most stupid fish in the ocean" and will hit almost anything. That makes them easy to catch, but that doesn't mean they won't put up a fight.
They are an acrobatic fish, with eye-catching blue and green scales, and can turn the moment of catch into an adrenaline rush.
"The bite is real fun, because they jump and get up in the air a good bit," James Island angler Steve Leasure says.
It's not over when they are in the boat, either.
"They can be pretty rambunctious at times," Leasure added. "As you're getting them subdued, the larger ones can be pretty entertaining."