By the time he was 10 years old, he had won money in a professional surfing event. By 11, he had secured sponsorship from a major surfing equipment company. By high school, he was earning more than some of his teachers. Soon after graduation, he moved to the West Coast.
Today, Cam Richards can walk into surf shops in Huntington Beach, Calif., and see giant posters of himself.
"That's kind of what drove me as a kid. I wanted to be on the posters, to be in the mags, to be in the surf shops, that kind of stuff," said Richards, from Garden City, a coastal town south of Myrtle Beach.
"It's very surreal. It's very weird to me."
The climb to the top ranks of professional surfing is an arduous, expensive undertaking that attracts aspirants from not just across the country, but around the globe. From a Palmetto State perspective, no one has made it further than Richards, who competes on the World Surf League Qualifying Series, one step below a Championship Tour that represents the sport's biggest stage.
He got there from the Grand Strand, which isn't the capital of surfing in South Carolina — a title that belongs to Folly Beach. But despite producing dozens of competitive surfers who have become well-known up and down the East Coast, the Charleston surfing scene has yet to cultivate someone who has truly broken through to the top professional ranks.
Some were simply unwilling to leave behind their lives in Charleston, or couldn't afford to undertake the exhaustive travel schedule the top tours demand. Others were unable to cobble together enough sponsorship money, despite clear natural talent.
"It's a really hard row to hoe, man, especially being from the East Coast like Folly Beach," said Glenn Tanner, long one of the area's top surfers. "You have to do a lot of traveling and have a lot of sponsorship behind you to make it work. Because it's kind of costly. A lot of guys pursued it and did really well, but not many guys really made it to the big time."
Several have tried, among them Kyle Busey, widely considered the best surfer Charleston has produced. "He's the one guy who could be a pro on the world tour. He's that good," Tanner said.  Busey won a junior longboard national championship at age 14, and has several state, regional, and East Coast crowns to his name. He chased the professional dream on both the East Coast and West Coast tours, and found the pursuit frustrating.
"I lived in Hawaii, I lived in California three times, I've been to France. You name it, I've done it," Busey said. "I've paid my own way, I've slept under bridges, I pawned surfboards to buy plane tickets. I got the results, I got the exposure in videos and magazines. But from an industry perspective, no one wants to invest in a tall, quiet kid from Folly Beach. They just don't want to do it."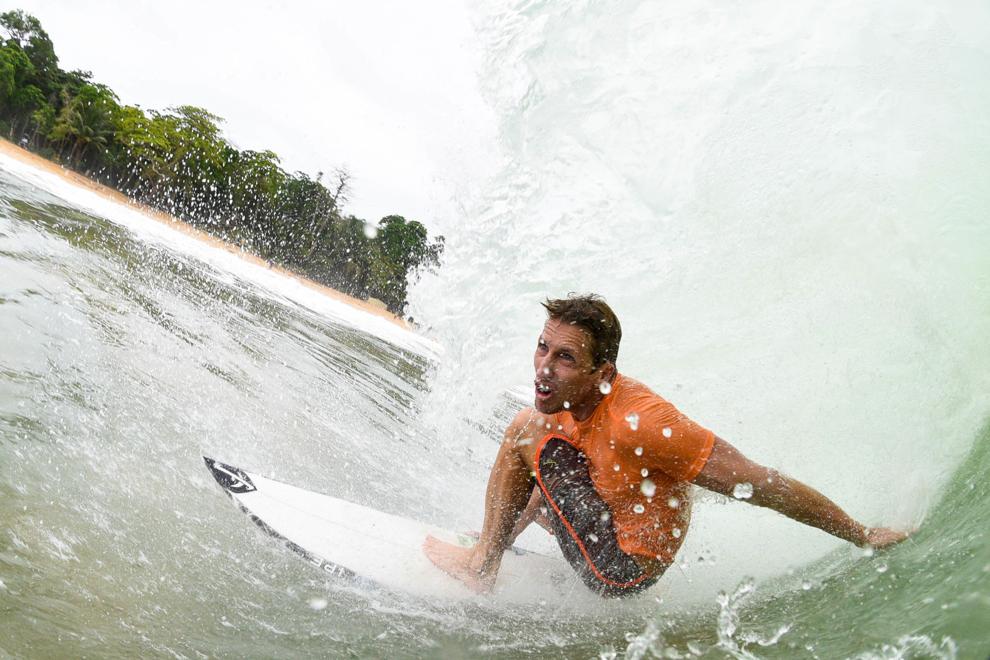 The travel is not for the meek. Busey, who now owns Carolina Salt Surf Lessons, estimated it costs $50,000 a year to pursue the dream of surfing on one of the world's top tours. The series on which Richards surfs competes from South Africa to Australia to Chile to Portugal. By the time he was in high school, Richards had already been to Indonesia, Costa Rica, Puerto Rico and Hawaii, exposing him to much larger waves than those off the Palmetto State coast.
"His passport looked like a dartboard when he was in ninth grade," said his father, Kelly. "Cameron knew that it was a window of opportunity."
Although local surfers often receive backing from area surf shops, Charleston doesn't have enough surf industry to fund the kind of travel it typically takes to get discovered by a major surfing equipment company. "It just comes down to local industry in our area, and support. There's hasn't been any," said local surfer Chad Davis, co-owner of the Carolina Surf Brand apparel company.
"There are some guys who are sponsored, but not at a high level," added Ed Budolf, an area surfer, board-builder, and real estate agent. "Nobody's giving you any money to (travel). Coming up with all the money is hard for a young guy. Obviously, he has to surf all the time. It's hard to have a full-time job and surf all the time and travel. It's expensive."
That puts much of the financial onus on parents or the surfers themselves. "The industry is not putting the money back into advancing these young kids. It's more up to the parents," said local surfer Marshall DePass, director of the Eastern Surfing Association district that covers the Lowcountry. "... Kyle (Busey) is a perfect example of having to scratch and claw to do it himself."
A fact Busey knows all too well. "You have to have a wealthy family or a well-paying sponsor to even think about doing it," he said. "And I have none of those things."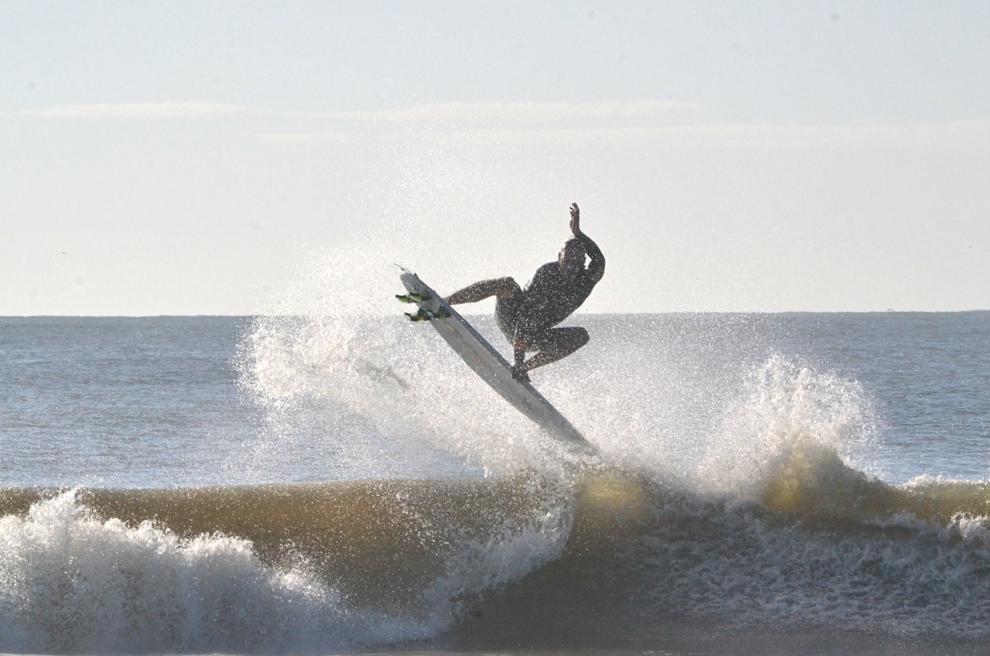 Raised on 'subpar waves'
By South Carolina standards, the waves off Folly Beach are the best. By the standards of California, Hawaii, or Australia, they are mere ripples in a pond. That unalterable fact would seem to limit Charleston surfers with professional aspirations, given that they aren't naturally exposed to the bigger waves seen in other parts of the world. And yet, the opposite might be true, according to locals who believe our "junky waves" force surfers to become more technically sound.
"When you have to work harder, you improve," said James Island native Todd Youngblood, who competed in roughly 40 professional contests on the East Coast and in the Caribbean. "If you live in Hawaii and surf good waves every day of your life, it's almost easier to take them for granted, and you don't have to work as hard."
Perhaps it's a local bias, but at the same time, it's a belief shared by many surfers who call the Charleston area home. The break at Folly is fast and steep, and "you have to know what you're doing to get waves," said surfer Colin Peterson, who moved to the area from coastal North Carolina five years ago. "Otherwise, you're just going to get walloped. It's a tough way to surf, but if you can figure it out, it's really fun."
There's no better example of how little waves can make a great surfer than the greatest ever — Kelly Slater, the 11-time world champion universally regarded as the best ever to wax a board. Slater grew up in Cocoa Beach, Fla., where the waves might be a little better than those at Folly, but not by much.
"Their waves are not much better than ours," Youngblood said. "At an early age, (Slater) did get to start traveling. But he spent a lot of time in what most people would consider mediocre-to-worse waves in Florida, compared to some parts of the world. You've got junky waves, and the best guy ever."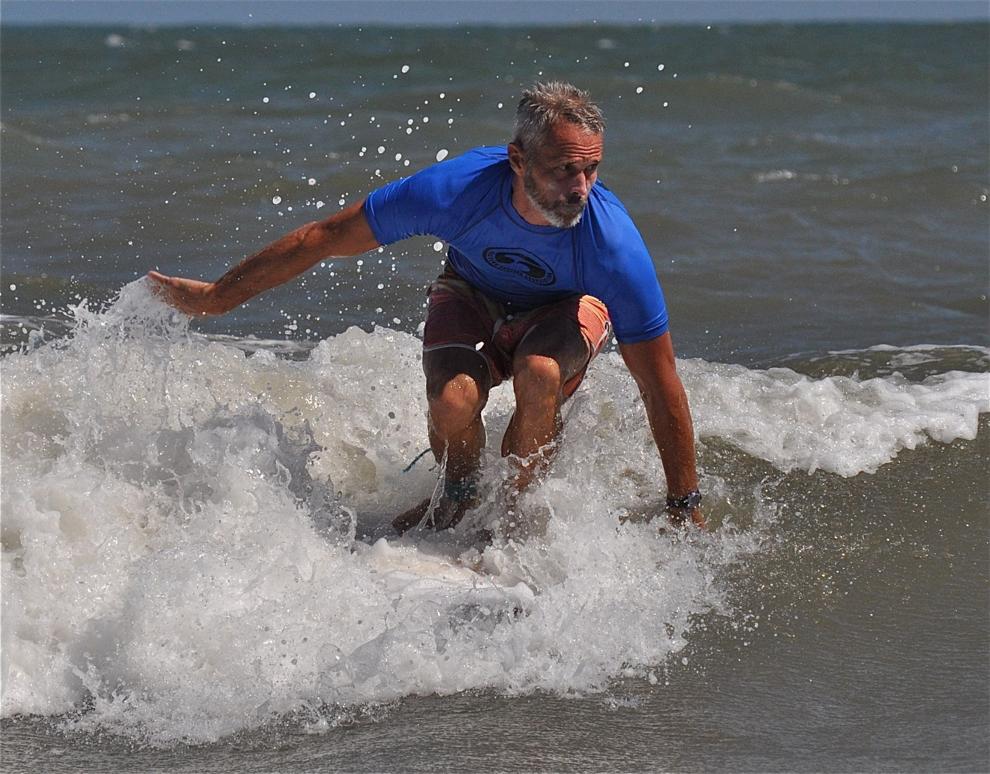 Tanner, who can recall once seeing an 11-year-old Slater at the East Coast championship at Cape Hatteras, N.C., agreed. "I think that's why Kelly got so good," he said. "He honed his skills riding crummy waves, and when he got to California, he was like — man, this is easy."
It was the same for Richards, raised on Grand Strand waves that, well, let's just say they'll never be confused with the 30-footers at Mavericks. "Myrtle Beach is considered by some to have the worst waves on the whole East Coast," Youngblood said. Even Richards' father, who owns a surf shop and a board-building company, agreed.
"It is what it is," Kelly Richards said. "There are no waves here."
And yet, his 22-year-old son still broke through.
"You have to learn how surfing works a lot more, and you're having to put more work on yourself when you're actually surfing," Cam said from Los Angeles, where he now lives. "Whereas when you're surfing big waves, the waves do the work for you in a way. So you learn everything on such small waves, and when you're on big waves it makes it easier and more fun."
As with Slater, the key for Richards was that he didn't continue to surf on crummy waves forever. Kelly Richards, in many ways the godfather of Grand Strand surfing, regularly traveled with his sons to West Coast competitions and took groups of young surfers to places like Costa Rica and Puerto Rico to expose them to larger waves. Richards had backing from Billabong at age 11, and moved to L.A. after high school.
"He had the combination of talent, and a parent that traveled," said Budolf, who is friends with Kelly Richards. "Out in California, there are families where it's like granddad was a pro surfer, and dad was a pro surfer, and … everybody traveled. That's just what the family does. Cam has a real natural ability fostered by travel. And his dad built surfboards, so there was plenty of equipment available."
Slater, meanwhile, benefitted from a surf industry in Cocoa Beach that's the most established in Florida — as anyone who's seen all those Ron Jon Surf Shop billboards on I-95 can attest — and was able to secure local backing until Quiksilver snapped him up.
"They had the big bucks, and started helping him travel to bigger and bigger contests, and the rest is history," Tanner said.
It all comes back to sponsorship, and money, and being willing and able to travel. The waves at the Washout may make a surfer technically sound, but the first step on a potential pro career is putting those skills honed on Folly Beach to use on bigger waves elsewhere.
"When you're born and raised around subpar waves, you almost know how to utilize good waves better than the guys who grew up on them," Busey said. "The East Coast has pumped out so many good surfers, some of the best in the world. But it's crucial that you get out of here and experience all kinds of waves all around the world. Charleston is great, but in terms of trying to take your surfing to the next level, you kind of hit a wall."
'He just kind of had it'
Every year, Kelly Richards took his sons Cam and Cole to the National Scholastic Surfing Association National Championships in Huntington Beach, Calif., and every year both kids would get waxed. "They would get last place in their first heat," Kelly recalled. Every time on the flight home, Richards asked his sons if they wanted to go back the next year. Every time, they said yes.
It was among the steps that helped Cam blossom into the surfer he's become, further evidenced when as a 15-year-old he went back to Huntington Beach and became the first East Coast surfer since 1978 — and only the second ever, behind fellow Grand Strand native Mark McDandel — to win the NSSA Men's Open crown. That same year he won a number of contests in California and the Quiksilver "King of the Groms" event in France against surfers from around the world.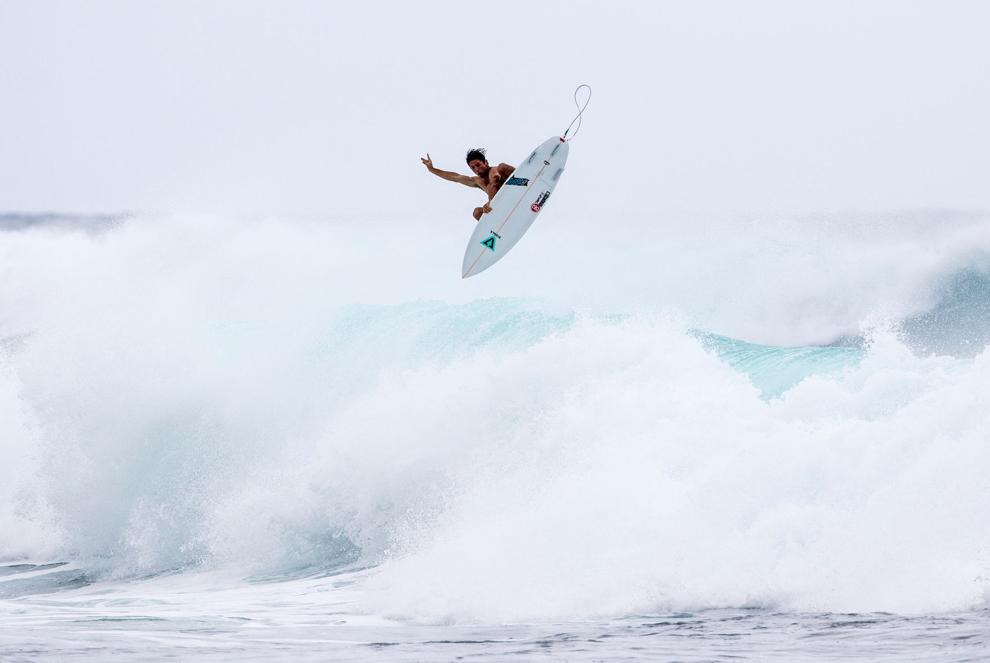 It was all a precursor to February, when Richards turned heads with a perfect 10 after a dramatic pipeline run in a World Surf League Qualifying Series event at the Banzai Pipeline in Hawaii. "Best two days of my life," he called it. He tore his ACL shortly afterward and was out of action the next six months, but his reputation on the world stage was solidified.
"You have to naturally have it … and he just kind of had it," said Youngblood, who once surfed for Kelly Richards. "His dad has been making surfboards, they own a surf shop in Garden City, so he's got a surf family. He had the right exposure to where he got help at the right time. But he had it, and that's what makes it possible. When you get on bigger waves around the world, your talent is going to show out."
The formula for Richards was straightforward: he secured sponsorship early, had the ability and willingness to travel, and the natural talent to back it all up. He first cashed in a pro event at 10 years old. "He went up to get his check," his father remembered, "and the lady said, 'No, hun, you don't get your T-shirt here.'" In high school, his dad made him hire a tutor — at Cam's expense — to make up for the missed class time due to travel, and ensure he maintained As and Bs.
"It seems weird when you're carrying your son to the airport, and he's going back to L.A. for one night, and then packing his bags to go to Hawaii, and then leaving from Hawaii to go to Australia," Kelly Richards said, "and he looks at you and says, 'Well Dad, I've got to go back to work.' You'd never think of going to Hawaii and going to Australia as work."
Cam had an early backer in Billabong, whose support Richards justified by dominating East Coast contests and then breaking through at the NSSA nationals. Kelly Richards said his son's big financial break came when an agent helped stoke a bidding war during contract renegotiations, netting Cam four times as much as he initially hoped to sign for. Cam's primary sponsor is now Vissla, a surf company formed by former Billabong executives, including South Carolinian Rob McCarty.
Richards is one of Vissla's top riders and is featured regularly in promotional material like surf shop posters and a recent video that shows Richards shooting a curl in Indonesia. But in the early going, the cost still often fell on his parents.
"If you're a parent of a traveling surfer, you'd better be ready to get your checkbook out," said Kelly Richards, owner of Village Surf Shoppe and Perfection Surfboards, both based in Garden City, and a former competitive surfer himself. His connections meant Cam typically had a friend's house to stay in wherever he went.
"What price is there on traveling and seeing the world with your kids?" Kelly Richards asked. "... When parents begin to complain about the money, I tell them, 'You're not going to regret one dime of that on your deathbed, because you had great times with your kid.'"
Cam Richards is the first to admit that his father was a huge help in his career. But he also battles the perception that it all came easy because of his last name. "I think a lot of people have a misread on me, and think it was all handed to me, and all that stuff. I went to high school, I did all that stuff, and I worked my ass off," said Cam, who won a WSL Qualifying Event in Australia last year.
"My dad did so much. He helped me and my brother so much. Without him, we would not be where we are. But my dad was always strict. If we didn't have to miss days of school, he wouldn't let us. He made sure we made all As and Bs. He knew that you needed a backup plan. That's the good thing about coming from where we come from — we have reality where we live."
'Cam has proven it can happen'
It's a big weekend for surfing, both at the Washout and on the West Coast. Sunday marks the finale of the South Carolina Governor's Cup at Folly Beach, the marquee surfing event in the Palmetto State. On the same day in Huntington Beach, Calif., the World Surf League will conclude the Vans U.S. Open, one of the crown jewels of the sport's top circuit.
Richards reached the final 16 in the U.S. Open Qualifying Series event, his first contest since tearing his ACL and meniscus days after his perfect 10 at Pipeline in February. He still hopes to accrue enough points to be one of the 10 riders promoted to the Championship Tour at the end of the season. Only a surfer's best five results count, and the U.S. Open was one of five remaining events offering a maximum point total.
"I want to make it on the world tour to really make it," Richards said, "and to show it is possible."
His success is not lost on those at Folly Beach, where Charleston's population explosion has led to a surfing boom particularly noticeable among youths and girls. DePass looks at all the promising young surfers competing under the ESA banner — including former East Coast All-Stars Cory Jackson and Olivia Dilling, both of Charleston — and believes it's only a matter of time before someone takes that big step between the Washout and the world.
"I definitely think it will happen," he said. "It's the dream, but that dream happens for less than 1 percent, because (surfing) is all throughout the world."
Indeed, the surfing world is bigger than ever thanks to the internet and social media. WSL events are broadcast online, and a surfer can make figurative waves throughout the industry with one timely YouTube post. While excelling in competition remains the gold standard, surfers now are finding other ways of getting noticed. "People are getting sponsorship off Facebook," Youngblood said. "It's changing rapidly."
But it's changing just as quickly for aspiring pro surfers in Australia, Brazil, Europe and Polynesia as it is for those at Folly Beach. "Cam has kind of proven it can happen from here," Youngblood said. "… But the rest of the world has the same thing happening. You have kids in Tahiti that have never been noticed that are doing the same thing. So from that standpoint, it's almost harder."
Contact David Caraviello at david@lowcountryeditorial.com.