Mother Nature hit the shot of the day at the U.S. Women's Open on Friday, as a lightning strike split an oak tree along the 18th fairway at the Country Club of Charleston.
"That was really scary, and that was the first time I saw lightning hit that close," said Japan's Mamiko Higa, the leader at the (almost) halfway point of the oldest major championship in women's golf.
Neither lightning bolts nor a two-hour weather delay nor major championship pressure could rattle Higa, who came back from the delay to birdie her final hole and take a one-shot lead over American Jessica Korda.
Higa's 14-foot birdie putt at the par-5 ninth hole in near darkness put her at 65-71—136, a shot clear of Korda and two ahead of American amateur Gina Kim.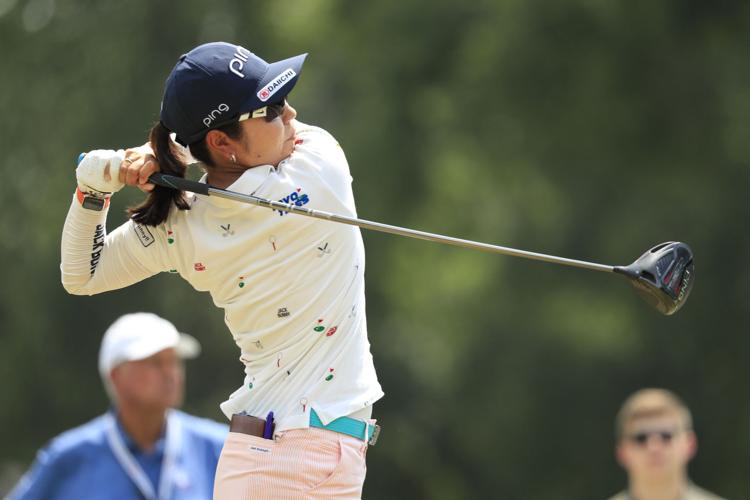 Forty-five players were still on the course when play was suspended due to darkness. The second round will resume at 7:15 a.m. Saturday, with the third round to follow. The projected cut is at 3-over par.
Among those still on the course are Americans Lexi Thompson and Nelly Korda, both at 3 under for the tournament. Another American, Jaye Marie Green, shot a 3-under 68 to join a group of four tied for fifth at -3 that included Jeongeun Lee6 of Chinese Taipei.
In danger of missing the cut are defending champ Ariya Jutanugarn (+2 through 16) and Americans Paula Creamer (+4) and Emma Talley (+5), who won the U.S. Women's Amateur at the Country Club in 2013.
Two-time Open champ Inbee Park missed a one-foot putt for bogey at No. 16 and settled for a second straight 70, good for 2 under.
Higa, a 25-year-old from Okinawa, fired a 6-under 65 on Thursday, the best score ever in an Open debut. But she claimed to feel no pressure before her round Friday, and had her score to 7 under at one point on Friday.
The birdie at 9 was big, but so was the fact that she finished the second round and will not have to get up early to play Saturday.
"I was really happy, because I could finish up a tough day with a birdie," she said. "I feel very lucky I could finish up 18 holes today so I can recover well for tomorrow."
Jessica Korda played before the weather rolled in and charged up the leaderboard with a 3-under 68, making three birdies and no bogeys.
"I was pretty happy to see the wind wasn't pumping 20 (mph) today," she said. "Sometimes it would die down, and sometimes it would pick up, so it was a little hard to guess at times.
"But I still played pretty conservatively. I wouldn't really say I was being too aggressive. I was trying to be more aggressive on the par 5s, where I could take advantage of it."
Duke freshman Gina Kim also kept her cool after her late fireworks show on Thursday boosted her to a 5-under 66. She backed that up Friday with a 1-over 72, good enough for a third-place tie with Frenchwoman Celine Boutier.
Kim admitted she had trouble sleeping after her eagle-birdie finish on Thursday vaulted her into contention.
"Oh, God, my phone blew up," said Kim, who won the NCAA title with Duke last week and is playing in her second Open. "Like 30, 40 people. And then Instagram, Snapchat, Twitter, text messages. Some even sent me emails, yeah."
Kim got off to a shaky start with two bogeys in the first four holes but kept control with two birdies on the back. She let a shot get away with a three-putt bogey on 18.
"At the end of the day, it's just one bogey. This is the U.S. Women's Open. Pars are good. Bogeys are OK."