Matt Heath arrived to work Friday morning on the campus of the University of Tennessee-Martin and went about the business of making the Skyhawks' pitching staff one of the best in the Ohio Valley Conference.
It's been almost 18 months since Heath was fired as the College of Charleston's head baseball coach for alleged verbal and physical abuse of his players.
Since being hired as the pitching coach at Tennessee-Martin in August, the father of two has turned his full attention to his new position and rarely thinks about his days in the Lowcountry.
"I've moved on," Heath said.
But the legal wrangling between Heath — who filed a wrongful termination suit against the College of Charleston in July 2017 — his former boss, athletic director Matt Roberts, and the school continues to this day.
"As a general policy, the College does not comment on pending litigation," Mike Robertson, the school's senior director of media relations, said in an email. "As stated in public court filings, the College properly terminated its former employee on June 30, 2017."
Despite reaching a settlement back in November that would pay Heath $166,000, the two sides are still embroiled in a legal battle that has no end in sight. Motions and counter-motions have been filed in federal court and accusations have been made from both sides in the media as Heath and College of Charleston dig in for a case that could eventually be settled by a jury in a court of law.
"I generally have found that people who try their cases in the newspapers are afraid to try them in court," said Allan R. Holmes of Gibbs & Holmes, who is representing Heath.
At the heart of the case is Heath's claim that he was fired so Roberts could hire Chad Holbrook, the former head baseball coach at South Carolina and a close friend. Roberts and the school have countered that Heath was fired for "just cause" for his alleged physical and verbal abuse of his players that created a "toxic environment" for the two seasons he was the Cougars' head coach.
By finding "just cause" to fire Heath, the college is not required to pay the remaining three years on his contract, worth about a half-million dollars.
Heath, 39, was 59-57-1 in two seasons as the Cougars' head coach from 2016-2017. The team was 28-31 during Heath's final season in 2017, it's first losing season since 2001.
The investigation
The school's key evidence in the case comes from its investigation into Heath and the program during the summer of 2017.
In June of 2017, the school hired attorney David E. Dubberly of Nexsen Pruet to conduct an investigation into Heath's conduct as head coach.
The investigation resulted in multiple allegations of misconduct by Heath, including:
• During the 2015 season, when he was an assistant coach, Heath pulled an unidentified pitcher "up by his neck" in the third base dugout after a poor performance and started yelling at him. Heath allegedly imitated a sex act by "repeatedly thrusting the mid-section of his body against the pitcher and said that this was what the hitters were doing to the pitcher."
This incident was referred to by team members as 'the humping incident.'
• As the Cougars head coach in 2016, following a loss to Elon, Heath screamed at pitchers on the team's charter bus and kicked a cooler down the aisle and off the bus toward the team's hotel.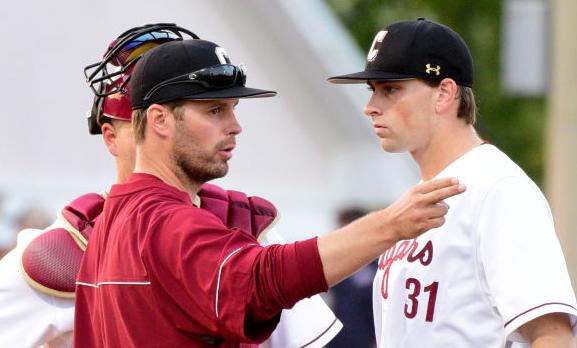 • Also in 2016 after a loss to James Madison, Heath ordered players to run from foul pole to foul pole in the outfield. Several players vomited, according to witnesses, and one player collapsed.
"Do you think that just because he passed out we're going to stop? Keep running," Heath is alleged to have said.
The NCAA forbids any kind of conditioning or organized instruction immediately following a game.
• Witnesses said that Heath would require players to practice on Mondays, which was the team's day off. According to the report, coaches suggested that players attend the workouts and monitored attendance although they were called "voluntary." Players that did not attend were penalized, the players said.
NCAA rules require student-athletes to have at least one day off each week.
• During fall practice in 2016, Heath humiliated a catcher who had a few "passed balls" by making him get on all fours, picking up his ankles, and "wheelbarrowing" him around the field.
"If you won't get your legs strong, we'll get your upper body strong," Heath is alleged to have said.
• Heath made fun of and discussed players' health issues in front of other players. He made the players do bear crawls and wrestle each other, which resulted in injuries.
• Heath cursed at players and used abusive language toward his players.
• Heath repeatedly threatened to revoke scholarships based on performance, which is against NCAA rules.
• One player said he always felt like 'dying' as he crossed the Ravenel Bridge from downtown Charleston to Mount Pleasant for practices or games at Patriots Point.
Dubberly interviewed nearly 30 players, coaches and staff members during his investigation.
Two staff members told Dubberly that:
• Coach Heath's conduct on the bus at Elon 'crossed the line' and was not acceptable.
• His making kids run after the James Madison game violated NCAA rules and was excessive.
• His use of personal insults towards student-athletes is inappropriate and is not an effective motivating tool.
• He may mean well, but sometimes he gets too frustrated and carried away.
Heath Supporters
Heath submitted a written reply to Roberts and college president Glenn McConnell objecting to the findings of the Dubberly investigation, saying the report was "biased" and that he never had a chance to produce "evidence" or witnesses at a hearing or have a "face-to-face" meeting with McConnell, who has since retired.
Heath contends the investigation by Roberts was "designed for one purpose only" — to end his tenure as head coach in "bad faith" no matter the cost and not to uncover the veracity of the allegations of misconduct.
Heath, who has denied the allegations, had plenty of supporters. One of the court motions filed on Heath's behalf included almost two dozen "testimonials" from players.
Bailey Ober, the Cougars' top pitcher during Heath's tenure and a 12th-round draft pick of the Minnesota Twins in 2017, said many of the accusations were exaggerated.
"(Heath) has helped me grow up over the years," Ober said. "The No. 1 thing he preaches is becoming a better man and growing up. He develops kids into men that are prepared for the future. Everything is just being blown out of proportion. People who didn't play well are upset and looking at someone to blame."
Evan Sisk, who played for Heath for two seasons, said the investigation was slanted against the former coach. Sisk was drafted in the 16th round of the MLB Draft by the St. Louis Cardinals last summer.
"I felt like Mr. Dubberly was leaning toward the negative," Sisk said in an email. "He made it very hard for me to say anything positive about coach Heath because of how he worded the questions. I felt like all the questions I was asked wanted me to give a negative answer towards coach Heath, and, even when I would give positive answers I felt like that was not what Mr. Dubberly was looking for."
Case closed?
After more than a year of motions and arguments, the two sides agreed to a settlement in November.
The settlement was contingent on a forensic examination of Roberts' and Holbrook's electronic devices to determine if "there were any messages contradicting" the athletic director's sworn statement.
There were several phone calls between Roberts and Holbrook prior to Heath's firing, but Roberts said in his affidavit that he never discussed Heath's job status with Holbrook until July 1, 2017.
Roberts' phone was configured to keep messages for only 30 days.
Steve Abrams, a forensic expert hired by Heath's lawyers, found several text messages on Holbrook's iPhone between him and his father, Eddie Holbrook, that appear to contradict Roberts' sworn testimony.
Based on the new evidence uncovered by Abrams, Heath's legal team filed a motion to dismiss the settlement agreement, reinstate the lawsuit, and take the case to trial. The filing accuses Roberts of dumping text messages and lying in an affidavit.
The motion says that on April 17, 2017, six weeks before Holbrook resigned at South Carolina and three months before Heath was fired, Holbrook texted his father the following: "Matt Roberts is AD at CofC. I may go down there and coach a few years."
On April 19, 2017, just a day before South Carolina opened a crucial three-game series against nationally-ranked Florida, Holbrook and Roberts had a 19-minute conversation, according to phone records.
Abrams uncovered a text message on April 24, 2017, just a day after losing two of three games to Florida, from Holbrook to his father: "Don't say anything but Matt Roberts really wants me to come be his baseball coach at the College of Charleston, I'm thinking about it strongly. Please don't say anything."
There was a flurry of phone calls between Roberts and Holbrook when Holbrook resigned from his job at USC on June 6, 2017, according to the documents.
On June 26, 2017, four days before Heath was fired, South Carolina pitching coach Jerry Meyers texted his former boss (Holbrook) about the possibility of joining his staff or becoming the head coach at College of Charleston.
"Ok. Here are the scenarios," Meyers said in the text. "If you go to Vandy, I know you'll have a bunch of guys ask you to recommend them to Matt Roberts. I wanted to see if that happens if you would recommend me first or tied for first. If you go to CofC, I want to be on your staff, if you want me."
Heath's legal team is still trying to examine Robert's computer. A federal judge has given Heath a 60-day extension to file another motion and gather further evidence or the settlement agreement will remain in place.
Holbrook and Roberts declined to comment for this story.