The text message went out at 5:18 a.m., actually a little later than usual. As always, it contained two scripture references — in this case, one each from Leviticus and Matthew — along with a motivational message, this one from Christian author Max Lucado. By the time most recipients had read it, its sender had already studied the Bible, worked out at Crossfit and arrived at his office at Charleston Southern.
That's how the day starts for Autry Denson.
Every day.
"I think I've been doing that definitely over 10 years," said the Buccaneers' new head football coach. "I'm a very high-energy, up early person. It just started with my family, wanting to get them off to a good start. It morphed into more of a ministry."
Denson's text blast goes out in the wee hours of every morning — be it Christmas, weekends or game day — to dozens of recipients ranging from friends to family members to fellow coaches to current and former players to people he's never even met. It's one example of the faith that led him to leave his assistant's position at Notre Dame to move to an FCS school with a fraction of the resources, and not the first time he's taken a leap based on what he sees as a higher calling.
"As a faith-based school we have unique opportunities, and a unique niche," said CSU athletic director Jeff Barber. When he first spoke with Denson, "I said, 'I'm just going to get the elephant out of the room: Why would you leave Notre Dame to come to an FCS program?' He said, 'Jeff, I serve God, and I feel like God is telling me and my family to be there.' I'm a guy who believes the same type things."
Denson has made similar moves before, giving up a comfortable career as a financial advisor before getting into coaching at the high school level, then breaking into the college game with an unpaid position at Bethune-Cookman, all because he believed that was the direction he was supposed to take. Notre Dame's all-time leading rusher, Denson to outsiders has always been defined by football, even though it's clear the game doesn't define him.
"I told our players, don't be confused: This isn't a football program, this is an outreach ministry that has an important football component," Denson said prior to his first spring practice last month. "It is important, because the world speaks in wins and losses. We need that hook to get the message out. But at the end of the day, we'll win because they know we love them. They'll play hard for us. The good guys have to win, too."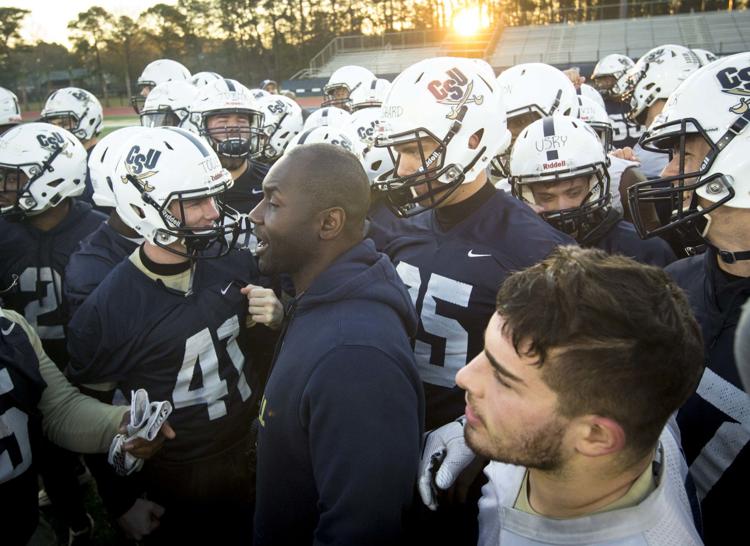 Football and faith
Sunday meant Sunday school in the morning, then church, then another service in the evening. There was children's church on Mondays, and Bible study on Wednesday nights. Religion was taken seriously in the Southern Baptist home in which Denson grew up. His mother, Janice Franklin, made sure of it.
"The rule in my mom's house was, if you didn't go to church, you did nothing the rest of the week. You were shut down from all activities," Denson said. "I like to say in the South, you go to the lord kicking and screaming until you can actually decide for yourself. But it's instilling that foundation, giving you those morals and values."
Faith and football are the twin threads that have intertwined throughout Denson's life, from his upbringing in Fort Lauderdale, Fla., to the announcement of his hiring at CSU on Jan. 13. Sometimes, the latter has required a little bit more of the former — such as when the running back recruit chose Notre Dame over Florida State, and arrived in South Bend, Ind., only for head coach Lou Holtz to list him as a cornerback prior to his first game.
He called his mother in tears, ready to come home. "Here's what I credit my mother for: it was never OK to quit. Ever," Denson said. "For her, transferring was quitting, because you prayed about this. I was crying, man. I remember that day."
It all worked out — Denson rushed for 4,318 yards with the Irish, a record that still stands — despite the inauspicious start.
"Very respectfully, he says, 'Coach, I'm a running back.' I thought he'd be an excellent defensive back," Holtz recalled. "I'd never move anybody unless they were willing to do it for the benefit of the team, and their benefit as well. Then you lose your running back due to injury, and one thing leads to another."
Football also provided the moment where Denson "drew a line in the dirt," he said, concerning committing his life to his faith. Growing up around one another in South Florida football circles, Denson and Twan Russell had always been friendly competitors. In the NFL, they both wound up with their hometown Dolphins in 2000, and a conversation between the two in the Miami player's lounge would have a substantial impact on Denson's life.
"He was living sold out for Christ. It was no longer checking a box, going to church. He was doing it," Denson said. "Just one day, we happened to be in the lounge at the same time, and he really called me out, because he could. I was kind of being lukewarm. I wasn't being who I was supposed to be all the time. Because of who it was coming from, I received that message 100 percent. God didn't create me to be lukewarm, to be half in and half out."
Russell, now the Dolphins' director of youth and community programs, said he was following the lead of Hall of Fame defensive back Darrell Green, who had the same conversation with him when both were with Washington. Russell called it "an organic moment" and had no idea the impact on Denson would be so profound.
"I didn't find out until years later," said Russell, who played linebacker at the University of Miami. "He shared with me, 'Remember that conversation we had? That was the moment that made me decide what I wanted to do and how I wanted to do it.' I was honored. Honestly, I can't take credit for anything other than being there in that moment."
From their first conversation, Denson's faith was readily evident to Barber, who quickly determined it was genuine. "You talk to a lot of people, and everybody's saying the same thing," the athletic director said. "… Everyone was consistent in the same story. Everyone was passionate and energetic when they spoke about him. You never felt like there was any hidden agenda. You can just tell when people talk about somebody and they mean it, you can feel that in their voices and in their words."
Growing up around Denson in South Florida, Russell has seen it unfold over a lifetime — from the food program Denson helped start in his one season as a high school coach, to the early-morning text messages, to the graduate degree in Christian leadership Denson obtained through online courses while coaching at Notre Dame.
"He's not a fake guy. He's real. He is who you see," Russell said. "He's not perfect, but that's the beauty of it. He's an imperfect man working to be perfect."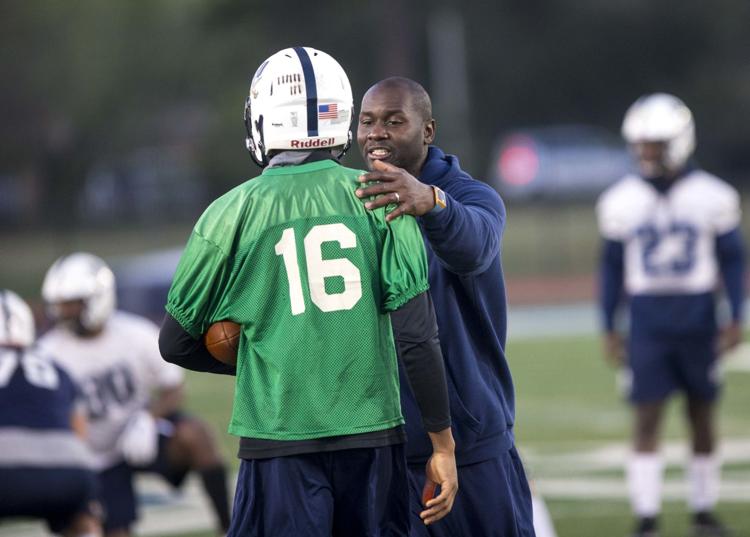 'Call Autry Denson'
After his football career ended, Denson made a comfortable living as a financial advisor for Merrill Lynch. He started an initiative called POISE that worked with high school athletes in Broward County on academics, faith and life skills. But the conversation with Russell was always there — lingering in his mind, prodding him to do more, to not be half in and half out.
So with four kids and with his wife's consent, he walked away from his financial advisor business, at first to devote himself to POISE. He could have sold his business and built a financial cushion, but didn't. "God does not want us to sell it, and God does not want us to save any more money, because we don't want to think it's money that sustained us," he recalled telling his wife. "We went from a really good income to zero just on faith."
His work with POISE helped him land a head coaching job at a Catholic high school, and one year later he broke into the college ranks as running backs coach at FCS program Bethune-Cookman. For the first season, he was unpaid. "They just didn't have it," he said. "I didn't want to miss a step in the progression, and I prayed on it. I had a couple of opportunities that were paid, but God kept leading me back to Bethune-Cookman."
Denson spent three seasons there, crediting the stint with helping him build the skills and relationships that aided his ascent up the coaching ladder. He worked one season at Miami of Ohio, then accepted a job at South Florida only to leave weeks later when the running backs position opened at Notre Dame.  Irish head coach Brian Kelly granted Denson an interview due to his connection to the school, only to be floored by the former running back's football knowledge and magnetism.
When CSU's job opened, Barber received a call from Lee De Leon, senior associate athletic director for development at Purdue, who had a succinct message: you need to call Autry Denson. Barber waffled, not wanting to bring in a new coach who expected bigger budgets and plusher surroundings. An athletic administrator for a decade at South Carolina, Barber reached out to former Gamecocks coach Holtz, who coached Denson for his first two seasons at Notre Dame.
Holtz's assessment: great coach, better person.
"The way I told it to my players was, you do what I ask for four years, I do what you ask me for the next 40. If Autry calls me and wants something, it's my obligation to do everything I can to tell people I believe in him," Holtz said. "And I believe in Autry Denson. He's a wonderful young man, he was a great running back, and he's a very confident individual who's willing to work at it. That's one reason I think he will be so successful."
Russell, who also coaches at a South Florida high school, sees Denson as a perfect fit for the role.
"He can walk into anyone's home, any family's home, and speak the truth about — what can your son be? Who can be become?" he said. "Because he's walked it. He's lived his life at a high level. If you're a parent entrusting your child to a coach, it's good to know he's being entrusted to a man who will honor him and help him maximize his abilities."
Denson had been pursuing head coaching opportunities the past few years, Holtz said, and came close a few times before landing the job at CSU. No surprise, perhaps, that it was a Christian school that provided the opportunity to a coach whose career began with a leap of faith.
"God led me to coaching," Denson said. "For me, coaching is 100 percent ministry. I had no desire to coach, never thought I'd see myself as a coach. But once I accepted my calling into ministry, God opened some doors, and I now I couldn't see myself doing anything else."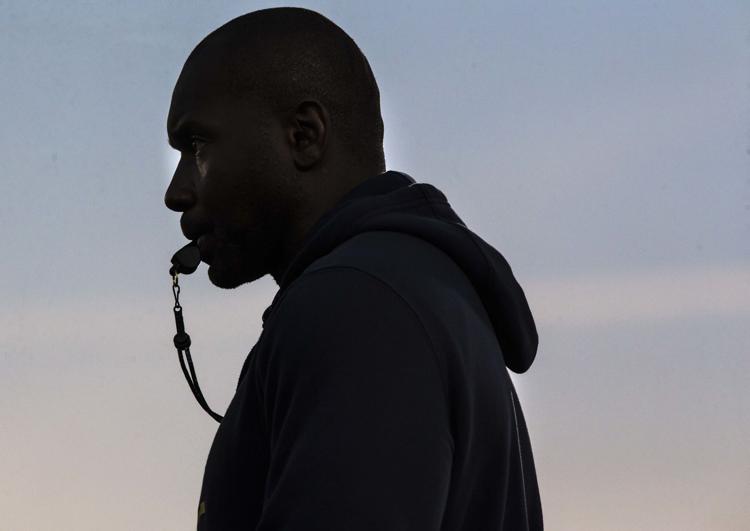 Making the connection
The CSU job marks Denson's first head coaching position since his one year running the program at Pope John Paul II High School in Boca Raton. At every step in between, he's been a running backs coach. For Barber, any concerns about hiring a career college position coach were assuaged by a 30-minute conversation with former Clemson athletic director Terry Don Phillips.
"He did the same thing, he hired a wide receivers coach," Barber said, referring to Phillips' elevation of Dabo Swinney to the top job after Tommy Bowden was fired in the middle of the 2008 season. "I asked him for the traits that he saw in Dabo that made him think he could get the job done, and he listed seven or eight different things. I told Terry Don, 'I think I've got that very same guy.' … So (Denson) checked all the boxes."
Holtz isn't concerned by Denson's lack of college coordinator or head coaching experience, either. "I was the same way," said Holtz, who was defensive backs coach at Ohio State before landing his first head coaching position at William & Mary, the initial step in 249 career victories.
"He'll figure it out," Holtz added. "You're in the staff meetings. Coaching the running backs, he's responsible for everything they do, on the field, off the field, academically. The difference is now you have 120 (players) when before you had eight. It's still the same thing. You're just dealing with larger numbers.
"I thought I was a head coach coaching defensive backs at Ohio State. I wasn't a coordinator and I wasn't a head coach, but the way our defensive backs played and how well they did academically, that was a reflection on me. I felt responsible for that."
When Barber spoke with Kelly, the Irish head coach told him it wasn't just running backs who gathered in Denson's office — linebackers and linemen and defensive backs were often there, too, feeding off the charisma of the Notre Dame great. Denson hopes to build that same rapport with his new players at CSU, where connecting with them as individuals is key to his dual goals of building a ministry and a winning football program at the same time.
"We want to win football games, there's no doubt about that. But if we don't capture their hearts, if we don't win them over as people and have that kind of culture, then the rest of it doesn't matter," Barber said. "You've got to get to the hearts of these kids first, got to show them you care about them before you can coach them. … When these kids see that Autry cares about them academically, cares about them as young men, now they'll listen and you can do some great things."
Russell saw that practice at work during his time with the Hurricanes. "I don't want to stereotype, but I remember when I was at the University of Miami, there were so many fatherless players on that team. We found a connection in our head coach," he said.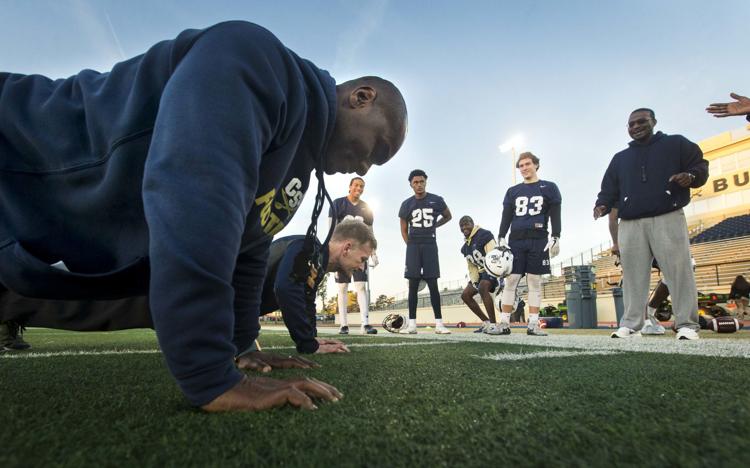 "Men want to be guided by men. We want to have a connection. I think that's how we're designed. Every person wants a father, every person wants a leader. And I think these young men are going to be looking for leadership. They're going to be looking for someone to guide their lives. (Denson) can do that better than most men I know."
Right now, though, the biggest adjustment for the Buccaneers might he hearing their cell phones beep between 4 and 5 a.m., and knowing it's the morning dispatch from their new head coach — who is already well into his day.
"They're like, 'Man, you're up early, Coach. Do you really get up that early? Every day?'" Denson said with a smile.
"Even on Saturdays," is his response.