CLEMSON — Mike Locksley almost fell out of his chair.
That's how shocked he was.
It was Feb. 7, 2018, and the Alabama offensive coordinator — now headed to Maryland to become the Terrapins' head coach — was watching an emotional college commitment video of Justyn Ross, the No. 1 prospect in the state of Alabama for the 2018 recruiting class.
The video began with Ross simultaneously narrating and writing a letter to his mother, who has served in the military for 17 years.
It progressed through highlights on the field, moments in the weight room, and newspaper clips before it flashed to three hats on a table.
One from Alabama, one from Clemson and one from Auburn.
A minute and 25 seconds in, Ross picked up the Clemson hat.
"All In," he said to the camera, reciting Clemson's team motto while he hugged his mother.
And that's when Locksley nearly hit the floor.
"Was I surprised? Yeah, I almost fell out of my chair," Locksley said last week ahead of Clemson's 44-16 thrashing of Alabama in the College Football Playoff National Championship game on Monday.
"Obviously the No. 1 player in Alabama. Good player, has the ability, a big-time playmaker ... He was a kid that we were very familiar with.
"I found out (with the rest of the world) when he picked the Clemson hat up."
If there is a silver lining for Locksley, it's that he no longer will be reminded of what could have been for Alabama the next time the Tide and the Tigers meet in the postseason — something most people expect to happen for years to come.
Even if Ross had chosen Alabama, Locksley would have only had the talented receiver's services for one season, now that he has left for Maryland.
The bad news for Alabama is that Ross (6-4, 205 pounds)  is only a freshman.
Ross — who had six catches for 148 yards and two touchdowns against Notre Dame in the Cotton Bowl, and then six catches for 153 yards and a touchdown against Alabama — is doing for Clemson exactly what the Crimson Tide hoped and expected he would do for them.
He made a pinky promise to Dabo Swinney when the Clemson coach visited Ross at his home in Phenix City, Ala. He kept that promise and signed with the Tigers, and now is one of college football's flashiest receivers — as a reserve behind Tee Higgins, no less.
He led all Tiger receivers with exactly 1,000 yards, and his 21.74 yards per catch ranked fourth in the nation. His one-handed grabs have gone viral with good reason. He ranks as Pro Football Focus's highest-graded wide receiver in the nation for the postseason.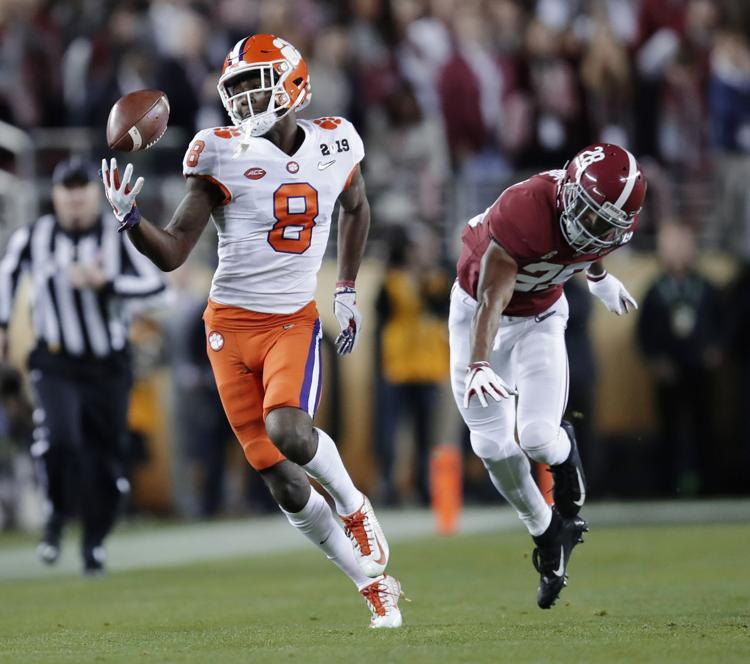 And he's not going anywhere anytime soon.
"He is easily one of the most technically advanced players I've ever coached at that position. I've spent my whole life coaching wideouts and sometimes you get guys and they have all the tools but it's going to take a little (time) — you've just got to put it all together," Swinney said.
"But his understanding and knowledge of route running, his technique at his break points, his ability to influence and manipulate the defender and then he's just got freaky ball skills ... It's unbelievable those catches he made (Monday) night. We see it all the time in practice."
On Monday night, Ross had his moment with the championship trophy, then logged onto Twitter and saw that none other than the legendary Jerry Rice had tweeted at him.
"Ross, you killing me," Rice wrote.
He's slowly killing Alabama, too.
It just might go down as Swinney's best recruiting coup ever.